Recipient of Military Spouse Scholarship Celebrates at Commencement
As a 14-year military spouse, Jessica Smyer '17 has seen the effect mental disorders can have on the military community firsthand. As someone who's experienced chronic, and often serious, health issues as well as PTSD, she empathizes with those in pain. "I love our military and have seen how mental disorders can take a toll on the servicemembers and their families," she said.
The 33-year-old Colorado mother of two recently completed her bachelor's degree online in general studies with a concentration in psychology. She plans to earn a master's degree in psychology and continue to a doctorate. "I chose to go into this field because I see the need in our military community for more qualified individuals to help with the growing issue of mental disorders," Smyer said.
She and her husband, Brandon, a Master Sergeant in the U.S. Air Force, plan to stay in the Colorado Springs area. Given the proximity of four military bases in that direct area, as well as another in Denver, Smyer feels she can give back to the military population as she advanced in her education.
The first college graduate in her family, Smyer had many challenges along the way to her bachelor's. "I have battled kidney disease for years now," she said. "I found out during my time with SNHU that I also have lupus nephritis."
Her illnesses weighed heavily on her throughout. "Trying to finish my degree would seem impossible; however, my advisor Melissa Escobar helped me every step of the way," said Smyer. "She told me about a department within the school that works with students who are struggling for one reason or another." She was able to work with her professors, she said, to turn in work, even if she was in the hospital. She credits her advisor and professors with the support that allowed her to "ultimately finish my degree."
Her family saw the struggles Smyer experienced and are proud of what she's accomplished. "This makes me want to continue to follow my dreams," she said. "SNHU was the last stop for me. As a military spouse, I was enrolled in many schools from military base to base during each move."
Sometimes credits from one school wouldn't transfer to another, and at times, she had to start over from the beginning. Smyer said most of her credits did transfer in when she began with SNHU - and the admission process was an easy one. "I was so impressed how the school really does care about each student," she said and encouraged all of her military friends and any military spouse, in particular, to go after their dreams. "Find that program where your credits transfer," she said.
Smyer, a recipient of a Southern New Hampshire University tuition scholarship in partnership with Operation Homefront, received her award at a Homefront Celebration event in April 2016, which she said would "help me help others." At the time, she spoke of the importance, as a military spouse, of putting personal goals at the forefront, even while supporting a servicemember's responsibilities.
"Military spouses are used to being put second," she said. Events like Operation Homefront's Homefront Celebrations, which have been sponsored by SNHU throughout the past three years, "reminds us that we're not just a number."
She encourages other military spouses to "do something for yourself. Don't be scared."
By doing something for herself, and receiving so much support along the way, even in the most trying of times, Smyer became the inspiration for her husband to return to school, too. "He has watched me grow with SNHU, and he has seen how SNHU takes care of their students, and he wanted to be a part of it," she said. "He has just completed his first term with a 99.2. I am so very proud of him."
She said she loved how excited he was when he saw her nearing the end of her degree program - and talked about going back to school to become a video game developer. "When he found this degree doing something he loves, he talks more about the future," Smyer said - and she knows it will prepare him for life after the military as he pursues new goals.
The Smyers have traveled across the country, enjoying a brief mini-vacation in the Boston area before driving up to Manchester, N.H., today to begin enjoying commencement weekend on the campus of Southern New Hampshire University. On Saturday, Smyer will join 1,300 graduates, at one of four commencement ceremonies at the SNHU Arena throughout the weekend, and celebrate her success.
"I have told everyone I know, and even those I do not know, that I am over-the-moon excited to be attending my graduation," she said. "I feel like with all that has been thrown my way; I can say that I did it. I set a goal and met it! I would like all military spouses to know that it can be done!"
Pamme Boutselis is a writer and content director in higher education. Follow her on Twitter @pammeb or connect on LinkedIn.
Explore more content like this article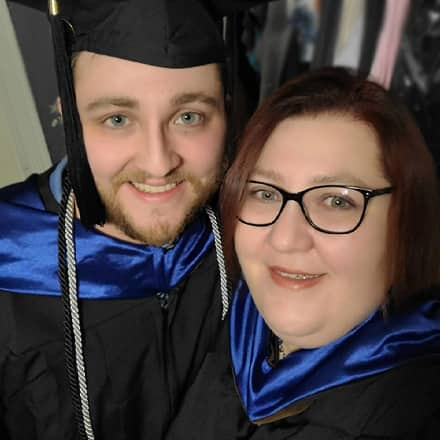 April 09, 2021
Tara and George Conrad – mother and son – began their degrees at the same time. Now they're celebrating their journey and accomplishments as graduates.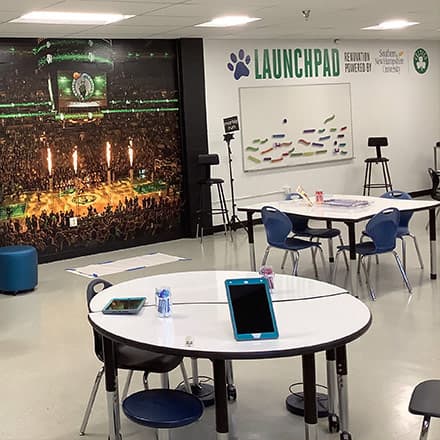 April 02, 2021
The Boston Celtics and Southern New Hampshire University recently unveiled their 14th tech lab, this time, the "Wildcat LaunchPad" at Webster Elementary School in Manchester, New Hampshire.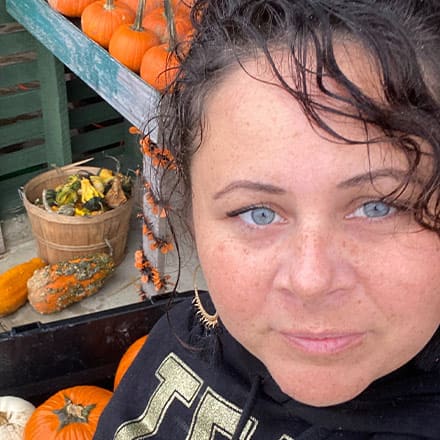 March 31, 2021
Helping people is what Codie Maile believes to be her purpose in life. As the 29th military spouse to receive a full-tuition scholarship to SNHU through the university's partnership with Operation Homefront, she is ready to finish her degree and follow her dreams.