SNHU, Celtics Open 10th Tech Lab at Manchester Middle School
While their classmates yelled and cheered for Lucky the Leprechaun's acrobatic flips, leaps and dunks, more than 20 tech-enthused middle school students were upstairs taking the first crack their school's brand new technology lab.

The lab at Southside Middle School is the 10th opened as part of a collaboration between Southern New Hampshire University and the Boston Celtics. It's the final of four labs at Manchester's middle schools.

"It's a huge resource for us because we don't have a lab that is hitting current 21st century needs," said Southside Principal Jennifer Gillis.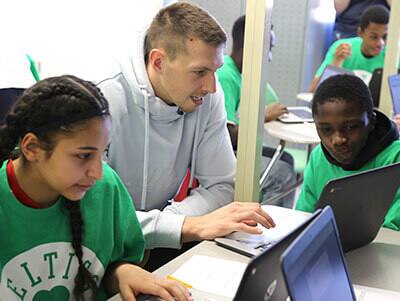 The students - members of the school's Lego League, FIRST Robotics team and Coding Club - were greeted by representatives from the Celtics, including forward Daniel Theis and former player and current assistant coach Walter McCarty. Manchester Mayor Joyce Craig and SNHU Chief of Staff Adrian Haugabrook were also on hand, and all four helped students participate in a computer coding exercise. Using code, students built a set of instructions that directed a digital basketball across the screen and into a basketball hoop.
The Celtics' Senior Director of Community Engagement Dave Hoffman said opening the lab was notable because it represented a fulfillment of the Celtics' and SNHU's pledge to improve the opportunities for students in their communities.

"It really just represents a long-term commitment," Hoffman said. "I think it's special that we've been able to do this together."

The lab - dubbed the Spartan Innovation Lab - features 25 Chrome laptop computers, a 3D and color printer, a 65-inch flat screen television mounted on one wall, as well a space for a green screen and the necessary lighting. The room is predominantly green to represent the Celtics, and one large wall features a huge graphic of the TD Garden floor. Another wall features the school's motto: Courage, Character, Community, Citizenship.

Gillis said the space will be perfect for many projects students are tackling. Right now, a group of eighth-grade students is envisioning what the city of Manchester will look like in 2030 from an urban planner's perspective. They are researching changes the city has undergone in recent history and building out ways it could be developed over the next dozen years. The new technology lab is the place where they can work collaboratively and then present their finished projects to teachers and their peers, Gillis said.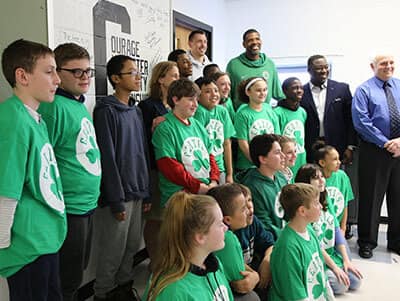 "It's an environment to draw the best out of our kids," she said. "Gone are the days of paper-pencil tasks. Now we've got them up showing us what they know. Not all ideas come out of one head anymore, so their ability to work together to draw on individual strengths - (this) room is built to make that happen."

Haugabrook said projects like Southside's technology lab are an excellent way for the university to connect with its community.

"You saw the young people's faces today as they did their coding. This is great work," he said. "It's not just SNHU and the Celtics giving. It's an opportunity for us to engage in learning, engage in the future, engage in an opportunity."

After the lab unveiling and coding exercise, students joined their peers in the gymnasium where they heard from Theis and McCarty and were treated to a couple more dunks by Lucky - including one that went directly over their principal's head.

Joe Cote is a staff writer at Southern New Hampshire University. Follow him on Twitter @JoeCo2323.
Explore more content like this article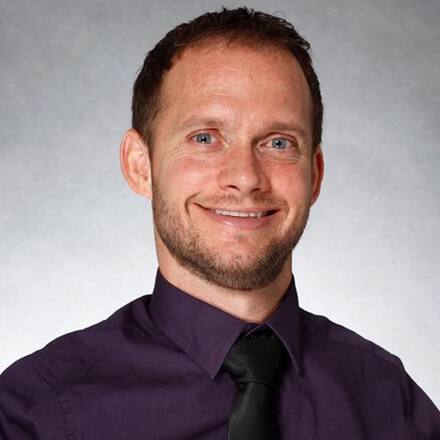 Clinical Mental Health Instructor Dr. Damion Cummins: A Faculty Q&A
December 06, 2019
Dr. Damion Cummins found his passion for counseling during his recovery from a life-altering sports injury. Now he teaches students in Southern New Hampshire University's master's in clinical mental health counseling so they can begin careers counseling others.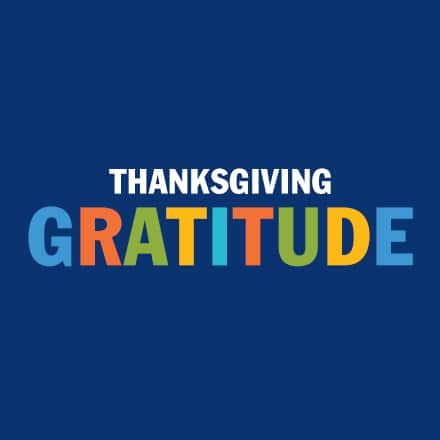 Dear Past Me: Thanksgiving Gratitude to My Past Self
November 27, 2019
The core of Thanksgiving is gratitude - to our loved ones, to ourselves, to the beauty of life and new experiences. SNHU faculty and staff were asked this question: If you had a chance to thank your younger self for something you did, what would it be and why? Here's what some had to say.
Global Citizens Circle Addresses Civility in Politics
November 25, 2019
Two political veterans visited Southern New Hampshire University to discuss the current state of political conversation in America and how having difficult conversations can still be beneficial.