SNHU Students Adapt Bicycle for a Little Girl
Maggie Sloboda just wanted to ride her bicycle like all the other kids in her neighborhood. Her mom, Tracy Sloboda, just wanted her to be independent and safe. A unique collaboration with engineering and biology students at Southern New Hampshire University made that happen.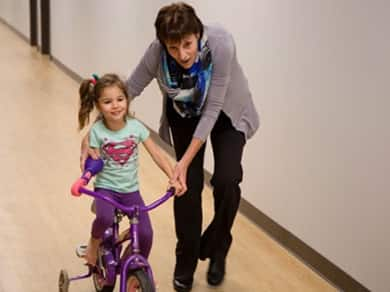 Maggie was born missing the portion of her right arm just below her elbow. Until now, Sloboda said, she's been able to find a way to do everything any other energetic 4-year-old would through sheer determination. But to move past a bike with training wheels, she was going to need help. To reach the right handlebar, Maggie had to lean far forward and twist her body, so she was leaning to the right, making it impossible to balance correctly.
Maggie's grandmother, Marilyn Nieuweboer, director of records and registration at SNHU's Office of the University Registrar, turned to the expertise at SNHU's College of Engineering, Technology, and Aeronautics. After a few conversations, a plan was in place and 4 students - 2 engineering and 2 biology majors - enrolled in an experiential learning course that would help Maggie ride. Over the course of the semester, each team of two designed and 3D printed a prototype prosthetic attachment for Maggie's bike that allows her to remain upright and reach the handlebars.
On Monday, Maggie proved both prototypes worked by speeding up and down the CETA hallways at top speed.
"It's a powerful moment for me anytime I see her being independent and free without me," Sloboda said. "As a mom, all you want for your kid is to be able to do whatever it is he or she wants to do. So every time I see that, and every time there's an example of that where Maggie can just be a kid and be free, my heart gushes."
Mechanical engineering student Sam Slotnick teamed up with biology student Kylie Lorenzen to design and build an attachment to the bike that clamps around the handlebar and, at the other end, includes a hard plastic sleeve Maggie reaches into. Inside is a small bar she can grip in the crook of her elbow. The device Pascal Liddane and biology student Miranda Peloquin, designed included a clip to attach to the handlebars and a pair of straps that Maggie used to control the attachment.
"This project has been super meaningful for me," Liddane said. "It's definitely great to work with people in the SNHU community who need help and use our engineering knowledge to help them out."
The students met Maggie in October when she came in with her bike to meet the team that would be helping her. They took measurements of the bike – which Maggie helped with – as well as measurements and pictures of her arm. Nieuweboer said it was important to her that Maggie viewed the project as changing the bike to suit her – rather than changing her arm to suit the bike. The students' approach to Maggie and the project itself made that happen, she said.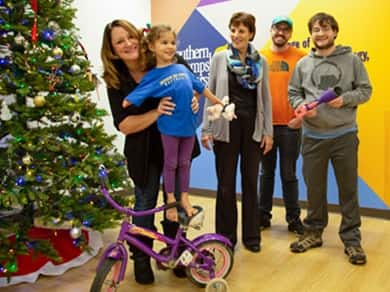 "They didn't focus on the task. They focused on the little girl," she said. "It was really important to me that she understands that her bike had a problem and not that she had a problem and we weren't looking for a way to fix her. We were looking for a way to fix her bike that didn't meet her needs."
Slotnick said the project was different than anything he'd worked on before and taught him a lot about the field of prosthetics.
"It really meant a lot just knowing something you're building is going to help someone going forward, especially a little girl that just wants to ride her bike," he said.
Importantly, both prototypes are purple and pink to match Maggie's bike and aesthetic.
"This experience for our family has given her something she feels very special about," Sloboda said. "She talks about the college kids and coming to the college. It means a lot to her because it's a personal experience for her."
Biking has been an important part of Nieuweboer's relationship with Maggie since she was about a year old. They've spent hours together on Nashua, New Hampshire's rail trail, singing songs and telling stories. Nieuweboer said she's long looked forward to many more hours on the trail with Maggie on her own bike beside her.
"I think to have that time and have that common love and bond is really, really important," she said. "For it to be Christmas time is a really special gift and one that is just priceless."
Joe Cote is a staff writer at Southern New Hampshire University. Follow him on Twitter @JoeCo2323.