SNHU's Advantage Program Celebrates a Decade of Student Success

Tom Donovan '18 was a week away from signing paperwork to enlist in the U.S. Army. Directly after high school, he went to a New Hampshire state university but he said it didn't work out. Feeling as though the military might be the only way to move forward with his life, that may well have been the case for him had Donovan not spoken with his friend, Paul Collins '14.
Like Donovan, Collins felt he wasn't necessarily college material. He did, however, learn about Southern New Hampshire University's nationally acclaimed Advantage Program and was soon experiencing academic success in a way he had never known before. He convinced his friend to check it out.
Donovan was a guest student for a day in the program, which is offered only at SNHU's Salem, New Hampshire, campus - and he was sold on what he could achieve. So much so that he earned his associate degree and went on to finish his bachelor's at SNHU.
"I loved the environment," he said. "Loved that family feel. (The Advantage Program) doesn't feel like any other college."
A recent graduate with a bachelor's in business administration with a concentration in organizational leadership, Donovan landed a job at the Salem campus. As part of its student success team, he's now in a position to support and guide other students who are in a similar place in their lives as he once was.
"I never imagined I'd have a degree in business," Donovan said. "I love working at SNHU, seeing not only how the Advantage Program transforms students but how the program has also transformed over the years."
Nationally Recognized Alternative to Traditional College Programs
Recognized in 2012 by the Lumina Foundation for its "no-frills approach" to higher education, SNHU's Advantage Program had launched just four years earlier as an intensive, low-cost, highly supportive alternative to traditional college programs.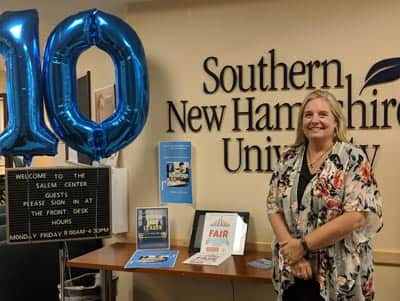 Acknowledging the structure and support some students need, as well as the ability to work full-time or care for family, classes are held 4 days a week from 8 am to 12:30 pm. Within that format, students can earn an associate degree in 2 years at a fraction of the cost. For many, academic success is a newfound distinction and serves as the impetus to continue on to a 4-year degree and for some, a master's degree.
Donovan is beginning an MBA with a concentration in Sport Management and is a solid example for students in the Advantage Program of what they, too, can achieve.
Finding Focus and Success
Collins was just finishing high school when he was diagnosed with Attention Deficit Hyperactivity Disorder (ADHD). Medication made a difference in his schoolwork and he was able to graduate with good grades. Earlier, his primary focus had been playing football, not academics.
The Advantage Program proved to be a good fit for Collins. "The environment makes the difference. They show you how to get comfortable," he said. "It's a tight-knit community. I don't think I could have succeeded without this place."
After earning his associate degree in liberal arts through the program, Collins went on to earn his bachelor's degree in business administration. Much to his surprise he found he has a head for business, and would like to help people create and grow businesses.
A Decade of Learning and Growth
Donovan and Collins are just two of the hundreds of students who have found success over the past decade in the Advantage Program. A recent celebration of the program's 10th anniversary allowed graduates and staff to reflect on their experiences over the years.
Adam Kuver, assistant director of the SNHU Advantage Program, said one of the best things about his job is witnessing the success students achieve. "Seeing them when they start and then at graduation. They become peer leaders," he said. "It's unbelievable to see students grow in so many ways."
Kuver said that over the last two years, 100% of those who graduated with an associate degree from the Advantage Program went on to a 4-year program.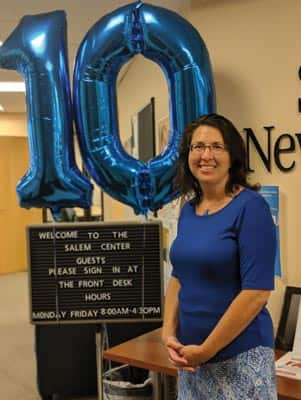 Academic success is a new experience for the majority of these students. Advantage Program academic coach Kara Salvas said most of the students come into "not believing they can do it." With an emphasis on individualized attention, the Salem campus becomes a place that feels like home - and a place they can succeed. There's a computer lab, quiet study areas, supplies and tools to foster success. Salvas said students often have a lot of stress in their lives and before long, "they see this as a stress-free place" because of the supports in place.
A licensed mental health counselor, Nicole Monahan is also the director of the SNHU Advantage Program. Much of her role involves spreading the word to high schools and community centers in a 30-mile radius of the Salem campus about the program. She loves helping students find success and especially given that many of the students never thought they'd be accepted into a college program.
"It's amazing to offer a student acceptance," she said. "They know they're going to get help. A lot are first-generation college students, so it's a new experience for their parents, too." She recently received a proud email from a student's mother, who wrote about the changes her son has experienced and how much he's matured during his time in the program.
As the Advantage Program enters into its next decade, the focus remains on introducing high school students and young adults in the greater Salem, New Hampshire area to this low-cost, highly supportive program so they, too, can move forward to their goals with SNHU.
Pamme Boutselis is a writer and content director in higher education. Follow her on Twitter @pammeb or connect on LinkedIn.
Explore more content like this article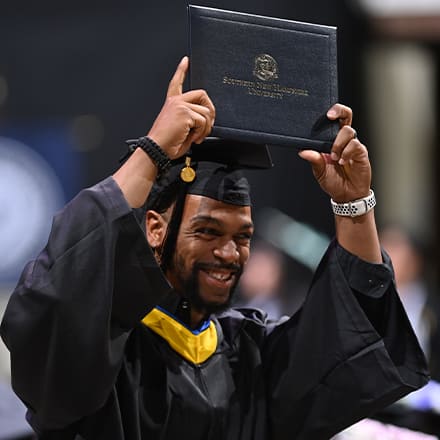 This weekend, the SNHU Arena welcomed students from 50 different countries and every U.S. state and territory to celebrate their new degrees. The ceremonies marked an important chapter for more than 22,500 eligible graduates who joined a community of over 230,000 SNHU alumni.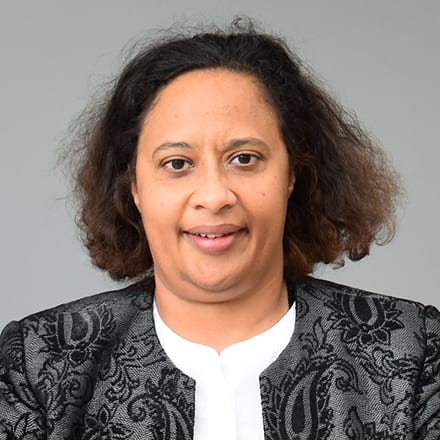 Joan Garner, daughter of late civil rights pioneer John Burrell Garner, is earning a master's degree in English and creative writing while writing a book about her family's legacy — including the Garner v. Louisiana Supreme Court case. And now, she's finally in charge of how the story will be told.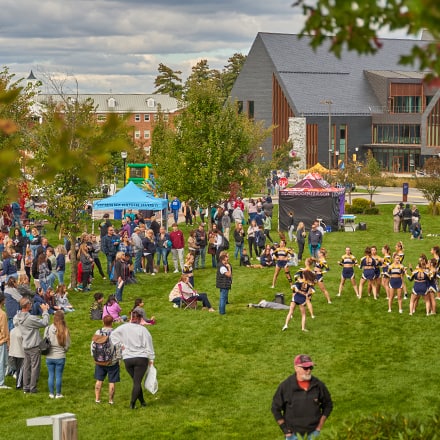 With an alumni network of more than 230,000 people and a student population that just surpassed the 200,000 mark, SNHU's Homecoming Committee and planning teams brought a variety of in-person, virtual and on-demand activities to its alumni, campus students, online students, faculty and staff.
About Southern New Hampshire University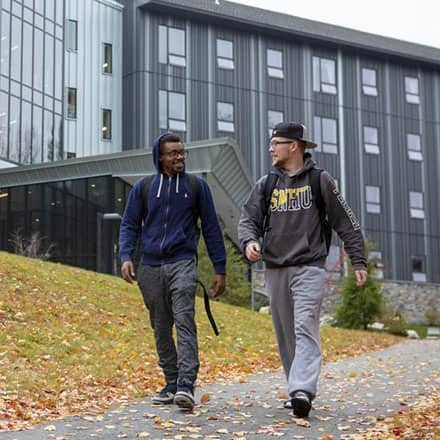 SNHU is a nonprofit, accredited university with a mission to make high-quality education more accessible and affordable for everyone.
Founded in 1932, and online since 1995, we've helped countless students reach their goals with flexible, career-focused programs. Our 300-acre campus in Manchester, NH is home to over 3,000 students, and we serve over 135,000 students online. Visit our about SNHU page to learn more about our mission, accreditations, leadership team, national recognitions and awards.