Our Nursing Philosophy
At Southern New Hampshire University, we view the students in our online nursing programs as respected colleagues who come to the learning environment with their own unique views of the world and nursing.
Students are valued for the contributions they bring to the learning environment and are appreciated for their diverse values and beliefs. Students are viewed as both learners and learning resources.
Online Nursing Degrees
Our online nursing degree programs are rooted in traditional academic systems and bring the same academic traditions of quality and integrity to the online environment. This approach removes barriers to advancement for working nurses and provides an affordable, flexible and transfer-friendly opportunity for higher education.
Our innovative programs meet the demands of the nursing workplace and address the needs for prepared nurses in such areas as education, administration, quality improvement, patient care and clinical leadership.
SNHU is a nonprofit university with a New England-based campus and a long history of serving working adults.
Our online nursing programs, developed by doctoral-prepared nursing faculty, feature curricula based on new standards for the 21st-century healthcare industry as defined in the Institute of Medicine report ''The Future of Nursing: Leading Change, Advancing Health.''
Mission of the Department of Nursing
The mission of the Department of Nursing programs flows from the mission and vision of Southern New Hampshire University.
Our mission is to empower students to be successful nurse leaders, prepared to promote a culture of health within a diverse society and responsive to meet the challenges of an ever-evolving healthcare system. This mission is fulfilled through innovative programs responsive to needs of adult learners in an online environment.
The program provides the nursing professional with the knowledge, attitude, skills and behaviors to lead patient-centered collaborative healthcare. Graduates are prepared to apply theory-guided, culturally competent, evidence-based professional nursing practices to improve the well-being of diverse populations within complex healthcare systems at the local, national and international levels.
Nursing Curriculum Conceptual Framework
Builds upon prior nursing knowledge to provide a broad knowledge base for evidence-based, clinically competent, professional practice in the care of individuals, groups, families, communities and populations
Prepares nursing leaders in professional roles and attributes
Develops nurses into empowered change agents ready for successful integration into the dynamic, complex healthcare system within a global context
CCSNH Nursing Partnership
Our nursing partnerships with New Hampshire's community colleges includes a seamless academic pathway, a tuition discount and financial aid.
If you are a graduate of a New Hampshire community college nursing program interested in learning more about the BSN and MSN programs or the Accelerated RN to MSN, contact an SNHU admission counselor for more information.
CCNE Accredited Nursing Program
The baccalaureate degree program in nursing and the master's degree program in nursing at Southern New Hampshire University are accredited by the Commission on Collegiate Nursing Education, 655 K Street NW, Suite 750, Washington, DC 20001, 202.887.6791.
Heroes Behind the Scrubs: SNHU Nurse Leaders Share Their Stories
Nurse leaders at Southern New Hampshire University participated in a roundtable discussion about the role nurses play in transforming healthcare. With 12% job growth projected through 2028 – that's over 370,000 registered nurse roles that could be filled – there's quite the demand to change the lives of others. And yours, as well.
Frequently Asked Questions
How can I become a registered nurse?
Becoming licensed as a registered nurse (RN) requires an associate degree or diploma, which requires in-person training and labs as well as significant clinical hours completed at a healthcare facility for clinical experience.1
After successfully completing a prelicensure program in the form of a diploma, ADN or BSN program, graduates must sit for the NCLEX exam. Then the National Council Licensure Examination (NCLEX) is taken at a Pearson test center.2 There are locations around the country, and international options as well. You must pass the NCLEX for licensure.
Once achieving nursing licensure, registered nurses should consider continuing their education. Due to the changing nature of healthcare, there is an increasing demand for nurses with further education and training that comes from a bachelor's or master's degree, especially in hospitals.3
An online nursing degree can be the best choice for those already working as a registered nurse, as it offers work-life flexibility. At Southern New Hampshire University, there are no set meeting times, and resources like the technology help desk and chat with a librarian are available 24/7. Asynchronous classes mean you can complete your tests and assignments on your own time and keep your life more balanced than a traditional classroom format would allow.
SNHU offers 4 specialty tracks for a MSN, including nurse educator and clinical nurse leader. SNHU's online nursing programs can be the right fit for an experienced nurse looking to expand your education and career.
What is the best online school for nursing?
The best online nursing school is the one that fits your needs. Time, cost and style will influence which school is the best choice for you.
If you have credits to transfer and make finishing your degree easier, it's important to see if the school you're interested in will accept those credits – and how many. Southern New Hampshire University accepts up to 90 credits toward your bachelor's degree. This means you can earn 45 credits for your RN license and up to 45 more for academic experiences like general education courses or other nursing courses. SNHU also accepts up to 12 graduate credits toward master's degree programs.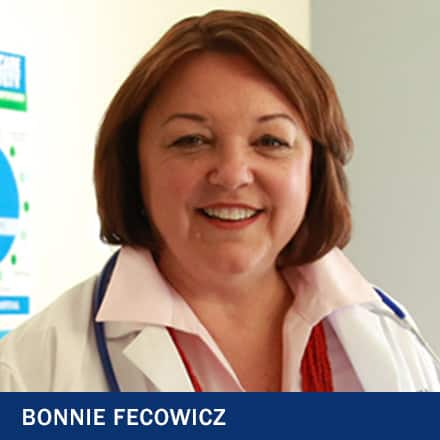 If you want to specialize in a certain area, find a school that offers the program you want and see if it's designed in a way that works for you. For example, at SNHU, you can choose from 4 MSN tracks. Our online courses are flexible and affordable, making them a great choice for working nurses.
You can also choose to earn your degree faster with SNHU's Accelerated RN to MSN online program. There are 3 options for the accelerated path: a generalist MSN degree, becoming a nurse educator and becoming a clinical nurse leader (CNL).
Bonnie Fecowicz '12 '16MSN applies the knowledge she learned from the program at her full-time position. "At Southern New Hampshire University, the quality of the program has allowed me to advance my career into more diverse roles as a director of nursing," Fecowicz said. "I use everything I learned every day in my position."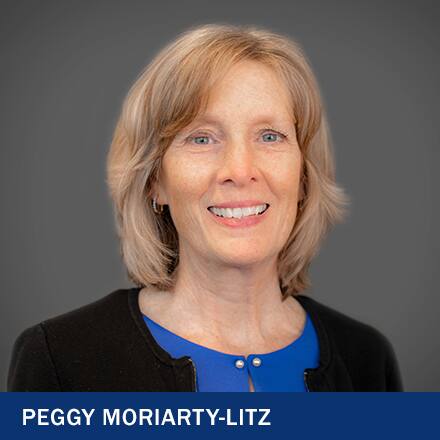 Financial aid and transfer credits can make the cost of earning your nursing degree that much more affordable. SNHU has a dedicated financial services team to help you make a plan for your needs, and there are scholarships and grants available exclusively for online students.
Our nursing program is accredited by the Commission on Collegiate Nursing Education (CCNE). Peggy Moriarty-Litz, chief nursing administrator and executive director of nursing programs at SNHU, expresses why this is important: "This shows evidence of our commitment to the needs of the communities we serve by creating educational opportunities that produce competent nurses."
SNHU's online nursing program was designed by nurses for nurses - the curriculum is created to make your path to success as simple and accessible as possible.
How much are online nursing programs?
Online nursing degrees can be a very affordable option. When you add in the possibility of adding scholarships or grants – plus transfer credits and work/life experience – you could reduce the cost even more.
At Southern New Hampshire University, earning your bachelor's degree in nursing costs $320 per credit, but you may be able to transfer up to 90 credits and lower the cost – 45 for your RN license and 45 from previous educational experience. Should you transfer in all 90 credits, it could cost you only $9,600 in tuition to earn your BSN.
For a 36-credit master's degree, you could transfer up to 12 graduate credits, with the remaining courses being $627 per credit.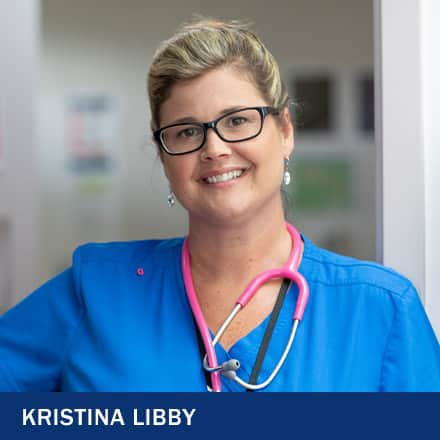 You can also have a conversation with a Student Financial Services counselor to develop a plan to find the best way to make your education affordable – whether that's through financial aid or the creation of a customized payment plan. SNHU also offers a discount up to 30% for active-duty service members and their spouses.
Alumni from community college partners and employees of partnered organizations also receive tuition discounts.
Kristina Libby '17 is able to give back thanks to the affordability of her bachelor's degree at SNHU. "I literally was shocked," she said. "I ran to my husband with my computer and I said, 'Look, look, we can do this,' because all of the programs around here at the state schools, we would have had to take out a second mortgage. It was not possible – and Southern New Hampshire University was affordable."
Do employers care if you earn your nursing degree online?
An accredited degree is always reputable – no matter how you earn it.
Southern New Hampshire University is accredited by the New England Commission of Higher Education and the nursing program is accredited by the Commission on Collegiate Nursing Education (CCNE).
SNHU nursing programs are offered in an online format. Given nursing is a hands-on practice profession, our nursing programs will require certain hours of clinical practice be completed at an in-person locations, and you can combine the key competencies and skills gained in person with the convenience of an online classroom.
This is especially helpful for those already in the workforce, which "the majority of our students [are]," said Lisa Urban, associate chief nursing administrator. "They're already registered nurses and come to us to complete their bachelor's degree and/or master's degrees." The flexibility of online classes makes balancing your work, home and academic life possible.
What qualifications do you need to be a nurse?
The first step to becoming a registered nurse is to earn, at minimum, either an associate degree from an accredited nursing school, such as a community college, or a diploma from a program offered by a certified medical center or hospital. If you are considering your journey to become a nurse, check with a local nursing school for their admission requirements.

Then, your institution may connect you with the forms to apply for authorization to take the National Council Licensure Examination (NCLEX) exam, or you can apply yourself through the National Council of State Boards of Nursing (NCSBN). When you're accepted, you'll visit a Pearson center to take the exam. If you pass, you'll be certified as a registered nurse and able to begin practicing at medical centers.2
Many employers are seeking nurses with a bachelor's degree or higher, due to the complex nature of the healthcare work environment, and some positions like leadership roles may require an advanced degree. Pursuing a BSN or MSN increases your marketability, expands your job opportunities and may help you stand out and begin a rewarding and accomplished career.
And to make it easier for you once you're working in the field, schools like Southern New Hampshire University offer these advanced degrees online. Because you've done all of your clinical work in your RN program, doing your BSN and MSN programs becomes a logical next step.
Can you get your RN license online?
No, the NCLEX exam to become a registered nurse (RN) must be taken at a Pearson center, available across the country and in some international locations.2
All practicing nurses must be licensed, but the minimum education requirement for the test is either an associate degree or a diploma given by an accredited program, usually offered by hospitals and other medical centers.3
References
Sources & Citations (1, 2, 3)
1 Online ADN Programs, Nursing.org, on the internet, at https://www.nursing.org/online-programs/adn/ (viewed May 6, 2020)
2 NCLEX & Other Exams, National Council of State Boards of Nursing, on the internet, at https://www.ncsbn.org/nclex.htm (viewed May 4, 2020)
3 Bureau of Labor Statistics, U.S. Department of Labor, on the internet, at https://www.bls.gov/ooh/healthcare/registered-nurses.htm (viewed May 4, 2020)