Nashua Elementary School is the Site of 12th SNHU, Celtics Tech Lab
Giovanna Depaula is one fifth grader who loves her school and she just wants to help her classmates.
"Different schools, they have stuff we don't have but what we have is love. That's what we care about," Depaula said. "We actually just want to make the school happy and we want to help the students – first grade, kindergarten. Everybody really."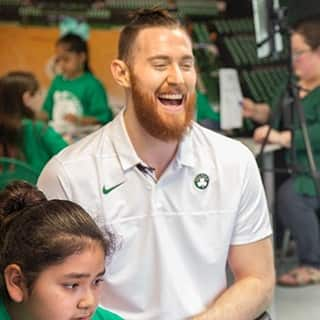 That's why Depaula was one of the students selected to help brainstorm what equipment and technology the school's new technology lab would need. On Thursday, the Fairgrounds Elementary STEAM Lab in Nashua, New Hampshire, was unveiled by Southern New Hampshire University and the Boston Celtics. Depaula wasn't the only Fairgrounds student buzzing with excitement – and it didn't hurt that Celtics center Aron Baynes was there.
"I'm shaking. I'm like - oh my God. What do I do? My brain just paused. I didn't know what to say," she said.
Baynes and former Celtics forward Leon Powe joined SNHU and Celtics staff to open the 12th technology lab the organizations have built in middle and elementary schools in Massachusetts and New Hampshire. The lab featured Chromebook laptop computers, iPads, a 3D printer and 3D pens that students used to create the Celtics shamrock logo. There was also a pair of Fisher-Price Code-a-Pillars that students programmed using simple coding instructions.
One of the activities Powe and Baynes worked with students on was drafting a script for a "pump-up video," similar to what plays on the jumbotron at the TD Garden before a Celtics game. This one was filmed in front of the lab's green screen and students will edit a completed video in the coming weeks to play for the school ahead of the statewide testing in the spring.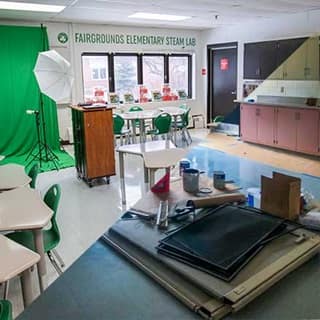 Even though she helped SNHU and Celtics officials brainstorm what would be included in the lab, Depaula said she was blown away by how the space was transformed - especially the signature wall featuring an image of the TD Garden floor and the words "Believe. Achieve. Succeed."
"Fabulous. My mind went, like, 'boom' when I saw it," she said. "It's the best thing. The room is better than my house."
Depaula is part of the school's Generation Yes team and is a Student Technology Leader, according to Principal Mike Harrington. The students visit classrooms, when needed, helping their classmates and sometimes their teachers troubleshoot and solve technical issues. It's part of the advances the school has made in tech education in recent years, he said, and a reason administrators are in a good place to take advantage of the tech lab.
"We're at the point now where technology can enhance what we're doing already," Harrington said. "Having 3D prints, 3D pens, having green screen technology to enhance our lessons and make them more innovative and engaging for the students is a perfect time to take off with that. We 're really excited."
The technology labs became an extension of the partnership between SNHU and the Celtics because they satisfy an essential part of both organizations' missions.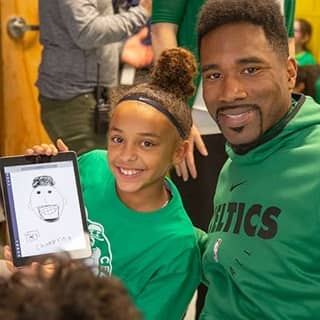 "Our mission from an off-the-court standpoint is to give back to the kids and families in New England," said Dave Hoffman, vice president of community engagement for the Celtics. "We're uniquely positioned to be able to help, to inspire young people and it really becomes dynamic when we get to do that alongside some of our friends and partners, in this case SNHU."
Angie Foss, associate dean of operations and innovation for SNHU's College of Engineering, Technology, and Aeronautics, found it interesting to learn from the students about some of the technology, such as the 3D pens.
"It's always exciting and fun to come and immerse myself in the community and see the kids get so excited about new technology," she said. "Also, it's amazing how they have picked technology up so quickly and they have a lot to teach me and others."
Harrington said the specific pieces of tech in the lab aren't the most important part of the lab. It's more important that students are building a passion and fluency in technology, preparing themselves to have skills to tackle future technology that hasn't been invented yet.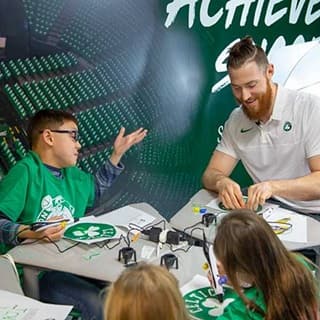 "We have no idea what jobs these kids are going to be doing by the time they enter the workforce. A lot of the jobs might not exist yet," he said. "By being able to use some of this technology that is state-of-the-art will give them some of those transferable skills to be ready for what - we don't even know."
Foss said that hopefully the excitement for new technology capabilities ignites an interest in more Fairgrounds students.
"I hope that it sparks creativity and helps them engage in the STEAM/STEM areas in exciting new ways," she said. "I think with tools and resources, things like mathematics can be more exciting and more accessible and spark some of that interest that maybe wouldn't have been there otherwise."
Joe Cote is a staff writer at Southern New Hampshire University. Follow him on Twitter @JoeCo2323.
Explore more content like this article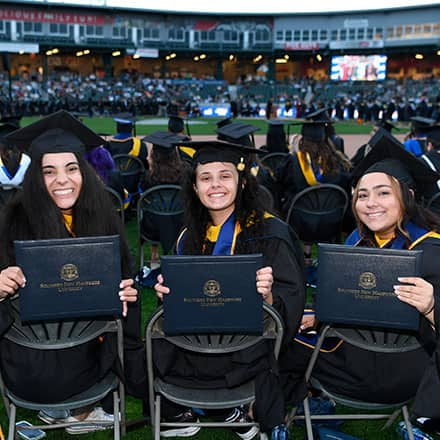 October 18, 2021
Southern New Hampshire University's Class of 2020 and 2021 campus graduates had their moment in the sun on Saturday when more than 400 celebrated their incredible achievements at Northeast Delta Dental Stadium in Manchester, New Hampshire.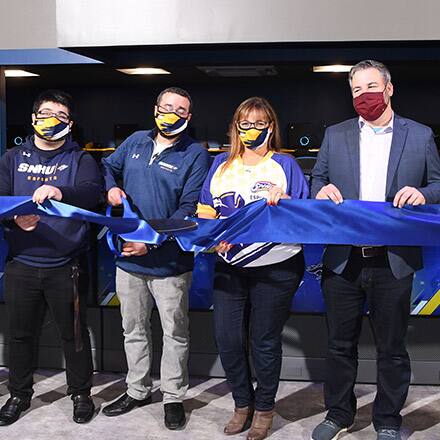 October 13, 2021
SNHU celebrated the grand opening of its esports arena on October 8th. A ribbon-cutting event marked the official opening to welcome the campus community and to see where esports players hone their gaming skills and compete against varsity-level opponents across the U.S. and Canada.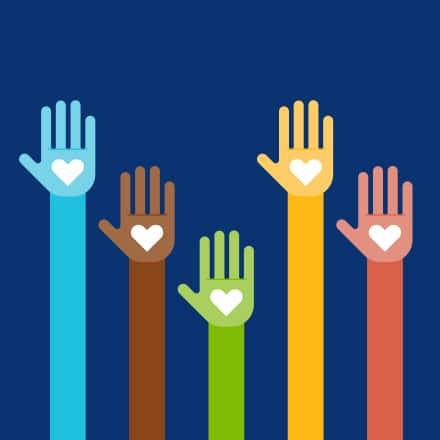 June 21, 2021
SNHU's 2021 Global Days of Service brought attention to a different societal issue each month: hunger, shelter, environmental justice and the pandemic's essential workers. Throughout the four-month-long event, Penmen from across the world shared their stories of service, community and strength.