Global Campus President Dr. Gregory Fowler: A Q&A

As part of his long career in higher education administration, Dr. Gregory Fowler was twice selected as a Fulbright Scholar, serving at universities in Germany and then collaborating with politicians and education experts in Germany and the European Union. Now the president of Southern New Hampshire University's Global Campus, Fowler reflected on his time as a Fulbright Scholar, the importance of education and more.
Tell us a little bit about your professional background.
I've been in some form of higher education since I started my college career. I started my career working with colleges and institutions of learning like museums and libraries at the National Endowment for the Humanities. Among other things I did there was organizing and overseeing a new grant program, the Summer Fellows Program for college students. Later, during my time as a professor at Penn State University, I developed a similar exchange program for faculty between the German Fulbright Commission and Penn State. As far as administrative roles, I've held leadership roles at a number of institutions, including Western Governors University, Kaplan, and of course, SNHU. Now I also serve as a commissioner for the New England Commission of Higher Education (NECHE), the accreditation body.
What led you to academics, and in particular, SNHU?
My parents were an inspiration to me. They were tied to the ministry and taught me the importance of self-reflection, the importance of critical thinking, and the power of learning and how community leaders could help others to change their destiny. I grew up in south Georgia, born only two years after the assassination of Martin Luther King Jr. and the impact of learning, through teachers and preachers, was definitely evident in everyday life. My mother was also a middle school teacher who influenced me by instilling the love for education, and the values and importance of pursuing higher education. She taught me my love of reading, and in the works and lives of historic figures like Lincoln, Franklin, Booker T. Washington and Malcolm X, I learned how to advance myself through education. What drew me to SNHU was its commitment to seeing education made accessible to more people like me who might not have had an opportunity if only the traditional ways of doing things were on the table.
What keeps you excited about your work at SNHU?
What drives me here at SNHU is a continued passion for seeing others empower themselves and transform their lives in similar fashion. There is both sincerity and true commitment to the mission of finding more ways to help others obtain the knowledge, skills and abilities to achieve their goals. Whether it is with new populations here in the U.S. or on the other side of the world, or with traditional populations needing to obtain new skills in new ways, SNHU is constantly striving to challenge the status quo for the benefit of new learners.
What do you find rewarding in your position as president of SNHU's Global Campus?
It is rewarding to be able to improve higher education and student learning experiences through my work with vendors, faculty and student affairs partners. I enjoy the great networking opportunities to learn more about future directions we should be taking. Being present at these meetings allows me to be part of conversations and to move those conversations in a direction to enhance learning experiences that impact our world.
It is exciting to be able to support the university's learning experiences through all types of learning modalities, face-to-face, online, and competency-based education, to meet the rapidly changing demands of the workforce and global communities. In many ways, SNHU is a microcosm of the larger national conversation, trying to reconcile so many ways of learning with so many different population needs. It's great to be a part of this conversation at a time when things are rapidly changing.
Can you think of a particularly impactful or eye-opening moment as an educator?
Sitting on the graduation stage, looking at all the faces in the audience, is always an eye-opening experience for me, reminding me often of the words of the Russian poet Yevgeny Yevtushenko—that in each person is a world of experiences that is invaluable precisely because it is unique. Each person's story in that audience is one that would not have been possible when I was in college, and for many of them, their ability to accomplish this goal after having tried and not succeeded a number of times before at other institutions is a testament to how important education is for them and the importance of being willing to step outside of our comfort zone and reflect on how we can go to them rather than insisting that the only way forward is through traditional ways.
What advice do you have for students interested in studying online?
My advice to online students is first to take advantage of the resources that are available to them and second to make sure they have a support system in place that allows them to overcome those times when they are going to struggle. This includes personal and professional supports, as well as taking advantage of the supports SNHU has in place for them, such as tutors and the Writing Center. Some students perceive, incorrectly, that online will be either harder or easier. It's definitely going to remain challenging, but we have tried to make sure we build in the supports necessary to help most succeed and hopefully have also added in what is necessary for us to be good listeners when those supports aren't working and a student is trying to reach out to us. Growth – physically, mentally or spiritually – is often achieved with some level of discomfort and struggle. It will occur in your studies. The key at times when it happens is to tap your support networks and keep moving forward.
What, if anything, did you not expect from your career path?
I didn't expect the opportunity to come along to express my voice so clearly on ways education could help more students be successful. I came back from my first Fulbright in Berlin fascinated by the conversations going on about the Bologna Accords and how Europe was dealing with needed changes in education as well as student protests of those changes. It was a short time later when the Western Governors leadership challenged me to put my money where my mouth was and help build a new student experience. I had no idea of how education was changing, but am glad I have been able to be in the field as these conversations have taken place and am looking forward to how they evolve over time.
How have you found ways to effectively connect with students online?
I communicate with students at the beginning and middle of each term through webinars, videos and email. We also have a Student Advisory Board that meets regularly to ensure student views are heard and addressed. Students also communicate with me through social networking like LinkedIn and Twitter. They want to share their stories and to thank SNHU for the opportunity to complete their degree or share ways that we can improve. I value hearing from all who reach out because it's through their input that we get better at what we do.
You were recognized as a Fulbright Scholar in 2002 and again in 2007 - what does that accomplishment mean to you? What did you do during your time as a Fulbright Scholar? How has that time added to your professional and personal experience and expertise?
I had the most amazing and life-changing experiences during my two times as Senior Fulbright Scholar. My first opportunity was spent in Germany between 2002-2003 with a focus on Germany International Studies and American Literature, and teaching at the John F. Kennedy Institute for North American Studies at the Free University in Berlin. I completed research and lectured on German generational and cultural studies in comparison to American ones, and served as a cultural ambassador to various German constituencies throughout the country during the run-up to the second Iraq Gulf War, a time when many Europeans wanted very much to understand American thinking.
My second Fulbright Senior Scholar assignment in 2007 was focused on collaborating with German and European Union politicians, higher education experts and administrators to engage in conversations regarding studying the future identity and role of the European Union in the world.
I was also given the opportunity to serve on the student selection boards for Germans interested in coming to the U.S. Later when I returned to the U.S., I served on the selection boards in the U.S. for junior and senior scholars going to Europe.
What the Fulbright program did for me was open my mind to the many valuable and various ways we as human beings see the world. It gave me an appreciation of both how much and how little we know with certainty and anchored within me a humility that has never left. It also instilled within me a deep regard for each and every voice and an understanding of how it is often the voice or way that challenges our way of thinking that helps us to grow into better people and citizens of the world.
What do you enjoy doing when you're not working?
It's probably no surprise that my passion for travel around the world has only increased. I have a large family and enjoy traveling to new places with them. My godson, Cameron, lives in Geneva, Switzerland, which also houses one of the UN headquarters, so time there is always educational as well as fun. I love playing the piano, watching movies, reading books and physically working out. As those who work with me know, there's rarely a time I don't mention a movie I've seen or a book I'm reading.
What is one (or two) books every college student should read?
It's difficult to recommend one book since there are many great books out there. Two of my all-time favorite writers who have impacted my life on a regular basis are Mark Twain and Shakespeare. Both of these writers teach us about human nature. Twain particularly helps us to understand the seemingly contradictory nature of human beings and our hypocrisies. He wrote a hilarious book on Americans when they travel called "The Innocents Abroad" that might be useful if you are thinking of doing global experiences. I encourage students to also explore the teachings of Martin Luther King Jr. and read the biographies of great historical figures. When done well, they remind us all of the awesomeness of humanity – both our greatest success and our most depraved moments – something that should instill hope and caution in all of us as we engage each other.
Why is education important to society as well as to you personally?
We are living in interesting times, and with so much information out there for one to take in and synthesize, education is more important than ever. It's important for one to develop those skills that allow them to think critically and to consider diverse viewpoints in order to come to their own informed conclusions in a global world that is full of rumor and superstition. The more you know, the more you will find that you don't know, which enhances one's compassion and personal humility. Whereas much of education's history has been mired in lack of access to information, that has changed forever, and the key to being able to navigate the world is knowing how to process all of the data coming at you and adapt to a world that is only speeding up.
Joe Cote is a staff writer at Southern New Hampshire University. Follow him on Twitter @JoeCo2323.
Explore more content like this article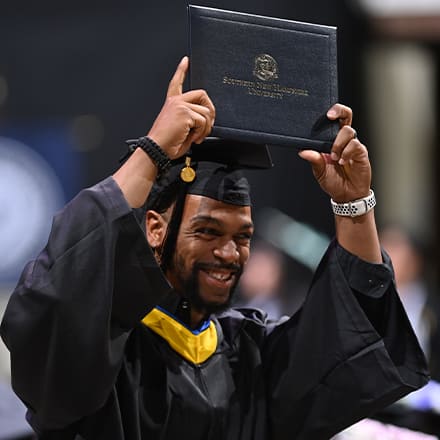 This weekend, the SNHU Arena welcomed students from 50 different countries and every U.S. state and territory to celebrate their new degrees. The ceremonies marked an important chapter for more than 22,500 eligible graduates who joined a community of over 230,000 SNHU alumni.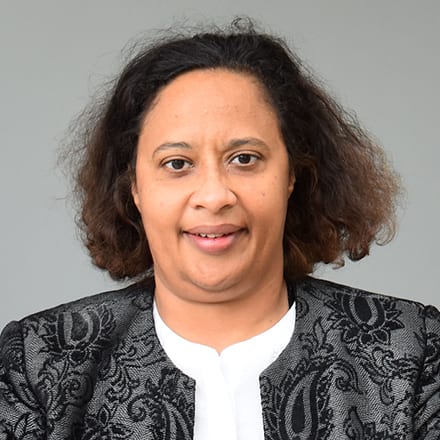 Joan Garner, daughter of late civil rights pioneer John Burrell Garner, is earning a master's degree in English and creative writing while writing a book about her family's legacy — including the Garner v. Louisiana Supreme Court case. And now, she's finally in charge of how the story will be told.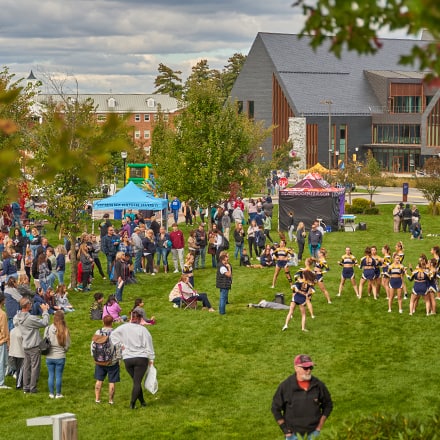 With an alumni network of more than 230,000 people and a student population that just surpassed the 200,000 mark, SNHU's Homecoming Committee and planning teams brought a variety of in-person, virtual and on-demand activities to its alumni, campus students, online students, faculty and staff.
About Southern New Hampshire University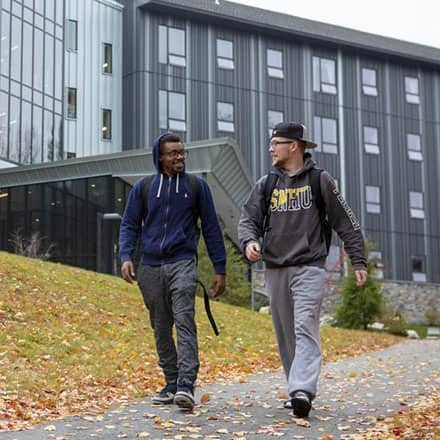 SNHU is a nonprofit, accredited university with a mission to make high-quality education more accessible and affordable for everyone.
Founded in 1932, and online since 1995, we've helped countless students reach their goals with flexible, career-focused programs. Our 300-acre campus in Manchester, NH is home to over 3,000 students, and we serve over 135,000 students online. Visit our about SNHU page to learn more about our mission, accreditations, leadership team, national recognitions and awards.