2023 SNHU Homecoming Creates 'Mountains of Memories'

This article includes contributions from Erin McGonagle.
Homecoming is an annual event bringing together alumni, campus students, online students, faculty, staff and Southern New Hampshire University (SNHU) families. The SNHU family continues to grow each year, with an alumni network of more than 230,000 and a student population that just surpassed the 200,000 mark.
In order to reach as many community members as possible, the Homecoming Committee and planning teams work hard to offer a variety of activities and events for everyone, regardless of their location.
SNHU Roots in California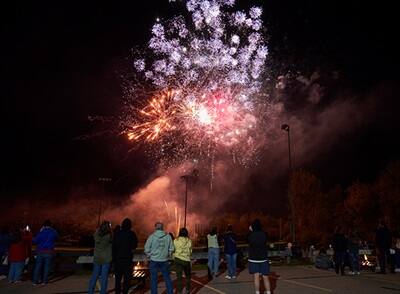 The festivities kicked off early with a Southern California Homecoming Meet Up on Oct. 7, led by two alumni leaders, Wade Philbrick '85 and Jessica Aguilar '06. Attendees gathered at The Liberties of Dublin in Los Angeles, California, to enjoy appetizers while meeting and reconnecting with online students and alumni who call the area home. Most attendees lived within Los Angeles County, but Riverside, Ventura and Orange County residents were also represented.
"We had a great turnout for new attendees, and many brought their spouses and children. We love making our events family-friendly because for many of our alumni, they were getting their degree online while simultaneously raising a family, too," said Aguilar. "I think it's special to watch our group share in the celebration of earning their degrees, since it probably took a lot of support and sacrifice from the entire family to complete the program."
Philbrick and Aguilar hosted a similar event last year. With a large population of SNHU students and graduates nearby, there has been a desire to connect and network with each other. All attendees at this year's event were first-timers at an SNHU gathering in Southern California.
"Jessica and I are always so pleased with how happy the attendees are," said Philbrick "They all talk about feeling more connected to the university through these important community building events."
He said the group is already thinking about what they'll do for their next gathering.
Branching Out with Nature-themed Activities
The theme for Homecoming 2023 was "nature," and it gave the event a nostalgic spin with the tagline "Mountains of Memories." SNHU's campus is located in New Hampshire, a state known for its scenic views — mountains, rivers, lakes, beaches and vibrant fall leaves, which make for a stunning backdrop for the campus-based Homecoming events.
The planning teams took the nature theme to heart, creating co-occurring in-person and on-demand activities with an outdoors twist.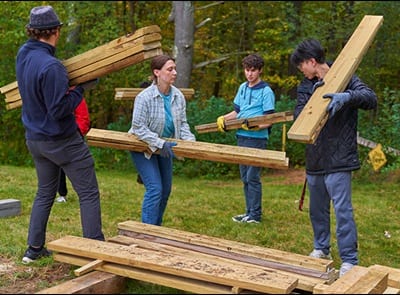 Attendees enjoyed a rock-painting lesson in the Makerspace while those at a distance could follow an online tutorial to participate anytime, anywhere. The Office of Sustainability and The Chandler Center partnered up for a service project in the SNHU Arboretum and folks could tour the Arboretum from home with a video walkthrough. Other on-demand activities included an at home outdoor scavenger hunt and the annual Spotify playlist full of nature-inspired tunes.
The in-person Homecoming weekend events kicked off on the evening of Friday, Oct. 13 with full house at Paint Night. This year's painting paid homage to the theme, with painters completing a mountain landscape.
Friday's virtual events included the Alumni Archives Virtual Showcase, Are You Smarter Than a Librarian and Virtual Paint Night with a step-by-step tutorial culminating in a night sky masterpiece.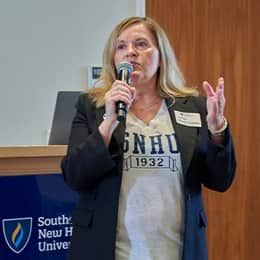 Saturday's forecast brought perfect fall weather as attendees enjoyed the return of Homecoming fan-favorites such as the Street Fair, Big Money Bingo and Lighting Up the Night, where attendees enjoyed fireworks and s'mores.
New traditions were also established with events like the Mystery Dinner Theater, the Fun Run, Walk & Roll and the Student and Alumni Affinity Brunch, where University Provost Lisa Marsh Ryerson welcomed students, alumni and their families to another day of celebrations.
Reaching New Heights in Alumni Involvement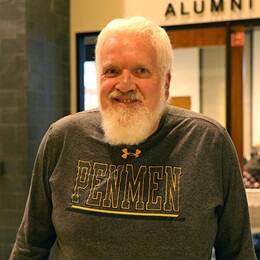 Behind-the-scenes of all the celebrations, fun and games are the dedicated volunteers who supported Homecoming events throughout the weekend. Bob Foster '15 '18MBA, of Williamsburg, Virginia, joined Homecoming in person for the first time, volunteering at Paint Night and the Student and Alumni Affinity Brunch. Foster took courses online but wanted a deeper connection to the SNHU campus.
"SNHU is special to me because it gave me a chance to complete a life-long dream. I think it's important to have a connection to a place to really solidify the memories and things that are important in your life," said Foster. "That's why I decided to come up here and do my first Homecoming volunteering stint."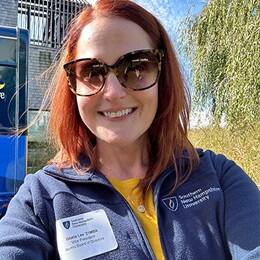 Gloria Lee '21MBA, current student and vice president of the Alumni Association Board of Directors, also volunteered to support the weekend's events.
"I wanted to volunteer for Homecoming to really connect with some of the students and start setting roots for how we can support them as alumni," Lee said. "My favorite part about Homecoming weekend is absolutely meeting the students and getting to see the excitement on campus." The Homecoming Committee also introduced virtual volunteer opportunities this year so those at a distance could take part. Brody Glidden '16, member of the Alumni Board of Directors, raised his hand to volunteer for WHODUNNIT: A Virtual Murder Mystery Game.
"It was a rewarding experience to collaborate and have a great time," said Glidden. "I volunteered because we can only be as strong of an organization with the amount of people contributing to the overall success."
Scott Jackson '22MBA, also on the Alumni Board of Directors, volunteered virtually for the Alumni Archives Virtual Showcase on Friday evening, where attendees had a chance to delve into the rich history of SNHU.
"Experiencing the collaborative forum of students, alumni and staff eager to learn about our alma mater was truly inspiring," said Jackson of the experience. "During Homecoming, what stood out most for me was the vibrant excitement and diversity within our community. It fills me with hope and gratitude to be part of SNHU's future, knowing that this dynamic, inclusive atmosphere will continue to thrive."
Homecoming wouldn't be possible without the combined effort of the many departments across the university: Student Involvement, Alumni Engagement, Shapiro Library, Campus Recreation, Campus Facilities and more. Led by Alli Pudvah '16 and Elizabeth LaClair '08, the Homecoming Planning Committee was the driving force of delivering a Homecoming weekend that would leave the SNHU community with lasting memories.
"The partnership we have with Alumni Engagement has resulted in a truly magical weekend," said LaClair, the associate director of Student Involvement "Each year, we have the opportunity to create long-lasting memories for our current students, our alumni, families, supporters, faculty and staff, who join us in-person and virtually from all over the country."
Pudvah, associate director of Alumni Engagement, believes Homecoming is a time for the whole SNHU community to reflect and celebrate.
"We hope that this year attendees made 'Mountains of Memories' at Homecoming. We can't wait to celebrate with you in 2024," said Pudvah.
Save the date for next year's Homecoming celebrations Oct. 18-20, 2024. In the meantime, you can reminisce over this year's Homecoming highlights by checking out the Facebook album.
Katie Dugan '20G is an advancement communications manager at Southern New Hampshire University, where she earned a Master of Arts in Communication. Connect with her on LinkedIn.
Erin McGonagle '15G is the director of advancement communications at Southern New Hampshire University, where she earned a Master of Science in Organizational Leadership. Connect with her on LinkedIn.
Explore more content like this article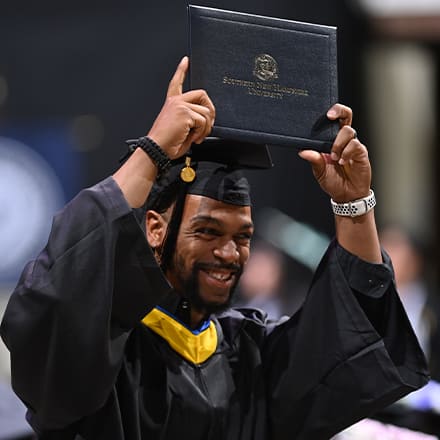 This weekend, the SNHU Arena welcomed students from 50 different countries and every U.S. state and territory to celebrate their new degrees. The ceremonies marked an important chapter for more than 22,500 eligible graduates who joined a community of over 230,000 SNHU alumni.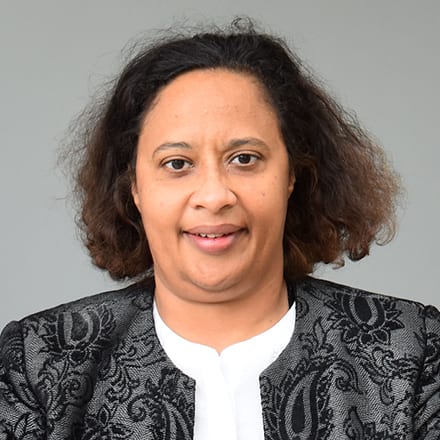 Joan Garner, daughter of late civil rights pioneer John Burrell Garner, is earning a master's degree in English and creative writing while writing a book about her family's legacy — including the Garner v. Louisiana Supreme Court case. And now, she's finally in charge of how the story will be told.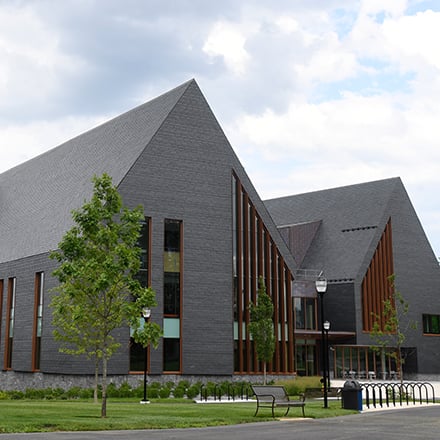 Dr. Kyle Viator has been connected to SNHU in one way or another since his undergraduate days, and most recently he became the dean of the university's School of Engineering, Technology and Aeronautics (SETA). In a Q&A, he shared a bit about his background, the SETA programs and more.
About Southern New Hampshire University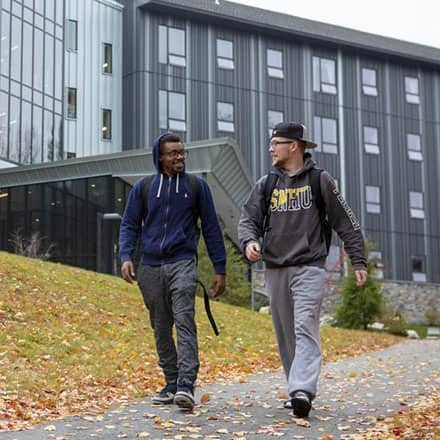 SNHU is a nonprofit, accredited university with a mission to make high-quality education more accessible and affordable for everyone.
Founded in 1932, and online since 1995, we've helped countless students reach their goals with flexible, career-focused programs. Our 300-acre campus in Manchester, NH is home to over 3,000 students, and we serve over 135,000 students online. Visit our about SNHU page to learn more about our mission, accreditations, leadership team, national recognitions and awards.