SNHU Arena Unveiled
When it was announced in February that Southern New Hampshire University had purchased the naming rights to Manchester's Verizon Wireless Arena, a lot remained up in the air. Some questions were easily answered, of course. How long do the naming rights extend? (10 years.) Will programming continue as scheduled in the arena? (It will.) Most importantly, though, people wanted to know what the new name would be?
While the topic was much debated in the halls of the SNHU campus (SNHUperdome was a popular - if cheeky - suggestion), the university would ultimately settle on a more conventional option: SNHU Arena. As the details surrounding the deal were slowly ironed out and the name change became official, the attention of both students and faculty alike began to turn to the grand unveiling.
That unveiling finally happened on Sept. 1. SNHU President Paul LeBlanc spoke about the importance of the partnership not just in terms of continuing to build the university's relationship with the Manchester community, but also in terms of providing new and exciting opportunities to SNHU students.
"We're really excited for our students," he said. "Student athletes will be able to have some of their contests here in the arena, students will be able to work in a variety of jobs with SMG, the management company, and it's an opportunity for us to connect with our community."
"We've been here since 1932, so 84 years of commitment to Manchester continues with this naming today. We're really excited," LeBlanc said.
The former Verizon Wireless Arena has long been a community fixture, hosting hockey, football and basketball games over the years, as well as wrestling matches, concerts, political rallies and even robotics competitions. Despite the name change, the future holds more of the same. SNHU Arena will continue to host the Manchester Monarchs ECHL hockey team, as well as the same wide variety of community events that area residents have come to expect.
"This partnership is about more than a name on a building," LeBlanc said. "It's about enriching the student experience, better supporting our athletic programs, driving economic change in Manchester and showing our neighbors that higher education is within their reach."
Explore more content like this article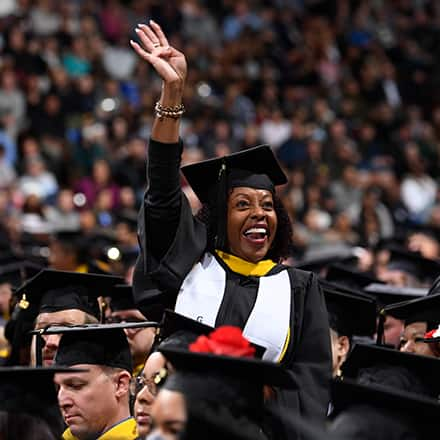 Some 3,500 students traded warm hats and coats for graduation caps and gowns inside the SNHU Arena in Manchester, New Hampshire, on Saturday. These graduates enrolled at SNHU for different reasons and from diverse backgrounds, but they now share at least one commonality: They are college graduates.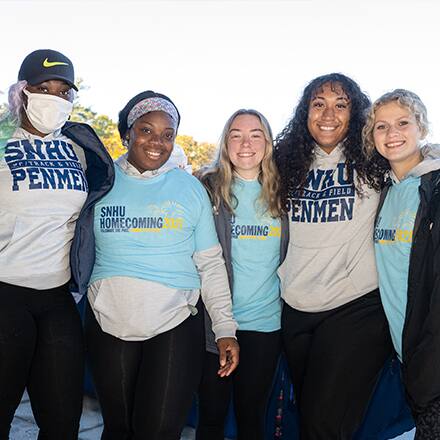 Homecoming is an annual community-wide celebration that brings together alumni, campus students, online students, faculty, staff and SNHU families. After two years of hosting a virtual Homecoming, the event's planning committee was thrilled to add in-person activities and meet-ups to the schedule.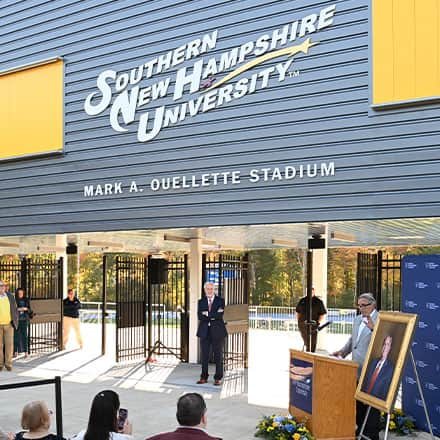 In 1973, Mark Ouellette '77 embarked on his college journey, enrolling with then-New Hampshire College. Nearly 50 years later, he joined his alma mater for a surprise athletics stadium dedication ceremony in his honor. The Penmen Stadium was renamed the Mark A. Ouellette Stadium.
About Southern New Hampshire University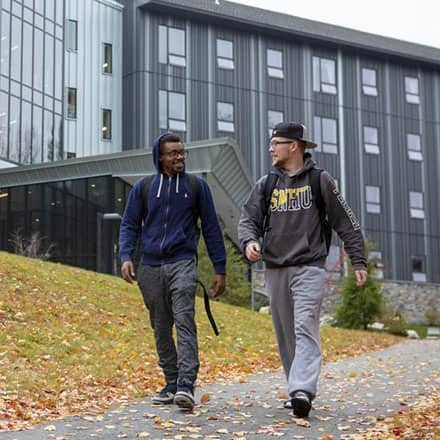 SNHU is a nonprofit, accredited university with a mission to make high-quality education more accessible and affordable for everyone.
Founded in 1932, and online since 1995, we've helped countless students reach their goals with flexible, career-focused programs. Our 300-acre campus in Manchester, NH is home to over 3,000 students, and we serve over 135,000 students online. Visit our about SNHU page to learn more about our mission, accreditations, leadership team, national recognitions and awards.