Celtics, SNHU Unveil 14th Tech Lab, This Time at Webster Elementary

A year ago, the pandemic began disrupting classrooms nationwide, changing the way people learn – perhaps forever. While there was an emphasis on technology in 21st-century education before COVID-19, its role is only intensifying. One school in Manchester, New Hampshire, recently saw a classroom space transformed into a lab equipped with resources to accommodate this growing need.
Students at Webster Elementary School gathered online and in-person, in accordance with local health guidelines, for the unveiling of their new "Wildcat Launchpad" learning space. This STEAM Lab, designed to promote learning in science, technology, engineering, arts and mathematics, is the 14th of its kind built by the Boston Celtics in partnership with Southern New Hampshire University (SNHU).
The two partners developed this initiative to support their belief that there's a correlation between technological resources and academic success. "Providing schools with access to technology is one of the most impactful ways we can help students learn and grow," said Dave Hoffman, vice president of community engagement at the Boston Celtics and Boston Celtics Shamrock Foundation.
As students in the Wildcat Launchpad demonstrated the new learning equipment for their peers tuning in from home, representatives from the Boston Celtics joined virtually with mascot Lucky and 2008 NBA championship team member, Leon Powe. Together, the team led a tour of the lab and discussed why technology and education are important.
Bee-Bots, Dots and Dash robots cruised and danced across the floor, introducing children from kindergarten through fifth grade to coding. Students used magnetic pieces to build marble runs to test physics and worked with a LEGO wall to gain motor skills through vertical building. They collaborated in an attached studio, or "green screen room," where Principal Nicole Doherty said there are plans to deliver announcements, by and for students, using state-of-the-art audiovisual equipment to create daily morning shows.
"The Wildcat LaunchPad will be the hub of the school, where students are acquiring knowledge, becoming active thinkers and performing authentic tasks," Doherty said. "...The LaunchPad provides an exciting place for all types of learners to come and showcase their talents and, more importantly, discover and refine previously unknown gifts as they launch their learning to new horizons."
'The Right Learning Space at the Perfect Time'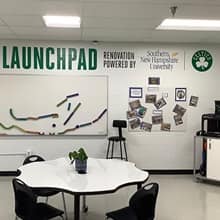 When seeking opportunities to support schools, Steve Thiel, assistant vice president of social impact and community relations at SNHU, said the university and the Celtics work together to identify how a tech lab could make a difference for that community.
"Every school is different as we want the lab to reflect the culture and needs of the individual school," he said. For Webster Elementary, Thiel said they looked to the challenges of learning during a pandemic and wanted the tech lab to serve as a resource for students to use in a hybrid setting and beyond.
Doherty said the lab came to Webster Elementary at the perfect time. After months of remote learning, students are returning to the classroom setting with greater tech literacy.
"One of the unforeseen benefits of remote learning has been the growth students have demonstrated in problem-solving with technology," Doherty said. Not only have they participated in virtual meetings and completed digital assignments, but they have also grown their time management skills by using a digital schedule.
"This pandemic has launched students even further into the realm of technology than ever before," Doherty said. "We feel the LaunchPad is the perfect complement to this new breed of 21st-century learners during this pivotal time in history."
The lab will challenge conventional teaching and learning methods and offer students an opportunity to demonstrate their abilities in a project-based environment while solving real-world problems, Doherty said.
A Shared Investment in Building Educational Opportunities
As technology plays a more prominent role in more lives than ever before, Hoffman said it's important for schools to be equipped with resources to help students thrive and, ideally, close the learning gap. "We want these students to exponentially progress in their education at the same rate that technology is progressing," he said.
Having a space dedicated to growing curiosity in education can also introduce students to a future of possibilities. "We have the opportunity to help students explore fun ways to learn and understand the different career paths they can have," Hoffman said.
Manchester Mayor Joyce Craig also believes access to tools such as the LaunchPad provides is vital to student success, but the impact doesn't stop there. "By investing in our students and creating spaces for them to get excited about learning, SNHU and the Celtics are having a direct positive impact on the future of our city," she said.
As the sixth tech lab in Manchester and 14th in schools across New Hampshire and Massachusetts, this initiative is a continued priority for the Celtics and SNHU.
"We've seen the incredible impact that these labs can have on a school and its community," Thiel said. "Each time we open one, it makes us even more excited to get to work on the next lab. These kids will do incredible things with this technology, far more than we can envision, and we're excited to follow their progress in the coming years."
Rebecca LeBoeuf '18 is a writer at Southern New Hampshire University. Connect with her on LinkedIn.
Explore more content like this article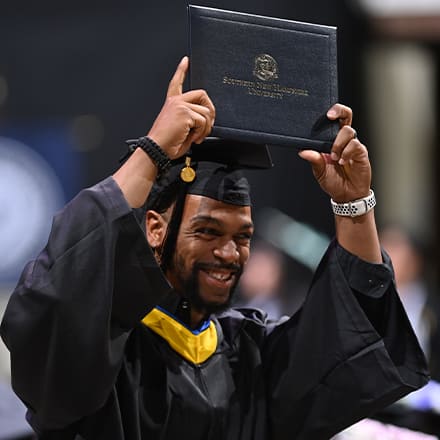 This weekend, the SNHU Arena welcomed students from 50 different countries and every U.S. state and territory to celebrate their new degrees. The ceremonies marked an important chapter for more than 22,500 eligible graduates who joined a community of over 230,000 SNHU alumni.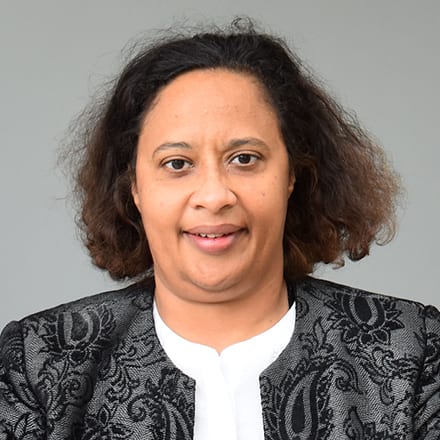 Joan Garner, daughter of late civil rights pioneer John Burrell Garner, is earning a master's degree in English and creative writing while writing a book about her family's legacy — including the Garner v. Louisiana Supreme Court case. And now, she's finally in charge of how the story will be told.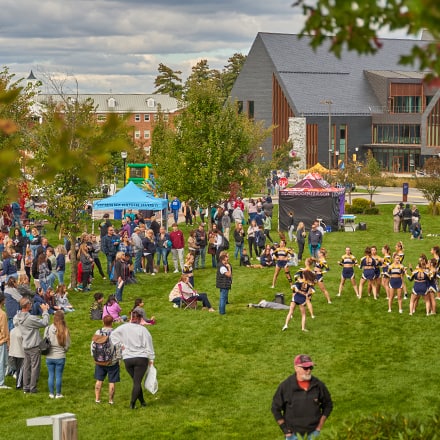 With an alumni network of more than 230,000 people and a student population that just surpassed the 200,000 mark, SNHU's Homecoming Committee and planning teams brought a variety of in-person, virtual and on-demand activities to its alumni, campus students, online students, faculty and staff.
About Southern New Hampshire University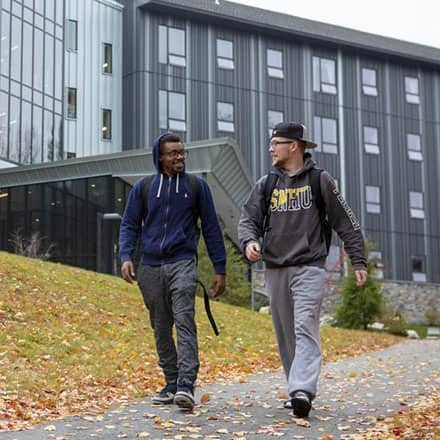 SNHU is a nonprofit, accredited university with a mission to make high-quality education more accessible and affordable for everyone.
Founded in 1932, and online since 1995, we've helped countless students reach their goals with flexible, career-focused programs. Our 300-acre campus in Manchester, NH is home to over 3,000 students, and we serve over 135,000 students online. Visit our about SNHU page to learn more about our mission, accreditations, leadership team, national recognitions and awards.