Welcoming Our Next Evolution at SNHU
A new chapter is about to unfold at Southern New Hampshire University. We've debuted our new logo and brand identity this week, presenting a bold, fresh look encompassing our university's rich history, continued innovation and unwavering commitment to our purpose—transforming lives through the power of education.
For decades, we have reimagined what education looks like for students around the world. And to keep meeting the needs of our learners, we can't stand still, which is why we're welcoming our next evolution.
Our new visual identity is the culmination of several years of research, design, and engagement throughout the SNHU community, the result of thoughtful discussion with our current and prospective students, alumni, staff, and faculty.
We learned that they see SNHU as innovative, positive, supportive, and modern—and our existing logo didn't evoke the full spectrum and impact of the SNHU story, mission and people. So, we got to work.
Drawing from Our Past to Write an Even Brighter Future, Together
We've reached back to our heritage and history and pulled forward the things that make us who we are, not to change who we are but to best reflect who we are today. As our President Dr. Paul LeBlanc notes, "Our new logo highlights who we are—a diverse, innovative, mission-driven university dedicated to increasing the amount of equity, opportunity and hope in the world. It celebrates our past while introducing a more forward-thinking look."

Our new visual identity includes key elements of our steadfast commitment and progression since 1932:
The shield represents our university seal, honoring our heritage, academic quality and school pride.
Symbols represented in our prior logos, such as imagery from our New Hampshire College history and the Penmen quill, are important parts of our heritage. The brand icon reflected in the shield has evolved to honor our history and to reflect the incredible journeys our learners embark on to achieve their educational goals.
The primary color of our logo mark is called "Ink Blue," in reference to our Penmen roots and our academic rigor. The inclusion of two additional colors represents the diversity of our people and the communities we serve.
Continued Transformation and Growth
Transformation has been at the heart of our university's mission since its founding. "We have been rewriting the rules of higher education to make it more accessible and achievable for everyone. That mission has guided our growth," LeBlanc said.
Today, we have more than 160,000 learners globally, from traditional coming-of-age experiences on our Manchester campus to online learners throughout the world. Our learners include recent high school graduates, military-affiliated students, home and abroad; working adults balancing careers, families and other responsibilities; international students, refugees and more—their commonality is their desire to transform their lives and reach their goals through higher education, and we're here to support their success always.
Transforming lives through the power of education has always been our purpose and we couldn't be more excited to continue in that tradition, together creating a better, stronger, more inclusive Southern New Hampshire University for everyone.
Online. On campus. Choose your program from 200+ SNHU degrees that can take you where you want to go.
Pamme Boutselis is an adjunct, writer and senior content director in higher education. Connect with her on LinkedIn.
Explore more content like this article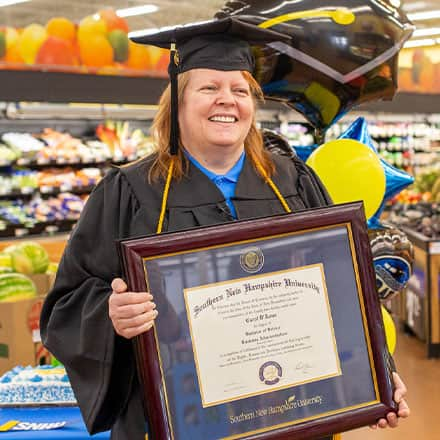 Carol D'Anna recently finished her bachelor's degree with Southern New Hampshire University (SNHU), and due to some health concerns, she was unsure she would ever be able to attend commencement. So, SNHU surprised her with her diploma at her place of work, Walmart.
More than 1,200 members of the SNHU community contributed over 5,500 hours of service during the university's seventh annual Global Days of Service. This year's service initiative spanned two months and impacted more than 135 organizations worldwide with a combination of in-person and DIY projects.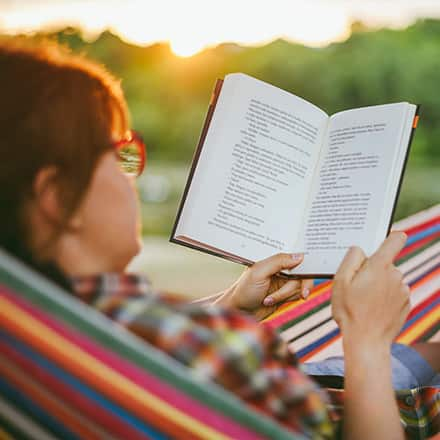 The annual summer reading recommendations have arrived. This year's list comes from SNHU adjunct professors, featuring 22 book selections for 2022. Covering several genres, this year's list has something for everyone.
About Southern New Hampshire University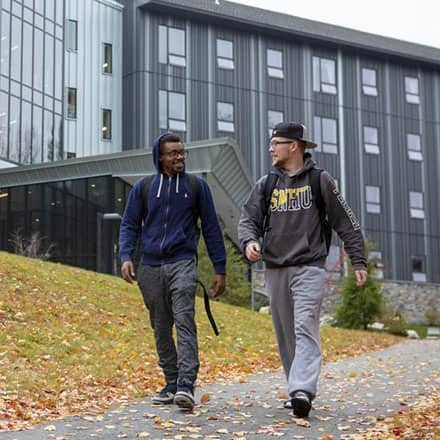 SNHU is a nonprofit, accredited university with a mission to make high-quality education more accessible and affordable for everyone.
Founded in 1932, and online since 1995, we've helped countless students reach their goals with flexible, career-focused programs. Our 300-acre campus in Manchester, NH is home to over 3,000 students, and we serve over 135,000 students online. Visit our about SNHU page to learn more about our mission, accreditations, leadership team, national recognitions and awards.