Students Address Nursing Shortage through HEaRT Challenge
Southern New Hampshire University (SNHU) students recently supplied a national retirement community agency dozens of ideas to improve nursing recruitment and retention policies as part of a real-world healthcare project called the HEaRT Challenge.
The HEaRT – Healthcare Education and Real-World Training – Challenge paired students in SNHU's nursing and health professions programs with leaders at Watermark Retirement Communities. Students were challenged to develop one recruitment and one retention strategy to help the organization address the nursing shortage facing healthcare organizations across the country. The project is designed to give students hands-on experience working with industry professionals as part of their academic training.
"The HEaRT Challenge offers students a meaningful way to build confidence, apply soft skills and demonstrate workforce readiness," said Dr. Toni Clayton, associate dean of health professions at SNHU.
The Benefits of HEaRT
Students were organized into teams that researched Watermark Retirement Communities challenge, the company's current environment and outlook as well as broader impacts of the nursing shortage. The project was conducted online, and representatives from Watermark provided additional resources and company data and were available to answer questions. Each team produced an executive summary and PowerPoint presentation for Watermark executives.
Barbara Durnan, who is a semester away from earning her bachelor's in healthcare administration, was a member of the team selected as the overall winner. Her team's recommendations included Watermark focusing on fostering a "climate of appreciation and compensation" to decrease staff turnovers, as well as offering advancement opportunities to staff nurses through training and development programs. To increase recruitment, Durnan's team recommended partnering with colleges and universities to attract new hires, as well as offer educational opportunities to current employees.
Durnan, a director of revenue cycle at a Virginia hospital, said the experience demonstrated the importance of collaboration when addressing complex problems.
"When people operate in a silo, they limit their vision and potential. It is great to share ideas and rearrange them into a final product that has a piece of everyone in it," she said. "This is something I had never done before and wanted to see what it was like. The more we open ourselves to the thoughts and opinions of others, I think the better person we become."
Debra Penn, national director of recruitment for Watermark Retirement Communities, said ideas from other groups included sign-on bonus programs, a strong focus on schedule flexibility. She was also impressed with many students' focus on the importance of company culture, something that's already high on Watermark's priorities.
"I think that all the students in all the groups really understood the issue … ," she said. "I thought each group did a really good job of giving their creative spin of what … would be important to them. They really came up with things that the employer might want to look at."
A Global Perspective
This year, the HEaRT Challenge was open to students in SNHU's Global Education Movement (GEM). Christine Musau Kalala, a resident of Cape Town, South Africa, was a member of the team that earned an honorable mention in the challenge. She echoed many of Durnan's sentiments.
"Working in a team helped me to (realize) that each and everyone's input is very important. Even if it's small, it's important," she said.
SNHU's GEM effort is a push to offer degree programs to refugees around the world. GEM students are living in five refugee camps in Rwanda, Kenya, Malawi and South Africa.
Another GEM student, Julia Nduta Oduol, also a resident of Cape Town, South Africa and member of the winning team, said the experience taught her a lot about the nursing shortage in the United States.
"The resources provided are so good, and it helped me unpack the impending shortage of nurses and what companies should do to avoid the problem," she said.
Future Payoffs
Laurie Lewis, an SNHU Career early engagement partner, said in addition to the academic value of the project, it also gives students a chance to work with healthcare professionals, something that will be a benefit as they apply for new positions in the industry.
"It also gives students feedback from employers and their staff who are currently engaged in the type of problem-solving that students may be seeking in their post-academic careers," she said. "This excellent networking experience provides students with an advantage when they pursue their post-academic career goals."
Penn said Watermark prides itself on helping future nurses and healthcare professionals prepare themselves for careers in the industry.
"Watermark passionately believes in working with universities and colleges and giving students the opportunity to really do projects like this, so they're really getting themselves prepared to go out in the world," she said. "It's so great, too, for the students to have access to folks like us who are out there doing this and being encouraged that organizations want to listen."
Joe Cote is a staff writer at Southern New Hampshire University. Follow him on Twitter @JoeCo2323.
Explore more content like this article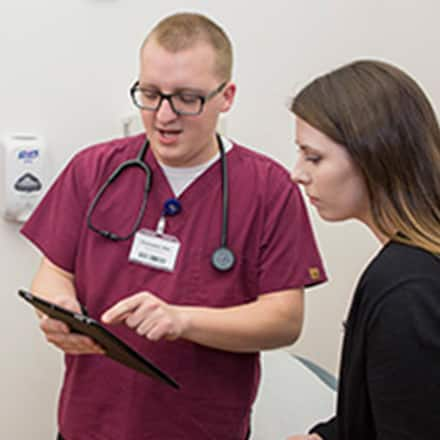 October 14, 2021
So many career paths can leave new and seasoned nurses alike wondering which specialty is right for them. To help, we've compiled a list of the 16 types of nurses employers are looking to hire, including information on salary, growth potential and required nursing degrees.
October 05, 2021
Both the nursing profession and some employers are calling on registered nurses (RNs) to obtain a Bachelor of Science in Nursing (BSN) to improve safety and help prepare for future healthcare challenges.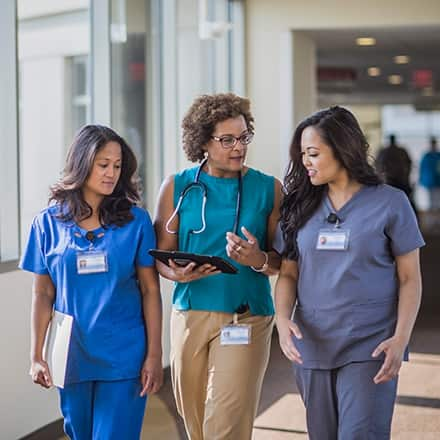 September 30, 2021
While nursing has always been a respected career, many people don't know that there are actually several different levels of nursing degrees and many different specialties available.