Celebrating Shelly Villa '19 on Military Spouse Appreciation Day
Just shy of 4 years ago, Shelly Villa made plans to attend an Operation Homefront celebration sponsored by Southern New Hampshire University (SNHU) in San Diego, California. While she was looking forward to a special night out with other military spouses, she hadn't anticipated the huge surprise in store for her that day.
Before the evening event, Villa learned she was chosen as a recipient of a $5,000 scholarship toward earning an online degree with SNHU. In time, that initial award turned into a full-tuition scholarship, allowing her to continue her degree, no matter where military life took the Villa family.
'This is what I'm supposed to do.'
Villa graduated from high school back in 2000 and started college that fall, but she said it wasn't a good time for her to pursue a degree. She always knew she wanted to go back and finish, but with 3 daughters and an active-duty husband, it didn't seem possible.
Her father's death would be the tipping point for Villa's return to college. "Dad always wanted his kids to have a college education," she said. "When he passed away, I wanted to do it for him." Her father had been a police officer in Chicago, which led to her own interest in criminal justice. She was drawn, however, to the sociology aspect of why people commit crimes.
Villa had begun the process of enrolling at SNHU just before winning the scholarship. "This is a good sign," she thought. "This is what I'm supposed to do."
Working Toward a Degree, Planning for the Future
Fast forward to the present day. Shelly and Salvador Villa Jr. are traveling from San Diego, California for SNHU's Commencement this weekend in Manchester, New Hampshire. They are both graduating with degrees in criminal justice, Shelly with her bachelor's and her husband with an associate. He will continue in the fall with his bachelor's. The couple now has four daughters, age 10 months to 14 years old.
Villa managed to keep up on her schoolwork and her family responsibilities – and quite often on her own due to her husband's military travel schedule. She also began thinking about what the future could hold for her professionally. She hopes to work within the criminal justice system, alongside a judge in juvenile cases. "Helping juveniles can help break cycles," she said.
Needless to say, finishing her bachelor's in criminal justice in late December with a concentration in criminology, was one of the best moments of Villa's life. It's one she was especially proud to share with her daughters. She hopes it one day inspires each of them, allowing them to realize there's nothing they can't do: "Hey, my mom, she got to graduate from college," she hopes they say, in spite of how busy life had been at that time.
While classes got harder as she moved forward through her bachelor's program, she never gave up, even when their fourth daughter arrived and her husband got a new command.
"That last course (capstone class) was the hardest thing I've ever done," Villa said. She completed the course on Dec. 23 and said it was the best Christmas gift ever. She credits the flexibility of the online program as a saving grace no matter how busy life got since it allowed her to work at her own pace.
'I knew it would be worth it.'
As she reached the finish line with her bachelor's degree, Villa said she felt "the sense of satisfaction, almost 19 years since high school." She notes some changes in herself and that this accomplishment is "definitely a great self-confidence booster."
When she returned to school, she said, "I knew it would be hard. I knew it would be worth it."
Villa also knew it was important to be prepared to step in professionally to support her family if need be. As a military spouse, she is especially aware of inherent risks. "There are unknowns in any career," she said. "What if something happens? I have four kids that need to be taken care of. I need the knowledge to be able to take care of them."
With her bachelor's in hand, Villa is positioned to move forward to a career in criminal justice, and her husband is poised to further his military career and eventually, become a police officer, with his degree. The couple, who met originally as TSA agents, have worked together toward their goals and shown their daughters the achievements that dedication and hard work can bring.
Pamme Boutselis is a writer and content director in higher education. Follow her on Twitter @pammeb or connect on LinkedIn.
Explore more content like this article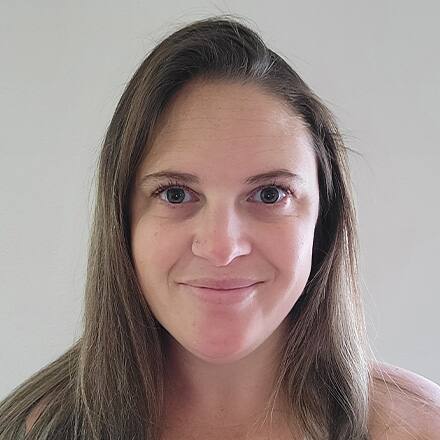 September 24, 2021
As a long-time military spouse with three children, Heather Poss has had little time to focus on herself and her aspirations. But, as her children get older and her family has been able to settle in Hawaii, she is ready to put her goals at the forefront.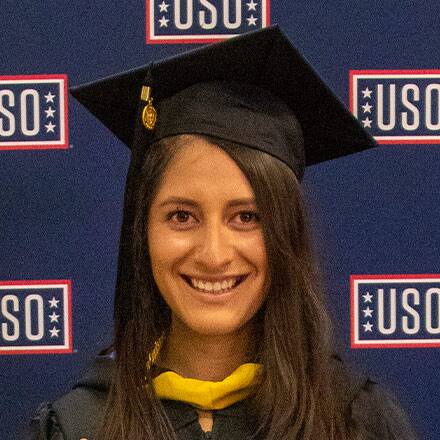 July 27, 2021
In Fort Shafter, Hawaii, Staff Sergeant Diana Tafoya Sanchez took her final steps toward her undergraduate degree. Working toward a bachelor's in business administration at SNHU while serving in the U.S. Army she celebrated her hard-earned success with a special diploma delivery.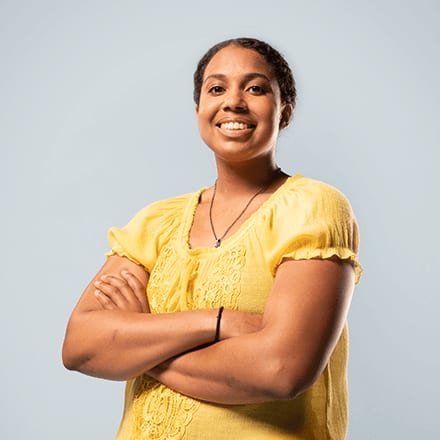 July 19, 2021
Even before she enlisted in the military, Bethanie Thomas knew she wanted to earn her degree. She even knew which field she wanted to study. The only thing missing was the right school.