Join more than 22,000 students and graduates from California who chose Southern New Hampshire University to earn their degree and reach their goals.
Discover the Value of a Nonprofit University
While there are certainly many options for online degrees in California, at SNHU, your success is our only mission. As a nonprofit university, we're committed to keeping your costs low.
Online Tuition Comparison: Bachelor's in Business Administration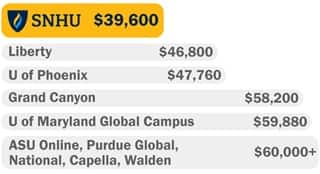 Total tuition for a bachelor's degree in business administration – one of our most popular programs in California – comes in at $39,600. That's about 15% less than our next closest competitor, when comparing large online colleges with course-based programs.1
24/7 Student Support
Don't worry about the time difference. Tech support and drop-in tutoring are available any time of the day or night.
SAT/ACT Not Required
These standardized tests aren't the best predictors of your future success in college, so we don't require them.
Affordable Tuition
Enjoy some of the lowest online tuition rates – plus discounts for eligible military students (up to 30%) and employer partners.
Popular Programs for Students in California
Save Even More with California Partnership Discounts
SNHU has articulation agreements with more than 100 community colleges and 70+ workforce partners in California. We also work directly with two community-based degree pathway programs: Da Vinci Schools in El Segundo and Rivet School in Richmond.
Meet Some Fellow SNHU Californians
---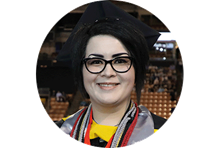 Janet Johnson '22 - Rescue, California
Janet earned her MS in Healthcare Administration with a 4.0 GPA while working full time, taking care of a toddler and a newborn, surviving a tumor, evacuating from the wildfires, and serving as President of the American College of Healthcare Executives Student Chapter at SNHU. Janet received the Distinguished Scholar Award for the highest GPA in her degree program.
---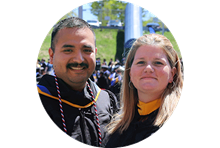 Shelly '19 and Sal Villa '19 - San Diego, California
Shelly earned her bachelor's degree and Sal earned his associate degree — both in criminal justice. Having already tried a traditional campus experience and community college without success, Shelly enrolled at SNHU with a scholarship from Operation Homefront. Sal, who has been deployed 4 times with the U.S. Navy, received college credit for his military service.
Frequently Asked Questions
Can you get an online degree in California?
Yes! In fact, there are more than 22K students and alumni from California who chose to earn their degrees online from SNHU.
You can earn an online degree from wherever you have internet access. And Southern New Hampshire University has been offering education online since 1995, meaning over 25 years of honing a flexible, affordable and effective approach to online learning.
Plus, SNHU offers more than 200 accredited, online programs that can help you advance your career. What degree program will you choose to move forward?
Is SNHU accredited in California?
Southern New Hampshire University is accredited by the regional accreditor the New England Commission of Higher Education (NECHE). Regional accreditors are typically considered the most prestigious.
So, when you graduate, your degree will be more widely recognized, whether you live in New Hampshire, California or anywhere in between.
The university also carries specialized accreditations for particular programs.
Is an online degree taken seriously?
Absolutely! The perception of online degrees has drastically changed over the years.
Employers throughout California recognize the convenience and effectiveness of online education, and reputable institutions like SNHU have invested in high-quality online platforms, ensuring that the academic experience is on par with traditional methods.
How do I start an online degree?
Getting started with your online degree can be easy.
First, submit the application. At SNHU, it's a free, 5-minute online form.
Once accepted, decide how you'd like to pay for college. We can help with this.
Then, your academic advisor will work with you to map out a degree plan and register you for courses!
There are 5 graduate terms and 6 undergraduate terms in a year, so you never have to wait to get started.
And, if you already earned some college credit, SNHU will request transcripts to see what might transfer.
All this to say, graduation might be sooner than you think!
Is an online university degree worth it?
If getting your degree online is the only way you can make college work for you and your schedule, it's most certainly worth it!
By taking courses through an online university like SNHU, you'll learn both foundational knowledge and real-world skills needed to succeed beyond the classroom.
Is it cheaper to go to a university online?
It can be! It's oftentimes another reason Californians choose to take classes online instead of enrolling in a private or public California university.
Save on:
Tuition, since online classes are typically more affordable
Gas, because you won't need to commute
Childcare, since you can study and be home when you need to be
References
1Online tuition pages, on the internet, at:
https://www.liberty.edu/student-financial-services/basic-costs, $390 per full-time semester credit (viewed Sept. 19, 2023)
https://www.phoenix.edu/tuition_and_financial_options.html, $398 per semester credit (viewed Sept. 19, 2023)
https://www.gcu.edu/tuition/online-evening, $485 per semester credit (viewed Sept. 19, 2023)
https://www.umgc.edu/tuition-financial-assistance/tuition, $499 per semester credit for out-of-state students (viewed Sept. 19, 2023)
https://www.waldenu.edu/online-bachelors-programs/bs-in-business-administration#fees, $333 per quarter hour (viewed Sept. 19, 2023)
https://www.capella.edu/online-degrees/bachelors-business-administration, $365 per quarter credit at the 1000-2000 level and $415 per quarter credit at the 3000-4000 level (viewed Sept. 19, 2023)
https://www.nu.edu/admissions/undergraduate/undergraduate-tuition/, $370 per quarter credit (viewed Sept. 19, 2023)
https://www.purdueglobal.edu/tuition-financial-aid/undergraduate-graduate-tuition-and-fees, $371 per quarter credit for out-of-state students (viewed Sept. 19, 2023)
https://asuonline.asu.edu/what-it-costs, $563 per semester credit (viewed Sept. 19, 2023)