SNHU, Celtics Open 8th Tech Lab at Lawrence Middle School
Southern New Hampshire University junior Ben Lustig knew his visit to Guilmette Middle School in Lawrence, Mass., would be a good one. But he didn't expect he'd be autographing the wall alongside Boston Celtics forward Jae Crowder and former Celtics player Leon Powe.
All three men and Libby May, SNHU's senior vice president for external affairs and communication, added their John Hancocks to the large Celtics logo on the wall of the new technology lab. The lab, the eighth such lab SNHU and the Celtics have partnered to open at schools in southern New Hampshire and throughout Massachusetts, was unveiled at the school on March 27. Lustig, who is studying graphic design at SNHU's campus in Manchester, N.H., designed the graphics that adorned the new technology lab.
"It's great. I didn't realize it was going to be such a ceremony," Lustig said. "I wanted to come and see what it would do for all the kids and everything. To be able to have this kind of stuff and give it to the kids (was) definitely a driving factor in the passion I put into it."
The room is awash in Celtics green and white. In addition to the wall with the Celtics logo and autographs, Lustig designed three Celtics jerseys with the motto "Growth, Mindfulness and Support" where a player's name would normally be. The jersey numbers are 9, 7 and 8, the region's area code. Another wall features a howling wolf - the school mascot - and the quote, "Throw me to the wolves and I'll return leading the pack."
Lustig said the design of the room was a bit of a whirlwind. He responded to an offer the graphic design department issued to students. After visiting the school to look at the room, he sent a first draft of his design a week later. After a week of tweaks and small changes from the school, the Celtics and SNHU, a final design was done. "I had a lot of creative freedom, which is something a graphic designer always wants. They basically gave me the specs and said, 'Do what you want,'" Lustig said. "I took that and ran."
The tech lab at Guilmette Middle School features 32 Acer Chromebook laptops with a charging cart, eight Dell desktop computers and an Epson projector. Principal Melissa Spash said the room is perfectly designed to mesh with the school's philosophy of blended learning. The desks and tables are all mobile and can be reconfigured to accommodate entire classes, smaller groups or one-on-one instruction. The room was previously a computer lab but had outdated and sometimes non-functioning equipment and was "kind of institutional," Spash said. "We kind of see teacher and technology blended together. We're getting better and better at it, and this room is now perfectly poised for that."
One thing the school's eighth graders will be using the lab for soon is the Massachusetts Comprehensive Assessment System tests, which students take online. "I think they're going to feel really special when they do it," Spash said. "They're going to come in here with this brand new stuff, and they're going to feel really compelled to show their best work."
Spash said she asked the team leads at each of the school's grade levels to choose eight students to attend the unveiling. She said teachers chose the 32 fifth- through eighth-grade students based on the effort and growth they've shown in the past school year. "We wanted to celebrate kids who maybe hadn't been noticed before for whatever reason," she said. "It was a good representation of all our students."
The students were split into four groups and spent about 30 minutes doing web-based activities. Some did an online scavenging hunt. Others wrote a story based on a Celtics game boxscore. Other groups sketched the Celtics logo or completed a coding exercise. Each group sent a representative to shake hands with Powe, Crowder and May before explaining to the crowd what their group activity was. Powe, a member of the 2008 Celtics championship team, wasn't shy about calling out some of the students he worked with during the activities, much to some of their chagrin.
Then they got some life advice from Powe, Crowder and May. Crowder, less than 24 hours after scoring 25 points against the Miami Heat, said he felt "obligated" to attend events like the technology lab unveiling to give back to the community. In fact, Dave Hoffman, the Celtics senior director of community engagement, said Crowder appeared at a similar event just days after signing with the Celtics in 2014. "I was once like you guys. I didn't have these resources when I was a kid," he said.
Powe, who retired from the NBA in 2012, now works as a community liaison for the Celtics. He said technology will be critical to the students' future, as will hard work and having a backup plan. The NBA was Powe's plan A, he said, but he knew he needed to have more than that. He now works developing smartphone apps, like the recently issued Worldwide Youth Sports app, in addition to his work with the Celtics. "The world is changing, but as young people, with technology, I think you're always going to have a job," Powe said. "As role models, we should be willing to help you. That's what I was looking for when I was young, and I wouldn't be here if I didn't get it."
SNHU is a good example of technology's importance in the modern world with the vast majority of SNHU students attending college online. "Technology and access to technology is growing," May said. "I don't think we have a program in the university that doesn't touch technology in some way."
Hoffman said the Celtics partnership with SNHU is one of many ways the Celtics try to leverage the star power they can bring to "level the playing field" by improving the community around them. "For us, there's a lot of spokes in the wheel at the Celtics. Our role is to expand the legacy and championship nature into the community. We kind of pull whatever levers we possibly can to do that," he said. "We have that platform. For better or worse, sports is this enormous platform and has this ability to do amazing things, so we're going to go with that and try to use it the best we can."
Joe Cote is a staff writer at Southern New Hampshire University. Follow him on Twitter @JoeCo2323.
Explore more content like this article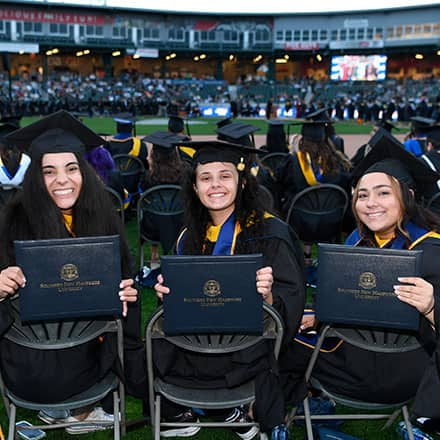 October 18, 2021
Southern New Hampshire University's Class of 2020 and 2021 campus graduates had their moment in the sun on Saturday when more than 400 celebrated their incredible achievements at Northeast Delta Dental Stadium in Manchester, New Hampshire.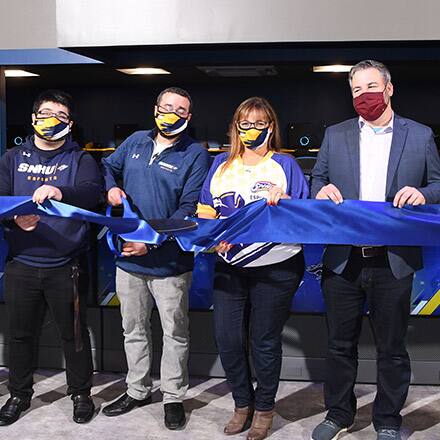 October 13, 2021
SNHU celebrated the grand opening of its esports arena on October 8th. A ribbon-cutting event marked the official opening to welcome the campus community and to see where esports players hone their gaming skills and compete against varsity-level opponents across the U.S. and Canada.
August 19, 2021
If you're wondering how to become a computer programmer, the field requires academic knowledge, a passion for math and engineering, adaptability and hands-on experience.