Two Scholarships Awarded at Boys & Girls Club's Mini-Pitch Unveiling
The mini-pitch is part of the "20 for 20 Mini-Pitch Initiative," a joint commitment made by adidas, MLS WORKS, Southern New Hampshire University and the U.S. Soccer Foundation to create a series of 20 mini-pitches in underserved communities throughout North America. The effort in Roxbury is the 10th mini-pitch to be unveiled in the 20-for-20 initiative.
SNHU President Paul LeBlanc assisted in unveiling the new mini-pitch, and he presented two full scholarships to deserving community members at the event: Adrian "Dre" Smith and Porshia Haygood, both staff members at the Yawkey Club of Roxbury. They were surprised with the scholarship presentation by LeBlanc.
"This scholarship means a lot to me and to my family," said Smith. "Education is everything. I didn't have an opportunity to go to college, and this is something that I really feel like is going to propel me to the next level in my career."
"I'm a single parent trying to make ends meet, and this is a big load off of my shoulders," said Haygood, on receiving a full scholarship to SNHU.
Both Smith and Haygood will now be able to pursue their undergraduate degrees online at SNHU.
SNHU's philanthropic partnership with Major League Soccer reinforces SNHU's commitment to expand access to high quality and affordable pathways to higher education and to demonstrate to our youth that higher education is a reality to which they can aspire.
"We talk about the poverty that keeps kids out of college, but sometimes that poverty is a poverty of aspiration," said LeBlanc. "So all of a sudden college becomes real for them and when the staff members [at Yawkey Club of Roxbury] have scholarships, and when they're talking about their [school] work, they become role models now."
The event was covered by local news media, including NESN. Learn more about the multi-year Major League Soccer-Southern New Hampshire University partnership.
Video Transcript:
0:05 - Being able to come to Boston, that's our backyard, really lovely to be with the Revolution, really great to be in the city of Boston, I think it's really a big deal
0:13 - Today is a great day because we're able to diversify our sports, to work hard, to develop a work ethic, sportsmanship, teamwork.
0:24- With the New England Revolution we are really dedicated to the growth of soccer in this country, and particularly in our community.
0:32 - Obviously the best part of today is when we get out of the way and let you guys take over the field, but the second best part is that I get to do scholarships and today we are actually going to do two, because there are two people who are so deserving.
0:45 - Dre and Porshia, congratulations! What's so great about that is all these kids can see you working full time, but also continuing your education
0:54 - This scholarship means a lot to me, it means a lot to my family, honestly when I was growing up I didn't have an opportunity to go to college
1:01 - I'm a single parent trying to make ends meet, and this is a big load off my shoulders.
1:08 - What's happening here in the middle of our city, in the heart of our city, is a great thing. These young kids are either going to win or learn, and that by itself is powerful.
Lauren Keane is the director of communications for the Office of External Affairs at Southern New Hampshire University. Connect with her on LinkedIn.
Explore more content like this article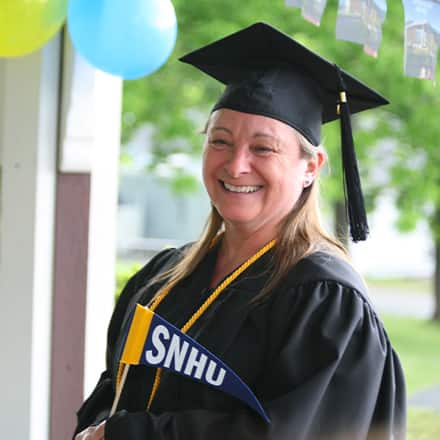 A Special Diploma Delivery for New Hampshire Grad
August 03, 2020
When SNHU's Commencement was postponed, Dr. Gwen Britton decided she would arrange a special ceremony for her longtime friend who had earned her bachelor's in information technology.