Get the Support You Need
Everyone's financial situation is different—and a good financial plan isn't one size fits all. That's why we're here to talk to you about your finances, your goals, and all the ways we can help you reach them. Whether you have a general question about personal finance or want to talk about your unique situation in further detail, we're here to help with:
Debt mitigation
Student loan repayment
Exit counseling
Budgeting
Scholarships
Money management
Schedule an appointment with our Financial Literacy Team today by emailing finlit@snhu.edu.
Tips for Smart Borrowing
Only borrow what you need - not more
Review your loan balances at the end of each term
Calculate repayment amounts regularly using the Loan Simulator
Understand repayment terms and interest rates for any private student loans
Register for a free account with SNHU's financial literacy partner, iGrad, to learn more
Identify your federal loan servicer, interest rates and loan status by logging into your Federal Student Aid account using your FSA ID or by calling the Federal Student Aid Information Center at 1.800.433.3243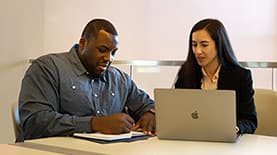 Improve Your Money Management Skills
As an SNHU student, you get the added bonus of free financial literacy resources! Find out what services are available to you when you enroll here.
Loan Repayment Tips:
Prepare for Repayment: Begin exploring your options as early as possible and work with your loan servicer to pick the plan that works for you.
Research potential salaries: Once you know your potential salary, you can plan a post-college budget that includes your student loan payment.
Financial Wellness After Graduation
Focus on paying down your debt: Some level of debt may be necessary, especially if you want to own a home or obtain a college degree, but when debt gets too high, it becomes overwhelming. Avoid bad debt, like high-interest credit cards or payday loans that trap consumers with compounding debt. If and when you do incur bad debt, pay it off quickly. Understanding debt payoff methods and effective money management strategies can help you plan for a successful financial future.

Build and maintain good credit: Your credit score is key to your financial success. Maintaining a strong credit score allows you to secure mortgage and car loans with the best possible interest rate. If you have a poor credit rating, lenders might still loan you money, but it's typically at a higher rate than someone with a better credit score.

Your credit report shows bill payment history, your current debt and other financial information, which are all factors used to determine your credit score. Free credit reports are available each year through the Annual Credit Report website and should be monitored for accuracy and fraudulent activity.
Financial Literacy FAQ
What is financial literacy?
Being financially literate means you're able to make smart decisions about budgeting, investing, personal finance and more.
According to a 2021 report, only 57% of Americans are financially literate.¹ That's just under half the country that hasn't been given the opportunity to learn more about their finances.
If you don't feel confident in your financial decision making, you're obviously not alone. And you can do something about it.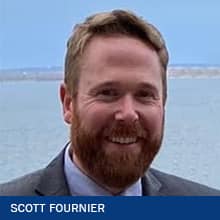 "Thinking about finances can be stressful, but starting simple – like tracking a monthly budget – is a great way to gain momentum," said Scott Fournier, associate director of SNHU's Financial Literacy Team.
Meeting with a financial literacy counselor would give you the ability to learn how to make changes. For example, both online and campus students at Southern New Hampshire University can make an appointment to meet with a member of the Financial Literacy Team and explore resources to help get you on the right track.
Why is financial literacy important to college students?
Financial literacy should be important to everyone! Because many students work their way through college, it's crucial to know how much money to put where.
For example, say you needed to use loans to cover $150 in books for your next term.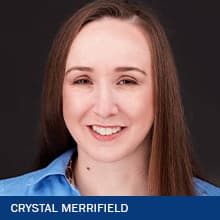 "If the current interest rate was 5%, that becomes an extra 2 cents a day, about 62 cents a month, $7.38 a year – and a total of $237.39 over the life of the loan," said Crystal Merrifield, a finance counselor with Southern New Hampshire University's Student Financial Services. "That's an additional $87.37 just for that term's books – about 58% more than the original cost."
Now multiply that by the number of terms you'll be attending school. It adds up.
By working with a member of SNHU's Financial Literacy Team, you'll discover that just by covering that dollar a day up front, you can save a lot of money in interest later. It's a lesson that can be useful in situations beyond paying for college, as well.
Do a lot of colleges offer financial literacy resources?
Some do – but plenty don't.
Southern New Hampshire University has always been committed to making education accessible. And because we're a nonprofit, we make it a free service to you.
Even if you feel that you make smart money decisions, talking with a counselor experienced in financial literacy is a great way to get an outside view of your situation. A few new tips could go a long way!
How can I improve my financial literacy skills?
It's hard to do this on your own, especially if you've never taken a money management class or had someone in the family you could go to with questions.
Luckily, there's help out there!
From banks and consultants to podcasters and social media influencers, there are many people who offer their expertise on the subject.
If you're a student, check to see if your college offers these services for free.
Some colleges – like Southern New Hampshire University – partner with financial literacy programs like iGrad, which provides students and alumni with resources and interactive tools to customize your experience.
"iGrad is passionate and focused on improving financial capability while providing a platform that is continuous, ongoing, interactive, engaging and relevant to each individual," said Scott Fournier, associate director of SNHU's Financial Literacy Team.
iGrad offers help through a variety of content types – like infographics, articles and videos – giving information in the format you consume it best. Plus, because it's an online platform, you have 24/7 access to the resources you need.
Once I've developed financial literacy skills, what is the best way to pay off my student loans?
Just like you received help from financial services counselors while you were taking classes, there are other staff members who are on hand to help you pay back your loans.
At Southern New Hampshire University, those counselors are part of the Financial Wellness Team.
If you've left SNHU and need to pay back your student loans, you can reach out to the Financial Wellness Team. You'll have the opportunity to speak with a counselor, who can help you get in touch with your federal student loan servicer, make a payment and discuss your repayment plan.
References
¹ Milken Institute. Financial Literacy in the United States, 2021 [PDF], on the internet, at:
https://milkeninstitute.org/sites/default/files/2021-08/Financial%20Literacy%20in%20the%20United%20States.pdf (viewed June 13, 2022).