Calen Carr Kicks off MLS Players, SNHU Scholarship Program​
Former Major League Soccer star Calen Carr kicked off a new scholarship program from MLS and Southern New Hampshire University that will award nine full college scholarships to MLS fans.
Carr, a former Houston Dynamo forward now working as a host for Major League Soccer, said in a video he posted on social media Wednesday that education has always been one of his top priorities. He invited his followers to tweet a video clip using #SNHUgoals telling him why they deserve a scholarship. The follower he chooses will get a scholarship to study at SNHU online.
"Growing up with my mom as a college professor, education has always been my number one priority, constantly challenging myself to realize my dreams as a both student and athlete," Carr said in the video. "After playing in MLS and graduating from college, I've been able to do both and now have the opportunity to help others try and reach their goals!"
The remaining eight scholarship offers will come from players on a number of MLS teams who are also enrolled at SNHU, according to Steve Thiel, director of partnership marketing at SNHU. The university's partner association with MLS began as a way to help players plan for their post-soccer lives by finishing their degree while still in the league. A number of the more than 50 players who have enrolled at SNHU since the partnership began expressed an interest in helping give the same opportunity to members of their communities.
"It was clear that some of the players in MLS ... would be interested in helping us spread education to those who would not be able to access it otherwise," Thiel said.
Players will be looking for people who are involved in their communities, who demonstrate a desire to improve those around them and are able to communicate how education can benefit their long-term personal or professional goals.
Thiel said each player will choose three finalists from their community. SNHU will reach out to those finalists to learn more about their goals, and the player will then choose a scholarship winner.
The partnership with MLS and its players is the perfect, and unique, way to reach out to those whose lives can be transformed by education and who wouldn't otherwise be able to complete their degree, Thiel said.
"At our core, we believe in the power and education, especially for those who would have a hard time accessing it. Those are the people who need it the most," he said. "MLS is a partner that really believes in the power of education like we do."
Search for #SNHUgoals on Twitter and Instagram to see more posts from MLS players and scholarship hopefuls.
Joe Cote is a staff writer at Southern New Hampshire University. Follow him on Twitter @JoeCo2323.
Explore more content like this article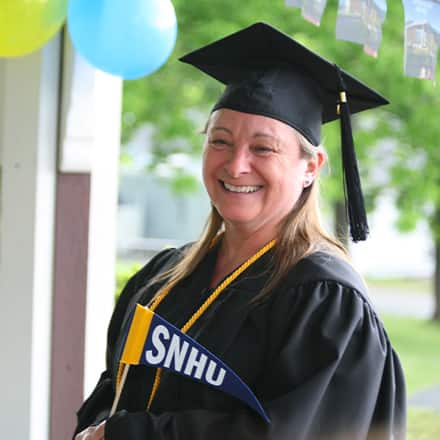 A Special Diploma Delivery for New Hampshire Grad
August 03, 2020
When SNHU's Commencement was postponed, Dr. Gwen Britton decided she would arrange a special ceremony for her longtime friend who had earned her bachelor's in information technology.