SNHU Installs Outdoor Classrooms at Three Manchester Public Schools

Southern New Hampshire University (SNHU) recently launched an initiative to build out a network of outdoor classrooms at three Manchester public schools: Southside and Hillside Middle Schools and Webster Elementary School. Made possible by a grant from the Bosch Community Fund, the "EcoSTEM Outdoor Classroom Network" links Manchester students to the SNHU Arboretum. In addition to providing much-needed outdoor learning spaces, the classrooms include environmental sensors and monitors, allowing students to take ownership of their school's environment and generate meaningful learning opportunities.
"When we spoke with the principals, they were absolutely thrilled that we were bringing in these resources for their schools," said Pamela Beckvagni, assistant director of sustainability programs at SNHU. "This is a wonderful opportunity for students to experience the outdoors, experience nature and learn about the environment."
On October 25, students at Southside Middle and Webster Elementary schools rolled up their sleeves alongside SNHU Office of Sustainability staff and student workers, and other SNHU employee volunteers to install materials needed for the outdoor classrooms including picnic tables, chalkboards and raised flower beds.
"One of the functions within the community impact team is eliminating barriers to education and partnering with the Manchester community specifically gives us a ton of pride," said Nicole Cate, community impact program manager at SNHU. "These kinds of projects allow children to have a new experience and can further their education in different ways, not just inside the classroom, but outside the classroom."
Weather stations were also installed at the locations, allowing for students across the community to draw on data from any site, collaborate with peers and carry authentic learning and problem solving into high school and college, strengthening the local STEM pipeline.
Mike Weinstein, director of sustainability at SNHU, spoke to WMUR-TV about the importance of outdoor classrooms for some of the community's youngest learners.
"One of the things that COVID showed us is there really is a need to have these flexible learning spaces for students, right?" Weinstein told the station. "We want to be able to get them outside, get them thinking about things in a different way, and they do get really excited when you bring them out to an outdoor classroom."
Siobhan Lopez is a former journalist, who is now the assistant director of media relations at Southern New Hampshire University.
About Southern New Hampshire University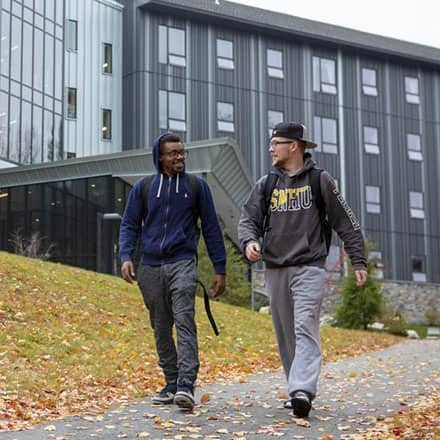 SNHU is a nonprofit, accredited university with a mission to make high-quality education more accessible and affordable for everyone.
Founded in 1932, and online since 1995, we've helped countless students reach their goals with flexible, career-focused programs. Our 300-acre campus in Manchester, NH is home to over 3,000 students, and we serve over 135,000 students online. Visit our about SNHU page to learn more about our mission, accreditations, leadership team, national recognitions and awards.