What is a Cover Letter for a Resume?
Think about adding a shot of espresso to your favorite coffee beverage. Coffee purists may insist that a hot, black cup o' joe is the only worthwhile option. When done correctly, though, the added espresso packs a powerful punch.
The same concept applies to adding a cover letter to your resume. It's a boost to complement an already solid product (i.e., the experience on your resume) with a little bit of oomph. The cover letter is more or less a short, autobiographical professional story that accompanies your resume in your application.
What is the Purpose of a Cover Letter for a Resume?
In the cover letter, you can share fortified examples with a hiring manager about who you are, what you can do and why you're the most interesting and interested job candidate. This is typically achieved in two to four paragraphs and strictly limited to one page or less. A cover letter can also build a bridge between your resume and the job description.
A debated topic in the hiring world is whether busy recruiters take the time to read applicants' carefully crafted cover letters. A recent Fishbowl by Glassdoor survey reported 58% of workers say cover letters are unnecessary. Other sources, including job search coach Lynda Spiegel, mention how AI-powered Applicant Tracking Systems (ATS) used by hiring teams may rank your application higher among the competition if you upload that supplemental cover letter document.
The recruiters and hiring managers who do read cover letters in full often find them helpful in getting to know a candidate as a viable fit for the open position and company culture.
What Do I Write in a Cover Letter?
Now that we understand what the purpose of a cover letter is for a resume, what should you include in a cover letter?
First, understand that the cover letter should not be a regurgitation of points already included on your resume. Let your resume speak for itself, and use the cover letter to focus on highlighting your personality and targeted examples of your interests and successes.
Convince yourself you are perfect for the opportunity. Then, craft your writing to subtly guide the hiring team to the conclusion that they would be remiss to pass up interviewing you.
Before you get started, ask yourself a few questions:
How well did you read and understand the job description? Think about what inspired you about the job before you selected "Apply Now." Pick some key items where you can provide actual examples of your past experiences that relate to the listed job duties and responsibilities. A more impactful impression is possible if you reference select words from the job description within your cover letter.


What are the mission and values of the company? Every organization should have a purpose or goal, whether it's to make the most money or to change the most lives. There could also be a significant part of the company's history or current industry news relevance that piqued your interest. Do a bit of research to set yourself up for success and customize your cover letter content to showcase where your passions match with those of the organization.


Why are you writing the cover letter? Map out a few select reasons why you're the ideal match for the role and plan to highlight the best options for the cover letter.
Not all application processes require the same documentation. Pay attention when the job description tells you not to include a cover letter. Including one anyway when they specified not could unintentionally seem like you lack attention to detail.
If including a cover letter is optional, it's a good idea to submit one. It may help you stand out as a job candidate and help your application rank higher if the organization uses ATS software.
When you do need to include one, Follow the tips below to help your cover letter best represent the best applicant — you!
What are the 5 Parts of a Cover Letter?
To steal the attention of the hiring team, every great heist starts with a well-laid-out plan. This outline explains the tried-and-true formula of a cover letter to stake your job claim:
1. Header
Let the hiring team know who you are and how to contact you:
Full name
Professional email address
Phone number
City and state (you do not need to include your full address)
Social media profiles relevant to the role (for example: LinkedIn, GitHub, Blogger)
Second, enter the date under your contact information so the team understands the immediacy of your application and interest.
Finally, the header should specify to whom you are writing so the letter finds its way to the right inbox:
Name of the hiring manager
Professional title of the hiring manager
Company name
Company address
If you're not provided with a specific name, search LinkedIn by company and title or review the Staff Directory on the company's website to locate a contact that may influence the final hiring decision.
If you're still not sure, you can exclude the hiring manager's name and jump straight to a professional title or the company name and address instead.
2. Greeting
Professionally address the hiring manager by name or by title.
If your staff sleuthing skills serve unsuccessful in finding the exact name of the hiring manager, you may also reference a generic title in the greeting, such as "Dear [Department] Hiring Manager," to get your message across.
Toss out antiquated greetings used in the past, like "To Whom It May Concern" or "Dear Sir or Madam," and personalize your greeting as much as professionally possible for the reader.
Greeting Example
---
Taylor Jones
Austin, TX • 555-555-5555 • professionalemail@snhu.edu
NOTE: Copy / paste name and contact info directly from your resume so it matches
April 10, 2023
Ms. Erica Jones (optional if you can find this)
Senior Vice President, Sales Development (optional if you can find this)
ABC Company
123 Career Lane
Cold Springs, AZ, 12345
Dear [Hiring Manager Name]: (if available), OR Dear [Department] Hiring Manager:
3. Introduction
Captivate the reader immediately. Weave together relevant professional skills and listed job requirements to lead with an enticing statement.
The introduction of a cover letter shares two to four sentences to explain your interest in the role while setting the stage for what is to come. Promote one or two of your impressive skills or specific knowledge as it relates to the position and grab the hiring manager's attention.
You can start with a measurable example from your prior experience supported by a reflection of the job description. Then, finish with a question or statement that engages the curiosity of the hiring manager to further explore your professional story.
Introduction Example
---
From your job description listed on the Handshake job platform, I understand your next Director will be able to 'meet or exceed established sales goals in a collaborative environment.' I inspired and led a team of sales representatives who repeatedly surpassed annual profit projections as a regional manager with LMNOP Corporation. How could my team-focused sales management style benefit the overall operations of your organization?
4. Body
Reinforce how the needs and values of the employer are mirrored by key examples of your past experiences.
Bolster your prior introduction statement with one or two additional stories or examples in the body paragraph to echo your past and potential future contributions. Relate keywords from the earlier company research you conducted and tie in requirements of the job description to explain your case for candidacy. Employment gaps or career transitions may also be addressed in the body paragraphs of the cover letter.
Body Example
---
Aligned with your company's values, a Drive for Results was always a focus in my past sales positions. As I progressed through the quarterly campaigns at LMNOP Corporation in a fast-paced and ever-changing environment, I was able to adjust my tactics and use available performance metrics to continually motivate my team and further improve outcomes. I also found these skills especially relevant in my time as a stay-at-home mom of three young children from December 2021 through January 2023, where careful and intentional negotiation skills proved relevant in finding agreeable solutions to everyday challenges.
I am a strong proponent of streamlining communication within a team through behavioral strategic planning. The resulting process improvements have helped me in leading teams to not only exceed our annual goals, but also to achieve a substantial increase in client satisfaction. This allows me to better understand the importance of customer experience and I hope to bring that knowledge and dedication to the stakeholders of ABC Company.
5. Closing
Express your gratitude and hint at the next steps of the process.
Wrap up your cover letter story with a closing that positions the reader to respond. Be sure to mention an appreciation of their time and attention while also reiterating your interest in being included in the next stages of consideration.
Don't forget to sign with an outgoing pleasantry and your name.
Closing Example
---
Thank you for taking the time to review my qualifications and interest. I look forward to the opportunity to speak with you further about how my experience and skills could positively impact the team at ABC Company as your future Director of Sales.
Sincerely,
(Name)
Ready to Write Your Cover Letter?
Customizing your cover letter for each opportunity will be your key to unlocking the genuine interest of the hiring manager. It will also help to deliver your authentic tone and honest intentions of working for the organization.
Lean on family, friends or others who know you best to read through your cover letter draft and provide constructive feedback. You could also consult with a local workforce development office or the Career Services department at your school or university for professional support.
Overall, trust in yourself and your experience and let your accomplishments shine.
You've got this!
Is There an Express Version of What to Include in a Cover Letter?
Your newfound cover letter knowledge will be an important resource in your lifetime career journey. The need to write about your relevant professional story could come up at any time for a part-time job, an internal promotion to management or even that dream job just waiting for you in the days, months or years ahead.
Below is a helpful acronym to keep as your blueprint along the way:
Conduct research about the position and the company
Omit details that stray from job-relevant professional or personal experience
Validate specific bullets on your resume with fortified examples, but don't simply repeat the same information
Engage the reader from the start with an enticing introduction
Respond in the body to listed job qualifications by using creative storytelling
[Take a breather and come back later with a refreshed set of eyes to continue writing]
Leverage the company mission and values to reflect your own knowledge and skills
Explain gaps in employment or career transitions more clearly and effectively
Trust in yourself and be confident in your experience
Thank the hiring manager for reviewing your cover letter and application
Express your interest in the next steps of the recruitment process
Remember to consult helpful resources for review and feedback before submitting the cover letter with your application
Online. On campus. Choose your program from 200+ SNHU degrees that can take you where you want to go.
Dana McGrath is an employer relations partner with Southern New Hampshire University Career Services. She began her SNHU career journey as an admission counselor and was promoted in 2021 to her current role, where she meets and collaborates with external recruiting contacts interested in hiring talent from SNHU online programs.
McGrath holds a BA in Communication Media Studies. She has varied roles scattered throughout her professional story and understands the importance of using a cover letter to highlight her authentic personality and writing skills while also tactfully explaining employment gaps and job transitions. Connect with McGrath on LinkedIn.
Explore more content like this article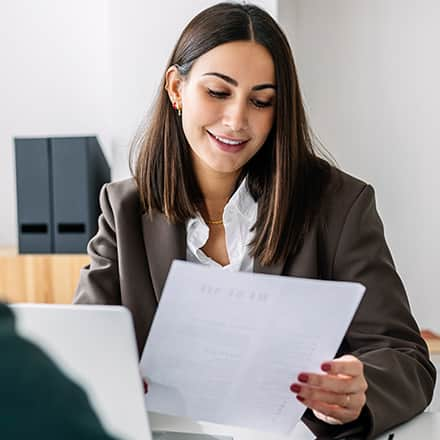 A resume is a summarization of your education, skills, work experience and other relevant aspects of your career.  In lots of ways, it's your first impression. Resumes are a standard part of any job search, and they are a vehicle to help you demonstrate that you're a good candidate for a position.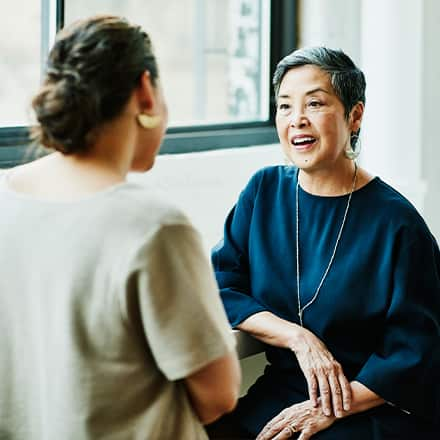 In today's workplace, skills like communication, self-awareness and emotional regulation are in high demand. These qualities - part of emotional intelligence - are key if you want to be a good leader. Learn more about why emotional intelligence in leadership is so important.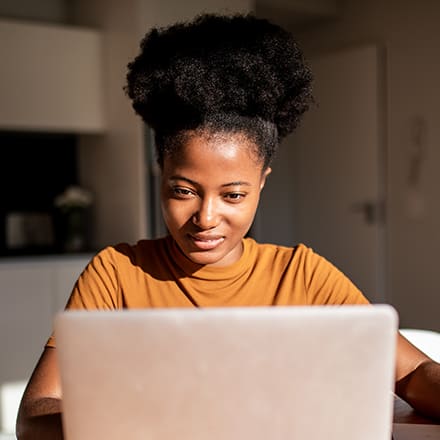 Southern New Hampshire University (SNHU) recently provided students a platform to engage in a preprofessional student experience celebrating Black History Month. Students worked in teams to share an important piece of black history while earning valuable skills for the workforce.
About Southern New Hampshire University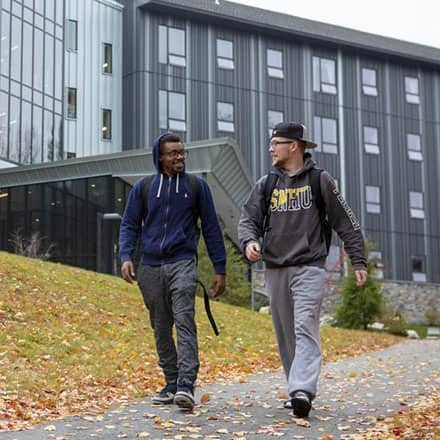 SNHU is a nonprofit, accredited university with a mission to make high-quality education more accessible and affordable for everyone.
Founded in 1932, and online since 1995, we've helped countless students reach their goals with flexible, career-focused programs. Our 300-acre campus in Manchester, NH is home to over 3,000 students, and we serve over 135,000 students online. Visit our about SNHU page to learn more about our mission, accreditations, leadership team, national recognitions and awards.