SNHU Student Named ACE Student of the Year
When Sophia Norcott decided to earn her college degree, she decided she was going to do it her way. Less than two years later, she earned that degree without accruing any debt and was recently named the American Council on Education's (ACE) Student of the Year.
Norcott was happy with her career as a creative media manager at an engineering firm in the Pacific Northwest but decided she wanted to earn a degree that backed up the knowledge she had learned on the job. She had put off college after high school because she didn't want to be saddled with large loan payments. As an adult learner, she discovered she had more options.
Leveraging Professional Knowledge for College Credit
Norcott took several College Level Examination Program (CLEP) exams to earn her degree for less money and in less time. The program, administered by the College Board, allows students to demonstrate mastery of a variety of subjects and earn college credit. Nearly 3,000 institutions accept the exams, including Southern New Hampshire University (SNHU), where Norcott earned her bachelor's in communication with a concentration in new media this spring.
By taking advantage of several CLEP exams to earn credit and combining that with her company's tuition reimbursement benefits, Norcott said she didn't pay anything out of pocket for tuition.
"The fact that I could do that made me very passionate about making these opportunities available for people that don't know they exist," she said. "I saw it as kind of an opportunity to highlight accessibility in education."
The experience was rewarding in more than one way. Norcott was also inspired to share her newfound knowledge with others looking for ways to make college more affordable. She started by offering advice on Facebook groups and other online forums. Eventually, she created a website, CLEPStep.com, and filled it with all of the lessons she learned navigating the CLEP exam process. The site includes information about CLEP itself, how to get started, determining if your university accepts the exams, as well as study tips.
"Once I got a grip on that information, I became really passionate about sharing it with other people," Norcott said.
An Unexpected Honor
ACE recognizes two students – including one military member or veteran – each year who have taken advantage of CLEP credits to further their education. Norcott and U.S. Army veteran Brendyn Melugin were honored at the organization's 101st Annual Meeting in Philadelphia in March, according to ACE.
Norcott's academic advisor Laura Gagne suggested she apply for the award. Norcott and Gagne both wrote essays as part of the application process.
"It was a very pleasant surprise. I didn't have the smallest expectation of winning this award. It was an exciting moment for me," Norcott said. "It was a great honor."
Gagne said when she met Norcott she knew right away she was "very determined and motivated" to get her degree. At the same time, Norcott offered her experience to others.
"She was also sharing her knowledge with other students in hopes (of helping) them obtain a degree as efficiently as possible," Gagne said. "She is truly a remarkable woman, and I am extremely inspired by her motivation, dedication and perseverance."
Now that she has her degree, Norcott said she's even more engaged in her work.
"It was far more than a piece of paper to me. To me, education was a challenge that allowed me to discover who I am as a person, what my limitations are. It exposed me to ideas that I wouldn't have encountered if I wasn't in that environment," she said. "I think it's made me a different person. I think I'm more engaged and I'm more open to ask questions and find answers."
Joe Cote is a staff writer at Southern New Hampshire University. Follow him on Twitter @JoeCo2323.
Explore more content like this article
October 20, 2021
Interested in starting a new job or advancing in your current field? An Associate of Arts (AA) degree can give you the broad-based education and in-demand career skills you need to reach your goals. Learn more about earning an AA degree and what you can do with one.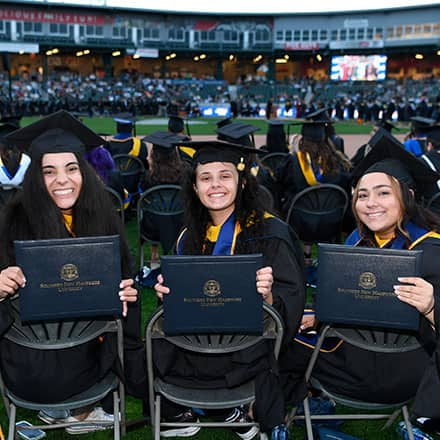 October 18, 2021
Southern New Hampshire University's Class of 2020 and 2021 campus graduates had their moment in the sun on Saturday when more than 400 celebrated their incredible achievements at Northeast Delta Dental Stadium in Manchester, New Hampshire.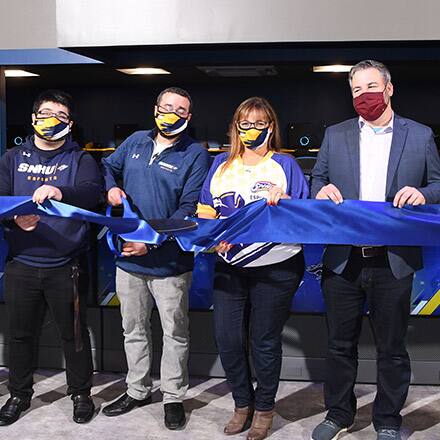 October 13, 2021
SNHU celebrated the grand opening of its esports arena on October 8th. A ribbon-cutting event marked the official opening to welcome the campus community and to see where esports players hone their gaming skills and compete against varsity-level opponents across the U.S. and Canada.