Activist Joan Garner on Chronicling Her Family's Civil Rights Legacy

Coming from at least three generations of civil rights pioneers, Joan Garner didn't exactly choose activism — she said she fell into it.
Her grandmother was an educator and voting rights activist who founded a Rosenwald school in her home parish. "She was a principal and a teacher, and so was her husband," Joan said. "She was the first African-American supervisor in that parish, so a lot of her work through activism has been centered through education."
Then there was Joan's father — a civil rights champion who fought for desegregation in the Baton Rouge sit-ins and has a Supreme Court case in his name.
As a tour guide at the West Baton Rouge Museum and a public speaker who travels to discuss civil rights in the 20th century and now, Joan knows a thing or two about history. Now, she's pursuing a master's in English and creative writing from Southern New Hampshire University (SNHU) while writing a book about her family's past and her efforts to preserve it as she advocates for justice.
Garner v. Louisiana and The Baton Rouge Sit-ins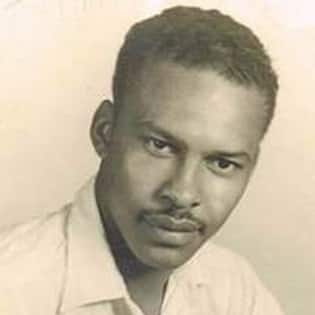 Garner v. Louisiana was an influential Supreme Court case with Joan's father, John Burrell Garner, at its center.
According to Joan, John Burrell Garner was one of several university students arrested during the Baton Rouge sit-ins of March 1960.
The students, all of whom were Black, "took seats at lunch counters where only white persons customarily were served, and they remained quietly in their seats after being told that they could not be served there," the Supreme Court case reports (Library of Congress PDF source). "They made no speeches, carried no placards and did nothing else to attract attention to themselves, except to sit at the lunch counters," the case notes.
Although they did nothing to draw attention, the students, including John Burrell Garner, were charged with disturbing the peace. They were also expelled from the university.
After these arrests, students led marches and attempted to boycott their classes. From there, John Burrell Garner's case went all the way to the Supreme Court before the judgements were reversed.
"The undisputed evidence shows that the police who arrested the petitioners were left with nothing to support their actions except their own opinions that it was a breach of the peace for the petitioners to sit peacefully in a place where custom decreed they should not sit," the case notes.
As a result, John Burrell Garner was cleared of charges and released after a week in jail.
The Baton Rouge sit-ins and subsequent Supreme Court case have been credited with spurring desegregation efforts, according to the Louisiana Civil Rights Trail.
"The case was ruled on unanimously by the US Supreme Court justices," Joan said. "It was 1960, and it helped to move things forward towards the Civil Rights Act in 1964."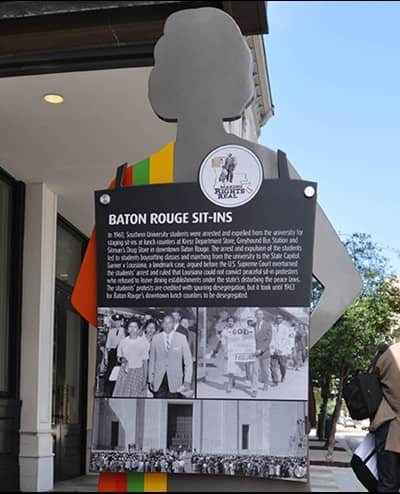 The lunch counters in Baton Rouge were finally desegregated in 1963, according to the Louisiana Civil Rights trail — a year before The Civil Rights Act of 1964 officially outlawed "discrimination or segregation on the ground of race, color, religion or national origin," as the act notes (U.S. Government Publishing Office PDF Source).
Today, Garner v. Louisiana is considered a landmark case and the U.S. Supreme Court Historical Society lists it as one of the most important arguments spanning from 1955 to 1993.
"It has significance not just for the state of Louisiana, but also the United States as a whole," Joan said.
Joan recently collaborated with the Louisiana Civil Rights Trail on a marker commemorating the impact of the Baton Rouge sit-ins and spoke at the marker's unveiling, noting her desire for the Baton Rouge sit-ins to be taught in Louisiana schools.
That's just one way Joan is determined to continue her family's legacy, but sometimes, the work she does gets complicated.
Acknowledging the Past
Thanks to his participation in the Baton Rouge sit-ins, John Burrell Garner is a hero — that's a historically documented fact according to a 2019 commendation by the state of Louisiana.
As an official government document, the commendation serves as a primary source used to tell John Burrell Garner's story in history. To Joan, her father's story can't be summarized so simply.
Although Joan appreciated the efforts of the law students who initiated the commendation, she noted that the state of Louisiana didn't take any responsibility for what happened. That lack of responsibility has been a theme that Joan's observed over the years.
For example, In 2004, John Burrell Garner was granted an honorary law degree from the university that expelled him 44 years prior. According to Joan, what her father really wanted from the school at that point — or from anyone — was an apology.
"That didn't happen," Joan said.
Seeking Accountability
John Burrell Garner passed away in 2012, and now Joan is seeking accountability on his behalf. She's contacted her father's former school to request an apology and outreached the Louisiana governor's office, as well.
Joan shared a response she received from the governor's office, which denied her request for an apology and stated the 2019 commendation for her father, John Burrell Garner, will "continue to stand as an official record for generations to come."
Joan isn't satisfied — she has publicly spoken about generational trauma that has affected her because of the discrimination against her family, and she's still looking for accountability.
"Really, if you're not even willing to acknowledge it or address it or apologize for it, you just ignored what I said, which makes this worse for me," she said of the response from the governor's office.
The commendation is a good thing, according to Joan, but it doesn't tell the full story. It doesn't take accountability for her father's arrest and expulsion or fulfill his posthumous hope for an apology.
Thus far, no individual, institution or government agency in Louisiana has been willing to "accept the responsibility that is theirs, and they are very careful in avoiding the issue by using language that is crafted to be evasive," Joan said.
Many of the responses she received refer her elsewhere, making this process longer and more complicated. Still, she notes there's precedent for an apology, pointing to a USA Today article from 2018 about civil rights protestors from Alabama who received an apology 58 years after their expulsions.
Joan continues to outreach university and government officials in hopes of receiving the apology her father wanted, but no matter what happens, there's more of this story to tell.
Writing a New History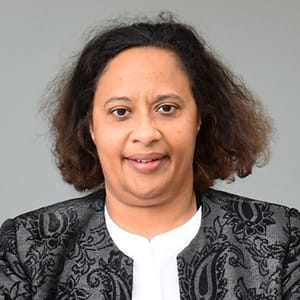 In addition to her activism and work with the museum, Joan is taking charge of her family's narrative. She already has a graduate degree, but she's currently earning another master's in English and creative writing from SNHU while authoring a book about her family's legacy — and her part in furthering it.
"I first learned of SNHU when I saw the SNHU bus drive through New Orleans," Joan said. "Years later, I was looking for an online option with a history program and found SNHU."
Although she was initially interested in a history degree, she decided that wasn't compatible with her goals. Unlike many history students, Joan's focus is on recording the past, not just studying it.
"It's because of that challenge that I had in history that I realized that there was a degree in English and creative writing, so I decided that I'd like to do some of my own writing on this," Joan said. "I felt that this degree would be better suited for me as far as having the creativity — based upon the research, based upon the lived experience, based upon the oral history — I'm not stuck in a box."
Now, Joan is in the right program to guide her toward her goals. "The classes that I am taking are helping me in writing the book by stretching my limitations as a writer," she said.
Joan is a researcher, and she's already gathered a great deal of information as a part of the writing process. "I think for me part of the issue is going to be a process of elimination," Joan said. "There's a lot of content."
The book will combine history and memoir to tell her family's story from the inside rather than the outside for the first time, taking readers far deeper than any historical document could.
"It's been kind of an adventure in a sense because it's not something that I'm creating fictitiously," Joan said. "I feel like nobody can write it really other than me."
Mars Girolimon '21 '23G is a staff writer at Southern New Hampshire University where they earned their bachelor's and master's, both in English and creative writing. In addition to their work in higher education, Girolimon's short fiction is published in the North American Review, So It Goes by The Kurt Vonnegut Museum & Library, X-R-A-Y and more. They're currently writing their debut novel, which was Longlisted for The First Pages Prize. Connect with them on LinkedIn and X, formerly known as Twitter.
Explore more content like this article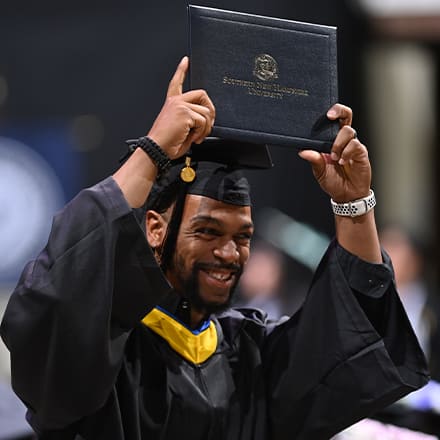 This weekend, the SNHU Arena welcomed students from 50 different countries and every U.S. state and territory to celebrate their new degrees. The ceremonies marked an important chapter for more than 22,500 eligible graduates who joined a community of over 230,000 SNHU alumni.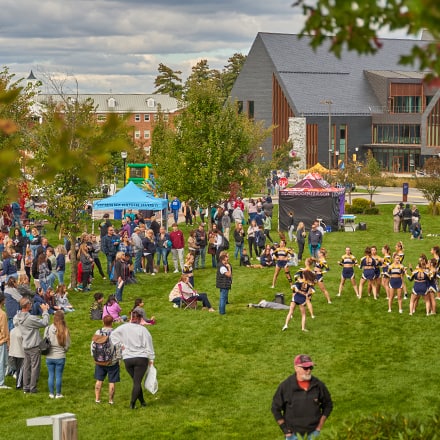 With an alumni network of more than 230,000 people and a student population that just surpassed the 200,000 mark, SNHU's Homecoming Committee and planning teams brought a variety of in-person, virtual and on-demand activities to its alumni, campus students, online students, faculty and staff.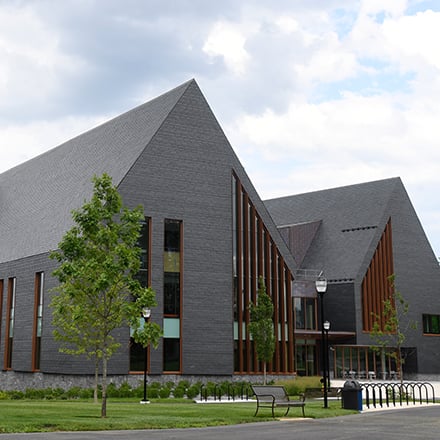 Dr. Kyle Viator has been connected to SNHU in one way or another since his undergraduate days, and most recently he became the dean of the university's School of Engineering, Technology and Aeronautics (SETA). In a Q&A, he shared a bit about his background, the SETA programs and more.
About Southern New Hampshire University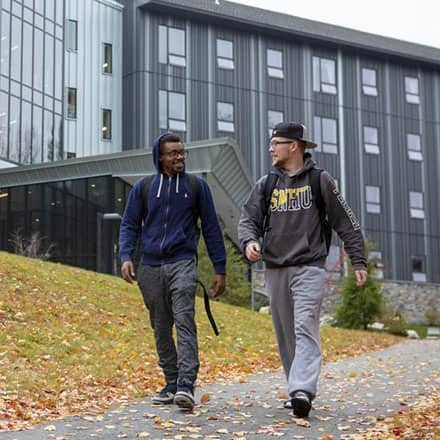 SNHU is a nonprofit, accredited university with a mission to make high-quality education more accessible and affordable for everyone.
Founded in 1932, and online since 1995, we've helped countless students reach their goals with flexible, career-focused programs. Our 300-acre campus in Manchester, NH is home to over 3,000 students, and we serve over 135,000 students online. Visit our about SNHU page to learn more about our mission, accreditations, leadership team, national recognitions and awards.