Celebrating the Achievements of 23,000 SNHU Graduates Worldwide
COVID-19 may have postponed Southern New Hampshire University's five Commencement ceremonies this weekend but it certainly didn't dampen the spirits of graduates who celebrated their achievements. Hundreds took to social media to share their joy, many in their caps and gowns, some holding their diplomas – all embracing heartfelt emotion on finishing their degrees and offering an incredible glimpse of the Class of 2020.
This is SNHU's first year with five planned ceremonies, the result of a record-setting number of graduates, more than 23,000 from all 50 states and 55 countries. More than 3,000 associate degrees were earned, as well as 13,500 bachelor's, 6,500 master's and 15 doctoral degrees.
Graduates from throughout the university vied for the opportunity to serve as a student speaker at Commencement ceremonies. These graduates represent the Class of 2020: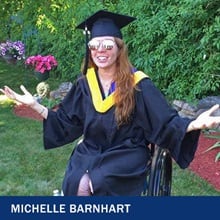 Michelle Barnhart, from Rindge, New Hampshire, earned her Master of Business Administration in HR Management. Her journey with SNHU began in 2012 and she's since received her associate and bachelor's degree, and now her MBA. Her determination has been unparalleled – even a major accident that left her paralyzed and wheelchair bound didn't stop her progress and aspiration to advance in the field of human resources.
Jesse Baker, from Dunkirk, Maryland, earned his Bachelor of Science in Business Administration. He is a communications expert for the United States Air Force, stationed in Washington D.C. A proud husband and father, Baker also volunteers his time for veterans and homeless organizations. With his SNHU degree, Jesse hopes to serve as a role model for his children and continue to advance his career.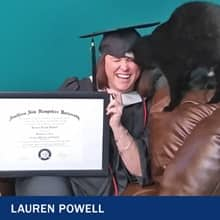 Lauren Powell, from Federalsburg, Maryland, earned her Bachelor of Arts in Creative Writing and English. Before earning her degree, she was working three jobs to make ends meet and wasn't considered for a promotion because she didn't have the educational requirements. She had a passion for writing and little time to devote to it. Powell now serves as District Court Commissioner for the State of Maryland – and has had short stories published. She's also completing her first novel.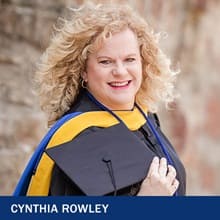 Cynthia Rowley, RN, BSN, MSN, from Dubuque, Iowa, earned her Master of Science in Nursing with a Clinical Nurse Leader concentration. A wife and mom, she's been a nurse for more than 30 years and recently completed her MSN with a 4.0. She's already begun her work as a clinical nurse leader, serving as a mentor to young nurses and teaching part of her hospital's orientation course to new nurses. Rowley hopes to continue this work, inspiring other nurses to continue their education and further their careers.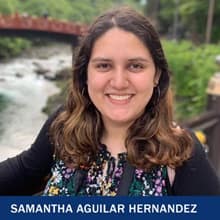 Samantha Aguilar Hernandez from Manchester, New Hampshire, earned her Bachelor of Arts in Communication. A Mexican immigrant, she aspires to produce developmental children's programming in television and film. While at SNHU, Hernandez served as a resident assistant, a writer for the Penmen Press, an on-air personality for RadioSNHU, a social media manager and podcast editor. She also traveled to Japan to produce a documentary on religion.
In a video message sent directly to graduates, SNHU President Dr. Paul LeBlanc said that while Commencement has been postponed, it does not diminish their accomplishments – nor should it lessen their celebration of what they've achieved. He looks forward to the time when graduates can safely celebrate those achievements in person with the greater SNHU community when it is possible to do so.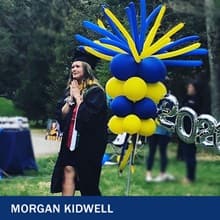 "We're incredibly proud of you," LeBlanc said. "On behalf of all of SNHU's faculty and staff, all of the people that work with you through this journey – your coaches, your advisors and whatever program you came through, know that we could not be happier for you. We're incredibly proud to have you as an SNHU alum."
Graduates were lauded throughout the weekend, with celebratory car parades, virtual graduation parties and other special moments, much of which was shared on social media. Staff and faculty also took to virtual platforms to express their pride and offer congratulations to the Class of 2020.
Commencement is an especially meaningful time for the entire SNHU community – and the opportunity to recognize these incredible achievements and share in the celebration is especially important. SNHU is curating these special moments, and graduates are invited to submit photos and videos of their virtual celebrations.
Pamme Boutselis '15, '17G is a staff writer and senior content director in higher education. Follow her on Twitter @pammeb or connect on LinkedIn.
Explore more content like this article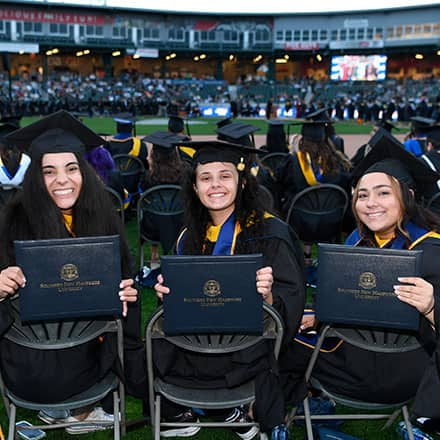 October 18, 2021
Southern New Hampshire University's Class of 2020 and 2021 campus graduates had their moment in the sun on Saturday when more than 400 celebrated their incredible achievements at Northeast Delta Dental Stadium in Manchester, New Hampshire.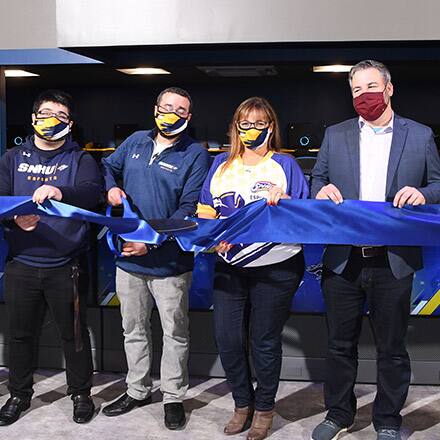 October 13, 2021
SNHU celebrated the grand opening of its esports arena on October 8th. A ribbon-cutting event marked the official opening to welcome the campus community and to see where esports players hone their gaming skills and compete against varsity-level opponents across the U.S. and Canada.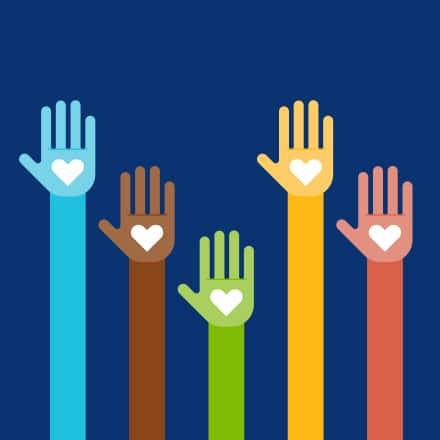 June 21, 2021
SNHU's 2021 Global Days of Service brought attention to a different societal issue each month: hunger, shelter, environmental justice and the pandemic's essential workers. Throughout the four-month-long event, Penmen from across the world shared their stories of service, community and strength.