High Honors: Kimberly Cartier '19 Gave It Everything She Had
When Kimberly Cartier traveled to an over-55 community in Litchfield, New Hampshire on Monday with her parents, she thought the family was gathering in recognition of her grandmother, Ruth Roulx, a resident at the community. Little did she know a surprise diploma delivery was in the works, along with a celebration in her honor. Cartier earned her bachelor's degree online with Southern New Hampshire University (SNHU) in business studies with a concentration in international management – and she did it in half the time it normally might take in spite of some tremendous challenges.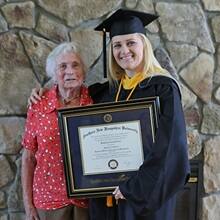 Cartier was the last to enter the community center, taking a few minutes first to walk her little dog, who had been a mainstay throughout her degree work. While she wasn't surprised to see family in the room, she was stunned to see SNHU staff and swag, and a roomful of people yelling "Congratulations!" – so much so that she nearly backed right out of the room. She was quickly greeted by SNHU Senior Vice President of Institutional Advancement Don Brezinski, who was on hand to present Cartier with her framed diploma and welcome her as an alumna.
As Cartier's grandmother looked around the community center, taking in family members and most of all, her granddaughter, now clad in a cap and gown, her diploma in hand, she said, "This is a great day."
After posing for lots of family photos, Cartier sat for a moment looking down at her diploma and said, "I waited a long time for you."
New Hampshire Roots
Growing up in New Hampshire, Cartier, who now lives in North Carolina, made a real mark on the Granite State during her years here. For more than a dozen years, she served as a firefighter and EMT on the Candia Fire Rescue – and was the first female lieutenant in the engine company. She also served as a deputy forest fire warden and was the director of operations for Cartier Farms, in New Hampshire and then North Carolina, until a series of serious injuries changed the trajectory of her life.
The first happened in 2013 when Cartier had an accident with a client's horse, resulting in a traumatic brain injury even with a helmet on, while still living in New Hampshire. After a year of recovery, she returned to her farm and the business of training horses. It was in North Carolina, where she had re-established her farm, that Cartier experienced a broken neck from a near-fatal car accident when her vehicle was t-boned by a drunk driver. That was just a few years ago, yet she forged ahead to overcome the barriers these injuries created in her life, focused on completing the degree she began so long ago.
Part of her drive came from a goal she created for herself – she wanted to finish. But she did it for herself to a point, she said; part of it was for her parents. She had begun college many years before, straight out of high school, but wasn't quite ready to see it through. When she left school, Cartier felt she had wasted her parents' money and disappointed them.
When she first began considering going back to school, Cartier was working full- and part-time jobs. "I need something that offered me the flexibility to do classes when I had time," she said.
She looked into what was available locally but the closest university was about an hour away and the classes were so specific in their dates and times that they just wouldn't have worked for her, she said. "I needed something I could do at 2 in the morning or 6 in the morning or noon on a Sunday, and not have to be at a specific location," Cartier said.
Finding Community Online at a School She Trusted
And while the flexibility was a key deciding factor, she also wanted to go to a school that she trusted. "I had been to SNHU's campus. I had known other people that had gone to SNHU and I felt comfortable that going to Southern New Hampshire University would give me more opportunities than some of the other options," she said.
Cartier said she had a preconceived notion that online education might be a bit easier than going the campus route but quickly found out the academic rigor was stronger than she anticipated.
"It was very thorough. My professors were great. I really enjoyed the experience," she said. "I liked the interaction I had in class; the discussion board posts, the getting-to-know-you posts, the peer counseling (and) tutoring. I still felt involved and part of something even though I was thousands of miles away from other people – and I've actually met people that were close to me in North Carolina that were in my classes online."
Setting High Goals Regardless of Challenges
In spite of the surgery to remove all the broken bones from her neck and the hard work of rehabilitation after the tremendous injuries Cartier experienced, she has gained just 80% use of the left side of her body. While she's grateful to have gained as much as she did – she said, "It quickly became apparent that I was not going to train horses anymore."
As she went through her degree program, Cartier said it was a tough transition mainly because she wasn't sure if she could do it or not because of the cognitive issues she sustained from the traumatic brain injury. "But everybody was so helpful through SNHU, the program and just speaking with the instructors, and giving me different avenues and different ways to learn things a traditional student may not need," she said. "It was really helpful."
Nevertheless, she was determined not only to succeed earning her bachelor's but to earn a 4.0 GPA, too. She fell just shy of that final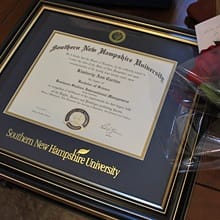 number but not by much, graduating summa cum laude with a 3.97 GPA and earning her degree in just two years, doubling up on her course load throughout.
"It was a personal goal for me to prove, that even with the TBI, I could still do this," Cartier said. "I will tell you, it was so difficult to read and do math and retain with a brain injury, but I was determined it was going to happen."
More importantly, she said, "I wanted to do this for my dad. I know that it meant a lot to him. It means a lot to me to be able to have that degree."
Her father Les Cartier said, "It's great. Words cannot explain it – she's worked so hard to get here."
Give It Everything You Have: 'It's So Worth It'
Cartier encourages others to go after their goals, not to give up and take it one day at a time. "If you look at the whole picture, it is so overwhelming," she said. "I never thought I would be able to finish as well as I did and there were some days I didn't think I was going to finish at all."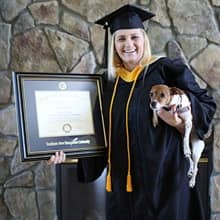 She said there were a ton of obstacles that happened along the way but that you've just got to put your face down, just go and do it; don't look at everything else or let outside influences take away from what you're doing.
"I think people are given a choice when you go through trauma," Cartier said. "You can either give up or give it everything you have and I would recommend giving it everything you have because it's so worth it; the sense of accomplishment, to be able to do that in light of everything else that has happened. It makes me very proud."
That pride was something that built with each course she took. When Cartier received an alert that a new grade was available for an assignment, she'd log in and take a deep breath before viewing the grade. When she received an A or a perfect score, it didn't seem real to her. But it was and she said it would push her even farther, challenging her to continue to do well.
Cartier said this achievement has not only given her a tremendous sense of accomplishment but a very good education as well – and allowed her to be part of the SNHU community in a way that many might not be able to imagine when it comes to an online education. She recently visited the SNHU campus, and looking around at the students, she thought, "These are my peers."
Pamme Boutselis is a writer and content director in higher education. Follow her on Twitter @pammeb or connect on LinkedIn.
Explore more content like this article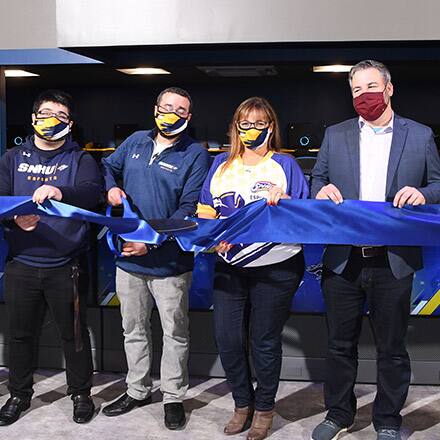 October 13, 2021
SNHU celebrated the grand opening of its esports arena on October 8th. A ribbon-cutting event marked the official opening to welcome the campus community and to see where esports players hone their gaming skills and compete against varsity-level opponents across the U.S. and Canada.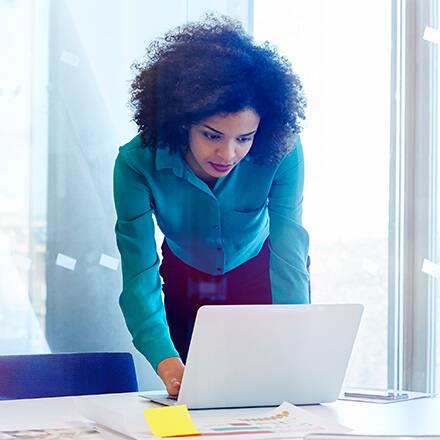 October 05, 2021
A business administration degree is a broad program that prepares you to tackle today's toughest business challenges and contribute to the bottom line of any organization in the areas of accounting, finance, human resources, marketing and more.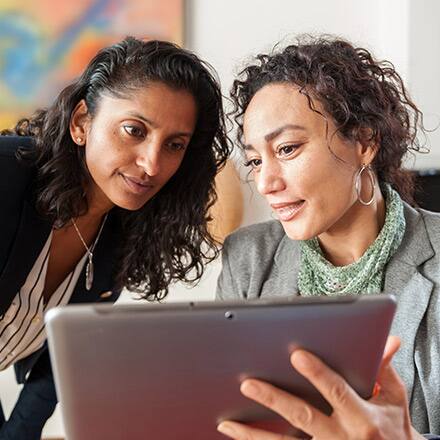 October 01, 2021
You know you want to take your career to the next level, and you're ready to get down to business with a master's degree. Here are 10 reasons why earning an MBA might make sense for you.