Cancer Survivor Earns HIM Degree, Offered Job with Cancer Registry

For years, Stacie Sullivan '19 felt stuck in her career, sensing her opportunities to advance were limited.
"I had a reputation for being smart through my years of schooling, but, without a degree, I felt as if I couldn't really 'prove' it," she said.
After a series of challenging life events, Sullivan was determined to fulfill her dream of going to college. She enrolled in the BS in Health Information Management (HIM) program at Southern New Hampshire University (SNHU).
After graduating summa cum laude, she's getting ready to embark on a new journey: Starting her dream job.
Love of Learning
Sullivan always knew she enjoyed learning, but when it came time to consider her options after high school, tuition costs left college out of the question. So, she picked up a retail position at a local pharmacy and worked her way into a technician role.
"I figured I'd work for a year and maybe try (to) go back to school," Sullivan said. "That one year became 17 years, and I felt stuck."
Eventually, she moved into another aspect of the healthcare field. As a cancer survivor who understood what it was like to undergo treatment, she most recently prepared chemotherapy for outpatients at an oncology clinic.
Sullivan was diagnosed with breast cancer in 2012, two years before she had a total hip replacement and two years after her father unexpectedly passed away.
These hardships and challenges motivated Sullivan to pursue her dream of earning a college degree. "If I didn't go back to school now and finally get a degree, I'd be doomed to a paycheck-to-paycheck existence with no stability," she said. "I saw the commercials for SNHU and thought it couldn't hurt to try."
After enrolling and speaking with her academic advisor, Jenny Lussier, she realized just how attainable her dream was. "(Lussier) was so excited for me and so helpful," Sullivan said. "I truly believe I wouldn't have had the courage to do it without her."
As Sullivan explored how online classes work, her best option while maintaining full-time employment at Tufts Medical Center, she found she could incorporate time management strategies she learned in previous careers to stay on track. "I was able to use the checklist system I would use in retail and feel accomplished as I completed my assignments," she said. "Checklists helped ensure I didn't miss anything important."
Pursuing a Cancer Registry Job
Going back to college opened up many doors for Sullivan to advance her career, and it also improved her self-confidence. Not only that, but it introduced her to a position she hadn't considered.
After taking two classes with Katherine Tullio, an adjunct instructor at SNHU, Sullivan caught sight of her next goal: becoming a certified tumor registrar. Certified tumor registrars work in cancer registries, analyzing information regarding treatments and outcomes. According to the National Cancer Registrars Association, their findings are used to advance cancer treatments and prevention and inform research decisions.
Tullio encouraged Sullivan to look into this career path after she expressed an interest in independently working, reading and conducting research.
Sullivan recently accepted a job offer in a cancer registry for the state of Massachusetts to do just that, and her employer is going to pay for the tumor registrar certification she needs. Once she begins, she'll be on a team receiving data from hospitals across the state before passing it along to the national registry.
"It's my dream job – working in the oncology field, being able to give back to fellow survivors in some small way and working from home (with my cats!)," she said. "Attending SNHU was the best decision I ever made."
Now she encourages others who are considering a college degree to go for it. "Do it now," she said. "I hesitated too, thinking I'll be almost 50 when I graduate. But then I realized that I'll be almost 50 anyway – might as well have a degree to show for it."
Rebecca LeBoeuf '18 is a writer at Southern New Hampshire University. Connect with her on LinkedIn.
Explore more content like this article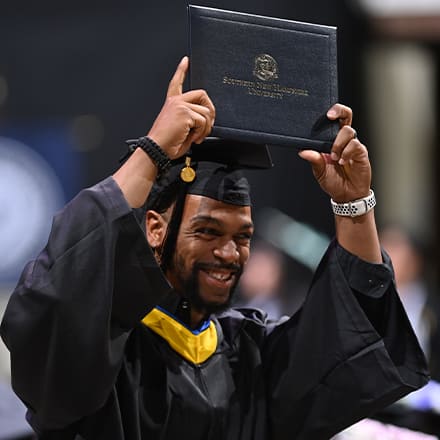 This weekend, the SNHU Arena welcomed students from 50 different countries and every U.S. state and territory to celebrate their new degrees. The ceremonies marked an important chapter for more than 22,500 eligible graduates who joined a community of over 230,000 SNHU alumni.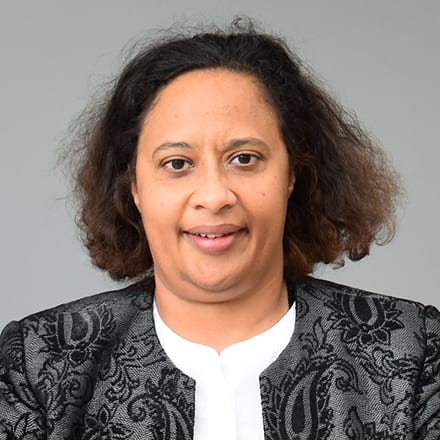 Joan Garner, daughter of late civil rights pioneer John Burrell Garner, is earning a master's degree in English and creative writing while writing a book about her family's legacy — including the Garner v. Louisiana Supreme Court case. And now, she's finally in charge of how the story will be told.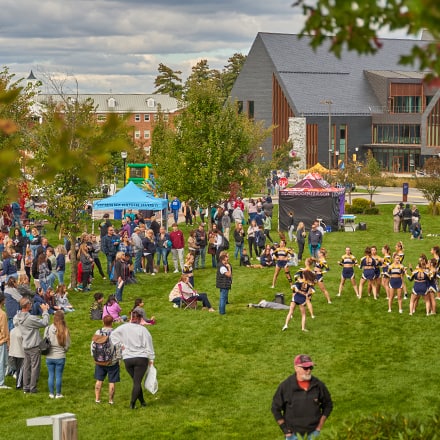 With an alumni network of more than 230,000 people and a student population that just surpassed the 200,000 mark, SNHU's Homecoming Committee and planning teams brought a variety of in-person, virtual and on-demand activities to its alumni, campus students, online students, faculty and staff.
About Southern New Hampshire University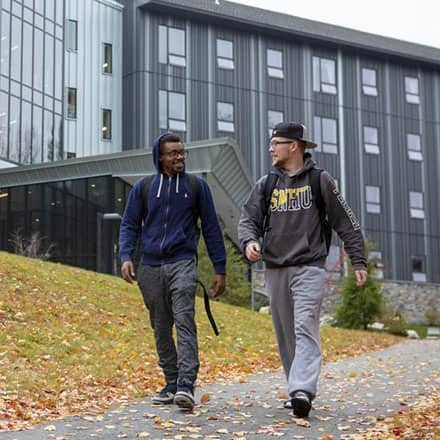 SNHU is a nonprofit, accredited university with a mission to make high-quality education more accessible and affordable for everyone.
Founded in 1932, and online since 1995, we've helped countless students reach their goals with flexible, career-focused programs. Our 300-acre campus in Manchester, NH is home to over 3,000 students, and we serve over 135,000 students online. Visit our about SNHU page to learn more about our mission, accreditations, leadership team, national recognitions and awards.