SNHU, Manchester School District Serve 93,000 Meals During Pandemic
When COVID-19 struck, and schools across the country closed abruptly, navigating the shift to remote learning wasn't the only concern educators and parents had for students. Meeting basic needs, such as keeping students fed, was a pressing issue for some school districts, including Manchester, New Hampshire.
To help alleviate this problem, Southern New Hampshire University (SNHU) partnered with the Manchester School District to provide 93,000 meals to families in Greater Manchester on Saturdays this spring, supplementing the schools' ongoing program throughout the week.
"Before the pandemic came to the United States, about 53% of Manchester students were eligible for free and reduced lunch," said Steve Thiel, the assistant vice president of social impact and community relations at SNHU. "Certainly, the pandemic and related economic downturn exacerbated that food insecurity."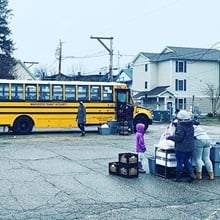 After conversations with groups citywide, SNHU in tandem with Sodexo, its foodservice partner, quickly made plans to prepare and distribute meal packs approved by the Manchester Health Department to those in need. Each family who visited one of five distribution sites across the city was supplied with two meals for every person in their family.
"We tried to create as low (a) barrier to entry as possible, so the meals were for anyone who needed them," Thiel said.
The program, which launched on March 28, began with a $100,000 pledge from SNHU, plus an additional $15,000 from its Board of Trustees. When Gov. Chris Sununu extended remote learning through the remainder of the 2019/20 school year, the university increased their fundraising efforts to ensure Meals for Manchester had enough funds to last just as long.
Ultimately, the program received more than $175,000 from foundations, corporations and over 175 individual donors, and SNHU's contributions surpassed $150,000.
"The COVID-19 pandemic is a unique shared experience for all of us, and I believe that creates a sense of commitment from so many to do what they can to support their neighbors," Thiel said. "We're also incredibly fortunate to have a caring alumni, student and staff community who care deeply about serving their community."
Saturdays Spent Serving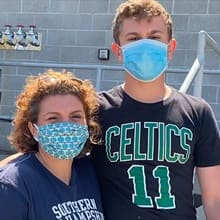 Each Saturday for 13 weeks, volunteers from SNHU, the school district, Granite YMCA and city agencies loaded between 6,000 and 10,000 meals onto buses provided by the Manchester Transit Authority and traveled to their assigned sites. Jennifer Kidwell, SNHU's director of ceremonies and events, along with her 14-year-old son, Jack, spent each Saturday distributing meals to families who stopped by the Manchester Police Athletic League, an after-school organization located in one of the most high-need neighborhoods in the city.
"It's probably one of the greatest experiences of my life, and I'm so thankful that I have been able to be a part of it," Kidwell said.
According to Jennifer Gillis, the assistant superintendent of the Manchester School District, the efforts of the volunteers and all those involved with the program resulted in an impactful community – one that filled a gap in student needs and allowed the school district to focus their attention on servicing families on Mondays through Fridays.
"Through this program, we've been able to highlight and showcase the good within people, and it's been really nice to see people come out every weekend," she said.
Although SNHU's Meals for Manchester program concluded on June 20, students and their families can still pick up food on the weekends this summer, thanks to a $100,000 grant the Granite YMCA received.
"At SNHU, we're in consistent communication with the school district on how we can assist with technology access, meals and other barrier removals," Thiel said.
In addition to keeping Manchester students fed through the remainder of their school year, SNHU student teachers pivoted to remote learning with their classrooms, working to support teachers, students and their families.
Local, National and Global Support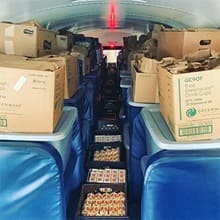 The university also made monetary donations to four community hospitals in southern New Hampshire, Youth on Their Own in Tucson, Arizona, where SNHU's newest office is based, and the Greater Chicago Food Depository to support the city where LRNG staff members live and work.
Two thousand bottles of hand sanitizer were donated to local first responders after the SNHU campus and offices went remote in March and no longer had a need for that quantity. The university campus was also transformed into an auxiliary health facility in the event that nearby hospitals needed overflow space.
SNHU's annual Global Days of Service, a month filled with service projects, was extended through the spring and summer months as participants continued making masks, donating blood and writing letters to people in care facilities to aid their communities during the pandemic. One alumna in Taiwan donated more than 2,000 masks to the university, which then shared them with local nonprofits.
In this drive to support local and global communities, SNHU alumni, staff, faculty and students have also cared for one another. An emergency fund for SNHU students – both on campus and online – was created for those experiencing unexpected financial stress. The alumni office continues to accept donations for that, their scholarships and the student food pantry on campus, used daily by those in need and living nearby.
Rebecca LeBoeuf '18 is a writer at Southern New Hampshire University. Connect with her on LinkedIn.
Explore more content like this article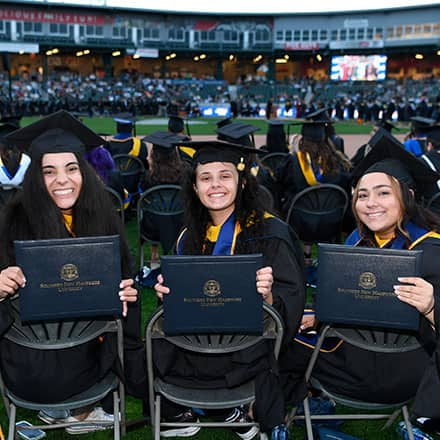 October 18, 2021
Southern New Hampshire University's Class of 2020 and 2021 campus graduates had their moment in the sun on Saturday when more than 400 celebrated their incredible achievements at Northeast Delta Dental Stadium in Manchester, New Hampshire.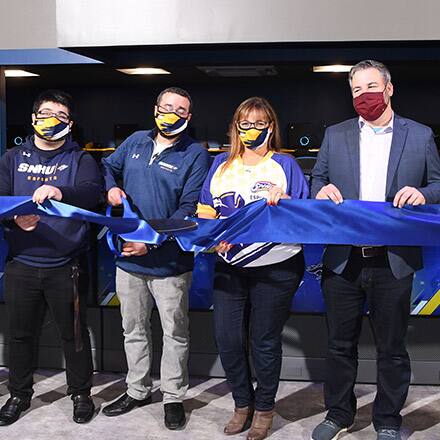 October 13, 2021
SNHU celebrated the grand opening of its esports arena on October 8th. A ribbon-cutting event marked the official opening to welcome the campus community and to see where esports players hone their gaming skills and compete against varsity-level opponents across the U.S. and Canada.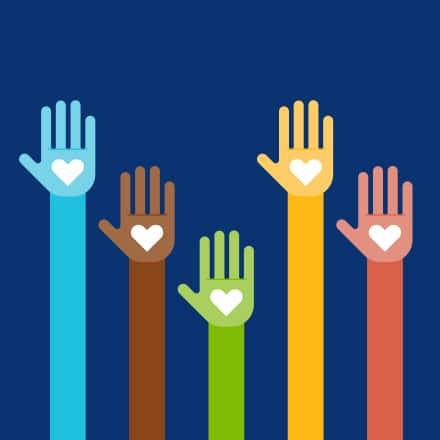 June 21, 2021
SNHU's 2021 Global Days of Service brought attention to a different societal issue each month: hunger, shelter, environmental justice and the pandemic's essential workers. Throughout the four-month-long event, Penmen from across the world shared their stories of service, community and strength.