Philosophy Professor Dr. Kiki Berk: A Faculty Q&A
Dr. Kiki Berk has spent her career studying philosophy and traveling the world presenting at academic conferences. We asked the associate professor of philosophy at Southern New Hampshire University to share her thoughts on teaching, the importance of education and more as part of our Faculty Spotlight Series.
Tell us a little bit about your professional background.
I have a B.A., M.A. and Ph.D. in Philosophy from the VU University Amsterdam. After completing my Ph.D., I taught at Indiana University South Bend for 2 years. I started teaching at Southern New Hampshire University in the fall of 2012.
What led you to academics, and in particular, SNHU?
I always knew I wanted to study philosophy, but I didn't have any idea what kind of career I wanted to pursue. I studied philosophy for as long as I could and, after getting a Ph.D., it seemed the best way to continue doing philosophy was by becoming a professor. This has proven to be true. I still learn new things all the time in my teaching and in my research. Moreover, I discovered that I love teaching! I can't think of a better job, and I consider myself very lucky that I was able to turn my passion into a career.
What drew you to this field of study? What keeps you excited about it?
I've always been interested in the Big Questions (e.g., Why are we here? How should I live my life? What should I believe?), and I've always enjoyed reading, writing, thinking and arguing, so philosophy was a natural fit for me. My parents both minored in philosophy in college, and I read philosophy in my Latin and Greek classes in high school, so I was exposed to it at a fairly young age.
It's easy to stay excited about philosophy because it's such a broad, virtually inexhaustible discipline, and some philosophical questions are more urgent now than ever (e.g., How should we program self-driving cars? What are our moral obligations regarding climate change? What is "truth" and why does it matter?) In my opinion, philosophy is very valuable, important, challenging and intellectually stimulating.
What do you find rewarding in your position as full-time faculty?
The most rewarding part of my job is getting students excited about the Big Questions! Many students don't really know what philosophy is when they enter the classroom, so it's very satisfying to see them engage in philosophical discussion and recognize that these are real and difficult issues worth thinking about.
Can you think of a particularly impactful or eye-opening moment as a faculty member?
The most impactful moments for me as a faculty member have all occurred within ordinary days in the classroom. That's where the magic happens! That being said, seeing students I know well graduate is also a special experience.
What advice do you have for students interested in pursuing their philosophy degree? How can people stand out in this field?
Qualities that benefit any philosophy student are being curious, open-minded and rational. In addition, I recommend reading as much philosophy as possible. There's no better way to become a better philosopher than by reading philosophy, both historical and contemporary.
What, if anything, did you not expect from your career path?
I didn't expect that I would get to travel so much as part of my job. I've held the Papoutsy Chair in Ethics and Social Responsibility for the past 3 years, and I've been able to present at international conferences in Japan, Israel, England, France and Sweden, not to mention a number of conferences across the United States. It's been great to connect with scholars from all over the world, learn about the state of the art in my areas of research, and visit new and interesting places.
What do most people not understand about working in the philosophy field?
There are many misconceptions about the discipline of philosophy. Two of the most pernicious are that it's not useful and that you can't get a well-paying job with a degree in it. There's much evidence to the contrary, as a few quick internet searches will show. Another misconception is that philosophers sit in armchairs in ivory towers pondering esoteric, abstract questions that aren't relevant to life or society. Nothing could be further from the truth. Ethics, political philosophy, philosophy of science, value theory, and philosophy of death – to mention just a few areas of philosophy – have a very real bearing on what we ought to believe, how we ought to live and how we ought to organize our society.
How have you found ways to effectively connect with students?
I like joking and having fun in class with my students.
What do you enjoy doing when you're not working?
Some of my favorite things to do include running, weightlifting, hiking, downhill skiing, meditating, playing chess, reading, drinking coffee (or tea), eating, and cuddling with my cat.
What is one (or two) books every student in the philosophy program should read?
Thomas Nagel's "Mortal Questions" is a collection of very good and interesting papers on a wide variety of philosophical topics, and I've found Epictetus's "The Art of Living" to be a source of profound wisdom. I would recommend these two texts to anyone.
Why is education important to society as well as to you personally?
I believe that a good education shapes the whole person and isn't merely a preparation for a professional career. Acquiring foundational knowledge in the arts and sciences, as well as critical thinking skills, allows you to make informed and thoughtful decisions in all areas of life: personal, professional and political.
Joe Cote is a staff writer at Southern New Hampshire University. Follow him on Twitter @JoeCo2323.
Explore more content like this article
October 20, 2021
Interested in starting a new job or advancing in your current field? An Associate of Arts (AA) degree can give you the broad-based education and in-demand career skills you need to reach your goals. Learn more about earning an AA degree and what you can do with one.
October 07, 2021
A communications major is a great way to prepare yourself for a career in fields ranging from media relations and journalism to marketing, corporate communications and many more.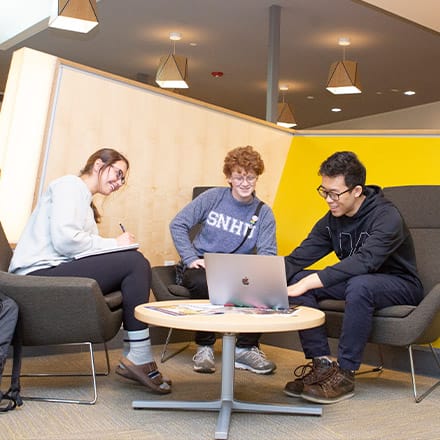 October 04, 2021
Liberal arts majors are strong communicators, who bring creativity and critical thinking to the table. If you're willing to be flexible in your search and smart about branding yourself, you can find there are many opportunities.