From MFA Thesis to Award-Winning Memoir: A Q&A with Alumna Nadia Owusu
Nadia Owusu '17MFA is on a roll this year. Not only did she publish her first chapbook, "So Devilish a Fire," but Simon & Schuster bought her memoir, "Aftershocks." To top it all off, she received a Whiting Award for the memoir, which is set to publish in 2020.
In this interview, Owusu tells how her thesis from Southern New Hampshire University's Mountainview Low-Residency MFA in Nonfiction became an award-winning book.
Have you always written?
Yes. I wrote my first novel at age five. It was a few bits of paper stuck together with glue. I illustrated it myself. I don't remember what it was about.
What's your process in developing your storyline and characters?
My first book is a memoir, so I knew the characters, and I knew what happened, but making it into a story was a whole other matter. I wrote a lot of material and spent a long time revising the pieces, pushing myself to ask more precise questions, to make connections, to go deeper.
Then, I went through everything I had and considered how the pieces fit together, very much like a puzzle. I have been working on short stories lately, and my approach is not that different. I write much more than I will use. This helps me to understand the characters and the conflicts. Then, I cut and rearrange until I have something story-shaped.
What challenges do you face in your writing, and how do you overcome them?
I agonize over individual sentences. I find it hard to move to the next sentence until the one I just wrote feels right. And, I often find myself writing backwards. I fix one sentence, and then I have to fix the whole paragraph. This makes writing very slow, especially because I end up cutting a lot of what I've written. When I have a deadline, this is a challenge. Then, I have to force myself to keep writing forward. Sometimes, in such a case, I'll switch from typing to writing in a notebook. Words on paper feel less final to me than words on a screen. Plus, my handwriting is terrible, so it's harder for my eyes to drift to previous lines.
What has the road to publication been like for you?
"Aftershocks" was my MFA thesis. While I was in the program, I started placing pieces of it in magazines. I had a couple of agents reach out to me based on some of those essays. But, after graduation, I kept working on the manuscript until I felt it was ready to share with the publishing world. I didn't want to rush it.
One of the agents who had asked to see it was Meredith Kaffel Simonoff of DeFiore and Company. After she read it, we met for lunch to talk about the book and about working together. She is such a generous reader. It was clear that she understood what I was trying to achieve, and she had really smart editorial feedback. We worked on the manuscript together for many months. It was so wonderful to have a partner at that stage. I was too close to the work. She saw flaws and gaps that I couldn't.
When we both felt satisfied that we had made the manuscript the best version of itself we could, she sent it out on submission. From there, everything happened very quickly. Just a couple of days after it went out, we had meeting requests from editors. I met with several editors, all of whom I very much enjoyed spending time with. Everyone I spoke to had insightful feedback and interesting ideas.
Ultimately, Simon & Schuster bought the book in a pre-empt (which is when a publisher makes an offer early to avoid competition). It has been a very exciting year!
How do you market your work?
I share published essays and stories on social media. There are a lot of things about social media I don't like, but I have made some writer friends on Twitter. Being in community with other artists is important to me. We support each other in getting our work out into the world.
What do you wish you knew when you first started writing?
I wish I had known that failure is such an important part of the writing process. I used to be so horrified by my own failures. I would read things I'd written and feel shame. I'd abandon projects without giving myself a fair shot at getting them right. I convinced myself that I was a bad writer. This is why I didn't seriously pursue writing ... until I turned 30.
I wish I could have been kinder to myself. I wish I'd told myself to keep trying. There is such joy in figuring out how to make a story work.
Persuade someone to read "Aftershocks" in 50 words or less.
"Aftershocks" is a genre-bending interrogation of the fault lines of identity, the meaning of home and 'mother,' black womanhood and the ripple effects, both personal and generational, of emotional trauma. The Whiting Awards selection committee called it "a profound meditation on rootlessness, hybridity and resilience."
Who are the authors that have inspired you most, and how have they inspired you?
Toni Morrison, Virginia Woolf, June Jordan, James Baldwin, Zora Neale Hurston, Chinua Achebe, Franz Kafka (and) Ngũgĩ wa Thiong'o. I could go on and on. All these authors inspired me to write, to wrestle on the page with difficult questions.
If you could keep just three books in your library, which would you choose and why?
This is a very mean question. Today my answer is: "Beloved" by Toni Morrison, "The Fire Next Time" by James Baldwin and "Anthills of the Savannah" by Chinua Achebe. I might answer differently tomorrow.
Rebecca LeBoeuf '18 is a staff writer at Southern New Hampshire University. Connect with her on LinkedIn.
Explore more content like this article
October 07, 2021
A communications major is a great way to prepare yourself for a career in fields ranging from media relations and journalism to marketing, corporate communications and many more.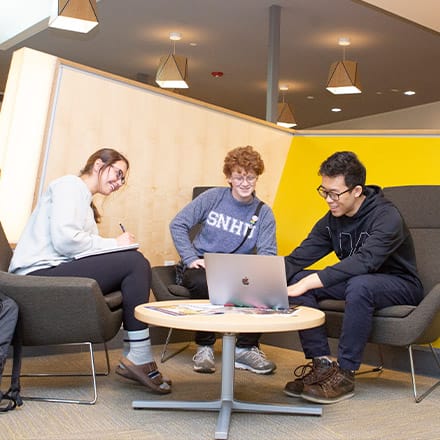 October 04, 2021
Liberal arts majors are strong communicators, who bring creativity and critical thinking to the table. If you're willing to be flexible in your search and smart about branding yourself, you can find there are many opportunities.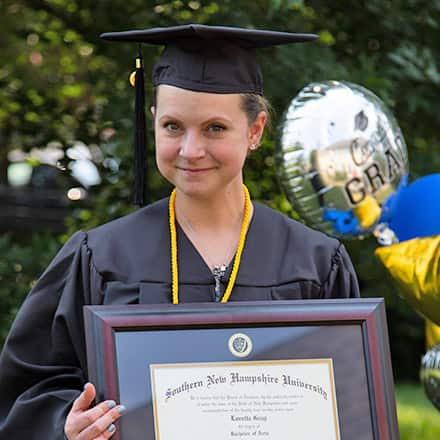 September 15, 2021
Loretta Gray started her college career in 1997, but finances took her away shortly after. Just a few weeks ago, the two-time cancer survivor completed her bachelor's degree in history. Little did she know, her husband and SNHU were planning a special diploma delivery for her.