Bethanie Thomas: Mapping Her Future While Earning Her Degree
Even before she enlisted in the military, Bethanie Thomas knew she wanted to earn her degree. She even knew which field she wanted to study. The only thing missing was the right school.
After discovering a passion for geological science in high school, Thomas decided to pursue her studies in that area at a community college. But it just didn't seem like the right fit. Even though her community college experience didn't pan out the way she expected, Thomas never lost sight of her goal – earning her degree.
Finding the Right Fit
As an active-duty service member with 45 college credits under her belt, Thomas wanted to find a school that considered her previous coursework and rigorous schedule. A friend pointed her in the direction of Southern New Hampshire University (SNHU).
But between the steep cost of her previous schooling and the so-so experience it provided, Thomas said she "didn't have a lot of trust going in." It didn't take long for her to realize that SNHU was more than just a school – it was a network of advisors, instructors and peers that wanted to support her every step of the way.
"The moment I was able to call the school, and they have a line specifically for military members – right away, you feel a lot more comfortable being able to get registered for your courses and just speaking to somebody who can relate with you," said Thomas.
Seeing how much SNHU values and supports their military students gave Thomas a sense of hope she hadn't experienced in an educational setting before – and this was just the beginning.
Gaining Confidence in the Classroom
Thomas was able to transfer about 40 credits over to her new bachelor's program, which came as big relief. The credits she transferred satisfied about one-third of her program's requirements at SNHU, lessening her time to completion.
Though she was excited to start working toward her degree, Thomas still didn't feel at home in the classroom.
"When I first started classes with SNHU, I was definitely not as confident jumping in on conversations in general. I was very nervous," she said.
The support of her family, friends, coworkers and advisors helped her realize she was capable enough to earn her degree. They were a consistent reminder that she was strong enough to keep going even when she wasn't sure she could.
"It's exciting to get this work accomplished, and on top of that, you know you have a support system behind you to keep you going at times when I'm super tired," said Thomas. "They say 'you're doing great!' You don't really feel like you're doing great at the time, but just hearing that… it definitely helps."
With the right school in her corner and loved ones cheering her on, Thomas started to explore a lot more than geological science. She was beginning to explore her own potential.
"It's definitely rewarding when you get through a class," Thomas said. "You get your final grade at the final week, and you're just like, 'yeah, I did all of that.'"
Looking to the Future, Discovering New Possibilities
Thomas is on track to complete her degree in geological science with a concentration in geospatial technology by 2023. But she's already thinking beyond graduation.
Earning her degree has helped Thomas gain a better understanding of her current field in the military. It's also helped her identify a variety of new opportunities she could explore in the future.
"There's almost a countless number of ways that [my degree] would help me out in my career here in the military," said Thomas. "There's actually a specific career field in the military that I may plan to switch to in the future–geospatial intel."
Regardless of how Thomas decides to use her degree, she understands the value having one provides. She believes that piece of paper says a lot more than 'I went to college,' especially in the military.
"It shows that you are ambitious, that you're hard-working and that you're always looking to improve," said Thomas. "That's one of the biggest signs that somebody is taking responsibility and initiative and being able to move forward."
Throughout her degree work, Thomas learned she possesses all of these qualities and so much more. As for other military members looking to go back to school, she encourages, "Go for it."
Consider how a bachelor's degree can change your life.
Haley Cardullo is a copywriter at Southern New Hampshire University. Connect with her on LinkedIn.
Explore more content like this article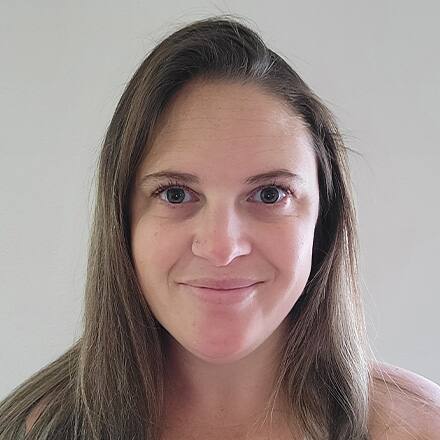 September 24, 2021
As a long-time military spouse with three children, Heather Poss has had little time to focus on herself and her aspirations. But, as her children get older and her family has been able to settle in Hawaii, she is ready to put her goals at the forefront.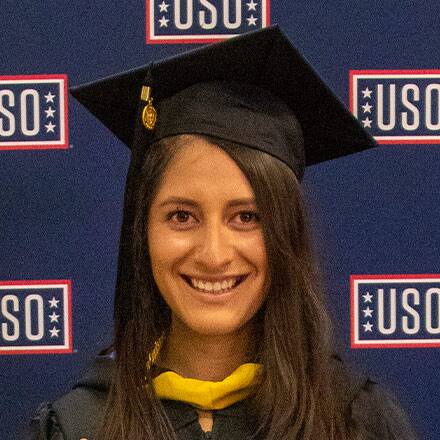 July 27, 2021
In Fort Shafter, Hawaii, Staff Sergeant Diana Tafoya Sanchez took her final steps toward her undergraduate degree. Working toward a bachelor's in business administration at SNHU while serving in the U.S. Army she celebrated her hard-earned success with a special diploma delivery.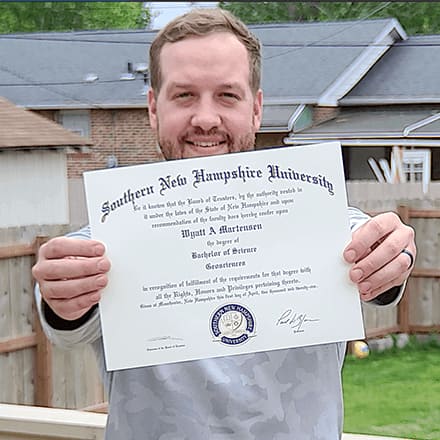 July 15, 2021
When your chief warrant officer asks you to do something with him, you're most likely going to do it. That's how Wyatt Martensen '21 tells the story of how he ended up returning to school to earn his bachelor's degree online.