Air Force Veteran Turns SNHU Degree Into an Opportunity to Still Serve

When Michael Shimkus '16 contemplated life after his military service, he was determined to pursue a college education. Stationed at Hanscom Air Force Base in Bedford, Massachusetts, he began exploring colleges nearby.
While visiting Southern New Hampshire University's (SNHU) Manchester, New Hampshire, campus, he was not only captivated by its beautiful scenery but also learned about the opportunity to use the GI Bill there. This bill is a significant aid available to service members to help finance their college education at GI Bill-approved schools.
Transitioning from Service to Education
In 2011, Shimkus embarked on a new chapter: transitioning from military service to academia. Although he had briefly attended college right after high school, he hadn't felt entirely prepared.
"It took me 20 years to mature enough to complete my degree," Shimkus said.
As an adult learner balancing work and studies, it was important for Shimkus to have classes that fit into his busy schedule. He recognized SNHU's support, especially to military-affiliated students like himself. "SNHU is a perfect example of how it can work for anybody," he said, referencing the institution's military-friendly stance.
"The professors and instructors I had were very flexible and understanding of life in general," Shimkus said. "Through deployment, activations and assignment changes, SNHU accommodates those challenges with flexible courses and extremely understanding instructors."
This adaptability was important when some challenges briefly hindered his academic progress. He said he overcame those challenges through transparent communication with his advisor and instructor and encouraged others to do the same.
"Just tell them what's going on. They will definitely work with you. And that's just something I'm very grateful for," Shimkus said. "It was really a team collaborative effort between everybody. Everybody was working together, and communication was spot on."
In 2016, Shimkus's hard work paid off, and he earned his bachelor's degree in sports management. Reflecting on that period, he expressed a hint of regret, wishing he had attended SNHU graduation in person.
Nevertheless, the value of his education was evident to him. "(My degree) got me in the door, and having a degree opened up a lot of opportunities," he said.
Navigating New Opportunities
As Shimkus earned his degree, the road had its twists and turns.
While he initially planned to attend classes in person on SNHU's campus, a teaching opportunity in Phoenix, Arizona, presented itself to him. Shimkus had never been to Arizona but jumped on the chance and transitioned to an online degree program. He said SNHU's flexible courses helped make the shift online seamless.
In Arizona, he took on an Air Force Junior Reserve Officer Training Corps (JROTC) instructor role at a high school. This JROTC course was a comprehensive four-year elective, shaping young minds on leadership and community involvement skills. While teaching, he continued to pursue his degree.
"I was getting my degree and showing my high school students, 'Hey, it's never too late to learn, never too late to get a degree,'" he said.
His time in Arizona brought more than just professional growth; he also met the love of his life, which transformed his entire perspective.
"At the time I started the sports management program at SNHU, I was single and driven by my desire to work in that industry," he said.
Life had other plans. "As time went on, I met and married the love of my life, and my focus changed a bit," he said. "I was earning my degree for her and my family."
His wife played an instrumental role in his success. "Without her support, I would not have graduated with honors and be where I am today," Shimkus said. "She motivated and inspired me."
As time passed, a new opportunity awaited him in New Jersey — a chance to leverage his sports management degree by working for a minor league baseball team. So, he and his wife packed their bags and made their way east.
After that stint in the sports industry, the call of family saw him move closer to his wife's kin in the Midwest, near Chicago. While scouting for job opportunities there, Shimkus discovered a position at the United Service Organizations (USO) that resonated deeply with him. The job was a transition specialist, and the role allowed him to guide others from personal experience, he said.
Shimkus said he wanted to give back and assist those on a similar path while drawing from his "been there, done that" experience to support them through the process.
Reconnecting with Service Through the USO
Shimkus's association with the USO has deepened, allowing him to continue his lifelong passion for service. He now works as a center operations programs manager. He oversees and contributes to various USO initiatives while closely connecting with the community he served.
Reflecting on his journey, Shimkus credits his SNHU education for paving the way. "Without the degree, it wouldn't open up the opportunity," he said about his promotion to manager. "I look back at my SNHU experience as remarkable and has made me into who I am today."
Shimkus said that each class he took at SNHU significantly contributed to his personal and professional growth. "I thought to myself, 'How can I relate this course to my degree,'" he said.
The moment he received his SNHU diploma was memorable. "(It) triggered my sense of accomplishment and immense satisfaction in terms of personal growth," he said.
Connecting with Community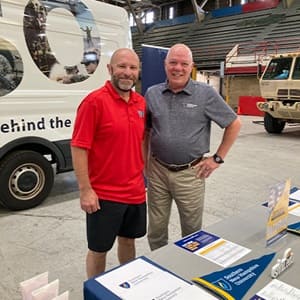 Recently, Shimkus helped orchestrate a USO event in Chicago for military members and their families. But it wasn't just another event for him; it was a full-circle moment where he could engage with SNHU representatives, such as Chris McCollor, senior director of military partnerships at SNHU, and reminisce about his journey.
"Working with Chris was awesome," said Shimkus. "Chris has a great way to relate to (military members and their families) and share stories of SNHU successes."
Since 2016, SNHU has worked with the USO to support countless military learners, even awarding some full-tuition scholarships, McCollor said. Together, they collaborate in providing educational resources and opportunities to the military community.
"Events like the one in Chicago demonstrate that both the USO and SNHU are willing to meet military members and their families where they live and work," said McCollor. "It sends a clear message that as partners and as individual entities, we (SNHU and USO) are genuinely committed to the betterment of military members and their families.
As Shimkus looks to the future, he considers furthering his education. "I'm thinking about going back and doing that," he said, referring to master's programs. He's keen on exploring a nonprofit management certificate or a related field.
Shimkus's time with SNHU has left a lasting impact on him. "Every time I see an SNHU commercial on TV, I get very proud and somewhat emotional," he said. "I have a deep connection with the school, and that will never go away."
A degree can change your life. Find the SNHU online degree program that can best help you meet your goals.
Nicholas Patterson '22 is a writer and alumnus of Southern New Hampshire University (SNHU), where he earned his bachelor's degree in English and creative writing. He is currently honing his craft further as he pursues an MFA in Creative Writing from SNHU. Connect with him on LinkedIn.
Explore more content like this article
On Military Spouse Appreciation Day, SNHU honors its military spouse community and recent graduates each year. This year we are celebrating Eliana Cornejo '23, a military spouse for the past 13 years, who recently earned her bachelor's in business administration.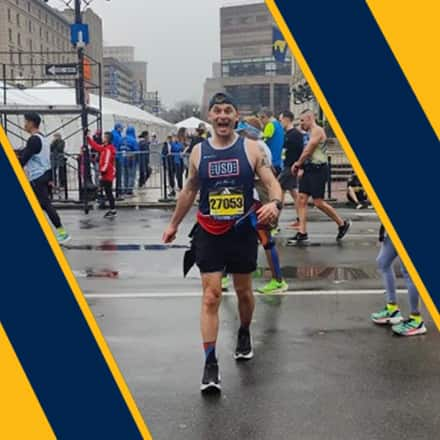 Robert Bruce is an active-duty service member and student at Southern New Hampshire University (SNHU). Despite having never participated in an official race, he ran the Boston Marathon with Team USO to support his USO mission. Bruce attributes achieving his goals to life balance and determination.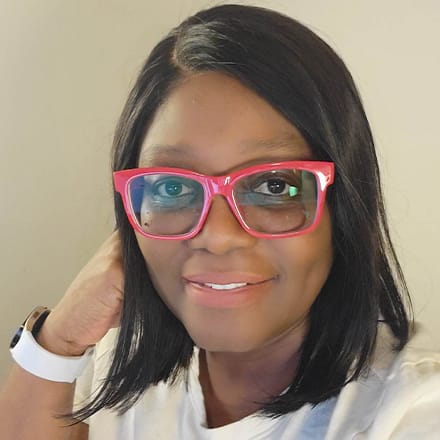 When military spouse Sallan Francis first heard about a potential full-tuition scholarship at SNHU, she knew she had to seize the moment, and it paid off. Francis is the 39th military spouse to be awarded a scholarship from SNHU and Operation Homefront to achieve her degree. 
About Southern New Hampshire University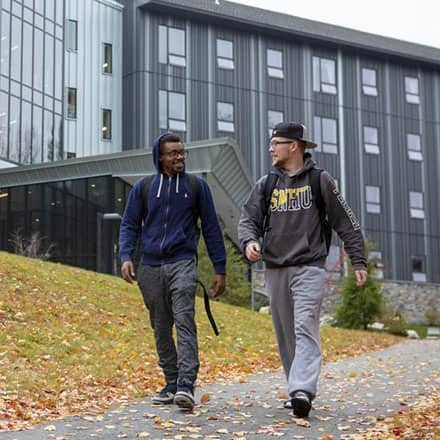 SNHU is a nonprofit, accredited university with a mission to make high-quality education more accessible and affordable for everyone.
Founded in 1932, and online since 1995, we've helped countless students reach their goals with flexible, career-focused programs. Our 300-acre campus in Manchester, NH is home to over 3,000 students, and we serve over 135,000 students online. Visit our about SNHU page to learn more about our mission, accreditations, leadership team, national recognitions and awards.