SNHU Advisor Leonard Bell: Sailor to Veteran and Military Spouse
Leonard Bell is one of those people who, once you meet him, seems to be wherever you go. It's like he's everywhere, smiling wide, shaking hands and asking everyone, "How's it going, brother?"

Bell, an academic advisor on Southern New Hampshire University's military graduate advising team, is a positive, upbeat presence in the university's Millyard offices in Manchester, N.H., but it's an attitude built on a foundation of significant hardships, traumas even, and buttressed with the realization that it's important to appreciate what you do have rather than focus on what you don't. It's also those hardships and experiences as a soldier, student and now military spouse that make Bell uniquely qualified to help fellow veterans and their families earn their degrees.
Growing Up and Moving Out
Bell was born in Pembroke, Ky., close to the Tennessee border close to a half-century ago and spent 20 years in a place he described as oppressed, at least on his side of the tracks; a place where, "you didn't have to read about the Klan in a book." Today the town's population is under 1,000 people, more than 20% of whom live in poverty, according to U.S. Census data. As a teenager, he would climb into the back a farmer's pickup truck at dawn and then cut and stack tobacco until dusk before collecting his $8 an hour pay under the table. His father was often not around due to his involvement in illicit drug sales. "Growing up in that town was not like the progressive north," Bell said. "A lot of oppression. You see a lot of oppression."

Yet, his own skills and work ethic allowed him to move forward beyond Pembroke. A talented singer, Bell attended Austin Peay University in Clarksville, Tenn., on a music scholarship. It was his sense of duty, however, that prompted him to leave school shortly before completing his first year.

At the end of his freshman year that a revelation of sorts struck Bell in the middle of his psychology class. It was 1991 and the class was discussing the psychological effects on soldiers fighting in the first Gulf War as well as the families they were separated from. Why talk about it when you can do something about it, he thought.

"I said, 'I should be doing something different than this,'" Bell said.

He knew it wasn't the right time for college for him and knew going home wasn't an option. "I knew if I went back home, it was drug infested," Bell said. "I didn't want to go back in that environment anymore." It was during finals week that Bell found himself at the Military Entrance Processing facility in Nashville, Tenn., where he enlisted in the U.S. Navy, following his father and grandfather's footsteps, who served during Vietnam and World War II, respectively. "I knew I had a bigger purpose than just sitting in this classroom," he said. "I felt like I was missing out on something. For me it was a no-brainer."
Serving His Country in the U.S. Navy
By August 1991 Bell was stationed in Norfolk, Va., attached to the USS John F. Kennedy aircraft carrier. A year later the ship was in the Persian Gulf where he worked in aviation directing aircraft on board. It would be the first of four deployments Bell made, all of them in the Middle East. He was deployed again to the Persian Gulf on the USS Dwight D. Eisenhower aircraft carrier in 1994, to the Persian Gulf again in 1998 and to Kuwait in 2010, what he calls his only "boots on the ground" deployment.

But it was between deployments while living in Carriere, Miss., that Bell lived through his most trying times. It's when everything changed and his eyes were opened. "That's where life took a turn," he said.

In the three years he was stationed at Naval Air Station Oceana in Virginia, Bell's wife gave birth to two boys and a girl. Her family in New Hampshire was fairly close when Bell was stationed in Portland, Maine, but the orders that sent him south were a hardship. The transition to the South, about an hour from New Orleans where he worked every day was a difficult one for the entire family, he said. Eventually his wife left him. Weeks later, on Aug. 29, 2005, Hurricane Katrina made landfall, devastating a huge swath of the Gulf Coast. "Not only did I have a natural disaster happen, I had my own natural disaster happen in my life," Bell said. "So for me, it was the darkest days of my life."
Katrina's Impact Was More Than Physical
It becomes quickly clear in talking to Bell what impact the storm, its aftermath and that period of his life continues to have on his perspective. The necessities, the very basic needs of survival were suddenly just gone. Running water had been cutoff. There was no electricity. Food quickly spoiled and most fuel in the region was being used by rescue and recovery workers, Bell said. In some it triggered a sort of fight-or-flight response Bell described as "barbaric, animalistic." After three overseas deployments at that time, the experience following the storm that according to the National Hurricane Center claimed 1,200 lives and caused $108 billion in damage was still breathtaking to Bell. "For me, it was almost like a smack in the face as a United States military member to be treated like a refugee," he said. "So much was lost during that time period. You witness it and it changes you as an individual. You realize that things can be gone in a moment's notice."

About 70 miles from New Orleans, Bell's home sustained generally moderate damage. His family rode out the storm huddling beneath a makeshift lean-to made with a mattress tilted against the washer and dryer in the laundry room. Bell ventured outside during the relative calm near the eye of the storm. He said he "saw the wind turn."

"I saw these huge pine trees in my front yard snap like toothpicks," Bell said. He was quickly back inside.

In February 2006 Bell first ventured back into New Orleans. The memories are vivid. More than 80% of the city was still without power. Homes had been moved off their foundations and knocked into one another. Semi trucks and cars were on top of one another. "Going back there was probably one of the most depressing things I've ever experienced," Bell said. "There was still a stench of death in the city. They were still finding bodies because the water had finally subsided. I couldn't describe it. It's so hard to describe when what we have is up and running."

Like many, Bell endured and says now his childhood and difficulties growing up in a segregated town in some ways prepared him for what he experienced after the storm. Life to then, he said, had given him "a lot of grit, a lot of grind."

"That whole Katrina experience was a growth experience," Bell said. "Even though Katrina affected me a lot, my childhood prepared me for a lot of emotional trauma."
'Boots on Ground'
In 2007, Bell was sent back to Portland, Maine, to work at a Naval Reserve Center and not long after the urge to do his part, this time as part of the Global War on Terrorism. "At my 19-year mark I decided to go play warrior," he said. The military had changed how it deployed soldiers to the Middle East to include Navy sailors who would normally be restricted to ocean-based combat.

Bell and other volunteer sailors were cross-trained to serve on land by their Army counterparts and in 2010 volunteered for a deployment to Kuwait where he spent nine months at Camp Arifjan working as personnel specialist in a hospital on base. While the base in Kuwait wasn't as "hostile" as Iraq or Afghanistan, Bell said he could have been deployed to those countries at any time. "For me, it was like I wanted to play my role in the Global War on Terrorism. Being deployed on ship was different than being boots on ground. I felt that sense of I contributed my part as a servicemember. I was boots on ground, ready, strapped up."

Bell retired from the military in 2011 but it remains a large part of who he is. "For me, the Navy gave me a lot of pride as far as serving my country, doing my part, representing my grandfather, representing my father," he said. "... the military was a way of life and made me a better person."
After the Navy, It's All About Education
After he retired from the military, Bell had some trouble finding a good job. Too many employers required the bachelor's degree he didn't have to get in the door, regardless of the 20 years of experience working in the military. He soon enrolled in classes at SNHU's education program, having learned about the school while living near the university's regional center in Brunswick, Maine. Only then, armed with a degree in education and psychology, was he able to impress prospective employers with the depth of experience he brought. He's since earned a master's degree in education and is working on a second one in management. "Not having that degree when I first got out really hurt me a lot," Bell said. "When you get out it's not easy. People don't care about 20 years leading, managing. People don't care about that. So for me, I knew I had to go back and get my degree."

His work as an academic advisor is rewarding in that he can help active-duty servicemembers, fellow veterans and their families get the same education that helped him move closer to his dreams. "It gives me a chance to give back. It provides an opportunity to reach servicemembers and their families, to give them opportunities through education," Bell said. "It helps tremendously because not only have I experienced what most of my students have experienced with deployments, with separation from families, last-minute orders, with knowing how to help them navigate their educational goals."

"I have this unique relationship with them because of that military experience and because I was a student here and because ... I'm a military spouse now," Bell said. "It just puts them at ease. They know they can trust me."

Bell's second wife, Navy Capt. Jody Bell, is active in the Naval Reserves, giving him another unique perspective that helps him counsel military spouses. "It's easy because I can relate from the spouse perspective," he said. "I do understand that. ... I understand it takes a strong person on both sides to make it work."

Eventually Bell wants to be the principal at an elementary school. He worked for a time as a substitute teacher and paraprofessional in the Manchester School District and believes students need to be inspired early before there's a chance for them to slip through the cracks. It's an extension of his belief in the importance of education in everyone's life. "It helps me to know that I'm helping someone else," he said of his work as an academic advisor. "Having a degree for some people is a lifelong dream, a lifelong journey. To keep them on track, man, it's rewarding. It's encouraging. I love it. I love what I do."
Explore more content like this article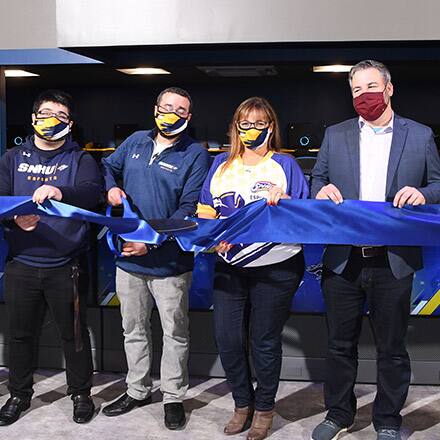 October 13, 2021
SNHU celebrated the grand opening of its esports arena on October 8th. A ribbon-cutting event marked the official opening to welcome the campus community and to see where esports players hone their gaming skills and compete against varsity-level opponents across the U.S. and Canada.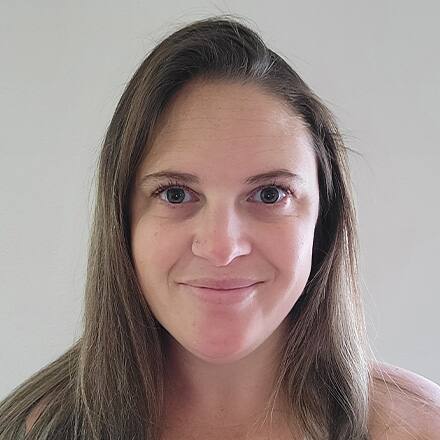 September 24, 2021
As a long-time military spouse with three children, Heather Poss has had little time to focus on herself and her aspirations. But, as her children get older and her family has been able to settle in Hawaii, she is ready to put her goals at the forefront.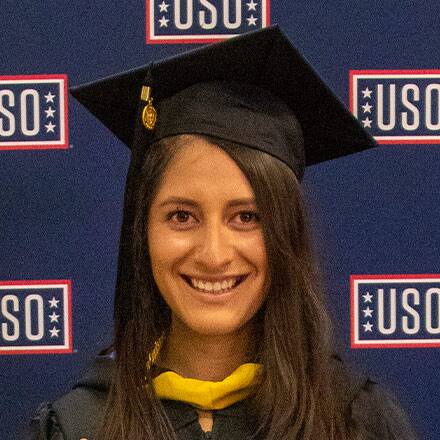 July 27, 2021
In Fort Shafter, Hawaii, Staff Sergeant Diana Tafoya Sanchez took her final steps toward her undergraduate degree. Working toward a bachelor's in business administration at SNHU while serving in the U.S. Army she celebrated her hard-earned success with a special diploma delivery.