SNHU Announces New Athletics Facility
MANCHESTER, N.H. - Southern New Hampshire University broke ground over the summer on a brand new $25-million multi-sport stadium for the Department of Athletics that will be home to men's and women's soccer, men's and women's lacrosse, men's and women's tennis, and women's track & field. The facility, which will also host select field hockey home games, is expected to open in the Fall of 2017.

"We are beyond thrilled to officially announce what we believe will be an unrivaled facility, not just in the state, but in our region, across all three divisions," said Director of Athletics Anthony Fallacaro. "This state-of-the-art complex will make Southern New Hampshire even more competitive on the recruiting scene and will solidify our place as one of the top Division II institutions in the region, as we continue to expand our national recognition. All of the credit goes to President Paul LeBlanc, Executive Vice President & University College Provost, Patty Lynott, Dean of Students, Heather Lorenz and our facilities team for their effort in this project as they continue to create new, cutting-edge facilities that will help to provide a first-class academic experience for our students."

The new complex will house a 1,500-seat stadium overlooking a Field Turf surface that will include Musco lighting. The field will be lined for soccer, women's and men's lacrosse, and field hockey. A sound system, as well as a state-of-the-art video and scoreboard from Daktronics, will adorn the new stadium. The facility, set on 23 acres, will also include an IAAF-certified, eight-lane Beynon Sports Surfaces BSS 1,000 track that will surround the field, and a dedicated throws area next to the stadium. The new complex will also include a new six-court tennis facility. The University is also exploring the potential for a future heated bubble for the winter for the tennis facility.

The concourse level of the facility will accommodate ticket booths, concession stands and restrooms, while the inside of the facility will feature media and productions suites, a custom, two-level, 5,200-square foot strength and conditioning center, a training room, equipment room, expansive locker rooms, 16 offices for coaching staffs, and a Penmen Club space with sliding doors that open to a balcony with intimate views of the playing surface.

The complex was planned by CannonDesign, an integrated global design firm that unites a dynamic team of strategists, futurists, researchers, architects, engineers, and industry specialists. The project is being built by Consigli Construction Co., a leading construction manager and general contractor headquartered in Milford, Mass., with offices in Boston, Mass., Portland, Maine, Hartford, Conn., Washington, D.C., and Pleasant Valley and Albany, N.Y.

The announcement for the new athletic complex comes a week after SNHU announced a tuition freeze, part of SNHU's commitment to provide a first-class education while keeping costs of a college education within reach for all students.

For the latest on Southern New Hampshire University athletics, follow the Penmen via social media on Twitter, Facebook, Youtube and Instagram. Sign up for the Penmen Athletics Newsletter to receive text message alerts and e-mail newsletters about your favorite Penmen teams.
Explore more content like this article
After more than two decades of leadership, President Paul J. LeBlanc announced today that he will step down as president and CEO of Southern New Hampshire University (SNHU) on June 30, 2024. The SNHU Board of Trustees unanimously voted to appoint Lisa Marsh Ryerson, the current university provost, as president for a two-year term effective July 1, 2024.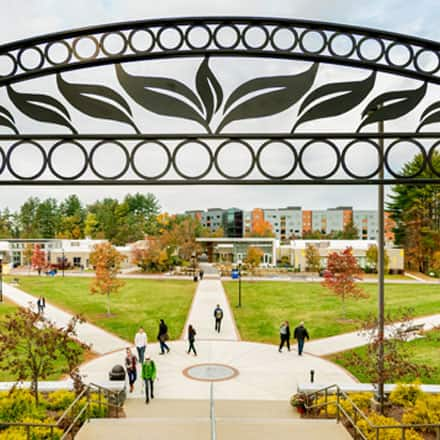 I am writing today with an update on the future of SNHU leadership. Following an exceptional 20 years as President of Southern New Hampshire University, Dr. Paul LeBlanc will step down from his role as President and CEO of SNHU on June 30, 2024. The Board of Trustees unanimously voted to appoint Lisa Marsh Ryerson as President for a two-year term, effective July 1, 2024.
At SNHU, we're committed to fostering a flexible, supportive, inclusive workplace. That's why we've been named a "Great College to Work For" for the 16th year in a row— and have been named a top 3 employer in the state of New Hampshire by Forbes.
About Southern New Hampshire University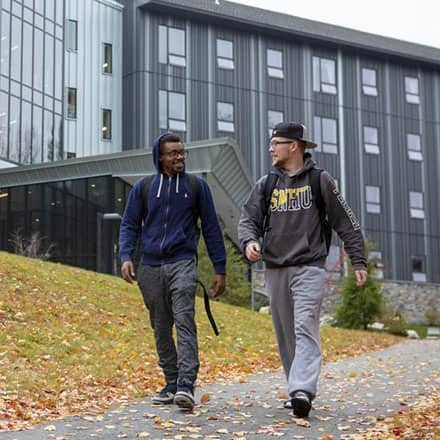 SNHU is a nonprofit, accredited university with a mission to make high-quality education more accessible and affordable for everyone.
Founded in 1932, and online since 1995, we've helped countless students reach their goals with flexible, career-focused programs. Our 300-acre campus in Manchester, NH is home to over 3,000 students, and we serve over 135,000 students online. Visit our about SNHU page to learn more about our mission, accreditations, leadership team, national recognitions and awards.