5 SNHU IT Students Receive Scholarships for Grace Hopper Celebration
Five of the 30 Southern New Hampshire University students who attended a prestigious conference for women in technology last month took a different path than most who attended.
The 5 students were awarded scholarships by the Anita Borg Institute to attend the Grace Hopper Celebration in Houston. In recognition of their dedication to their tech-related degrees and activity in their communities, the scholarships paid for the women's conference passes, travel and lodging.
The conference, the largest of its kind, attracted 22,000 women working in technology fields, the companies who employ them and women aspiring to enter to field. In addition to panel discussions, workshops and keynote speakers, the Grace Hopper Celebration features a massive job fair where women connected with employers, had job interviews and, in some cases, were offered jobs and valuable internships with some of the biggest players in the industry.
Opportunity for New Knowledge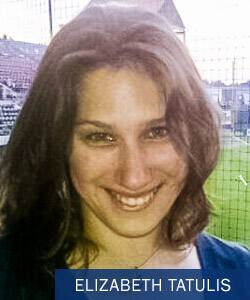 Elizabeth Tatulis is studying for her bachelor's in information technology with a concentration in cyber security. She said she applied for the scholarship "on a whim," but was thrilled when her application was accepted.
"This scholarship means the world to me. This is a conference that every woman studying in a technology field should aspire to," Tatulis said just before her trip to Houston. "This conference is going to provide so much knowledge and information on the IT industry that I can take home and integrate into my life to better not only myself but my career and my community."
A Glimpse of What's to Come
Stephanie Seitz was awarded a scholarship and wanted to land an internship to bolster the skills she's learning in SNHU's bachelor's in IT with a concentration in software development. She said the process of networking with her peers and speaking with potential employers gave her insight into the kind of work she can look forward to once she earns her degree.
"Getting the scholarship meant a great deal to my family and my future," she said. "For the first time I was able to see the light at the end of the tunnel from all the long hours working on my classwork."
Nalisha Varnado entered the workforce immediately following high school and while she enjoys the job she has now, felt that "something was missing." She began studying for a bachelor's in IT as a way to compliment certifications she's earned in CompTIA. Now she has her degree and plans to earn her master's in cyber security or data analytics.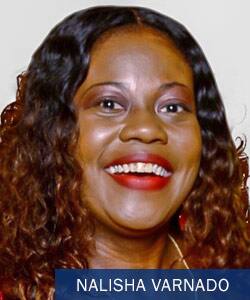 "Since I was determined to be successful, I refused to let anything get in the way," she said. "It's been a tough road but it has also been super rewarding and I am proud to have overcome several challenges in order to meet my goal of becoming a college graduate."
Now Varnado is focused on transitioning to a career in cyber security and said attending Grace Hopper is a good first step in that direction, especially with her bachelor's degree under her belt. Following interviews at the conference, Varnado accepted a job as a security analyst.
"I'm super excited to be beginning my career in cyber so quickly after obtaining my degree," she said. "I am currently studying in order to earn the certified ethical hacker certification."
Networking with Successful Women in Tech
Lisa Kirby, who is in SNHU's master's in cyber security program, said she wasn't aware of the prestige of the Grace Hopper Celebration until she read more about it while applying for the Anita Borg scholarship. "I decided to apply because I'm a feminist at heart and wanted the opportunity to meet women who have made strides in technology," she said.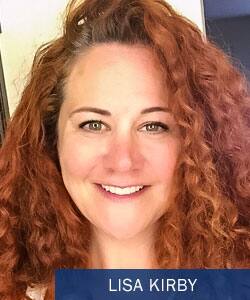 "I'm still amazed and overwhelmed that I was lucky enough to be selected for a scholarship. For me, attending is a way to network and meet successful women and, hopefully, find a mentor that can guide me in beginning my career in cyber security."
Finding Empowerment
Another scholarship recipient, Stephanie Marshall, is studying for her associate in IT and plans to continue with a bachelor's program. She said she's long been passionate about supporting women in technology and that attending the conference represents women in technology empowering one another.
"My motivation comes from knowing that I can impact future generations through technology," she said. "This scholarship means so much to me. It represents progress for women in technology."
Joe Cote is a staff writer at Southern New Hampshire University. Follow him on Twitter @JoeCo2323.
Explore more content like this article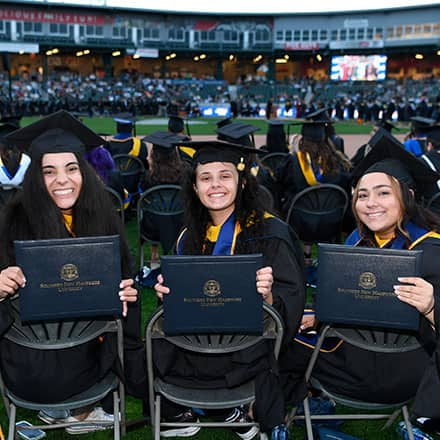 October 18, 2021
Southern New Hampshire University's Class of 2020 and 2021 campus graduates had their moment in the sun on Saturday when more than 400 celebrated their incredible achievements at Northeast Delta Dental Stadium in Manchester, New Hampshire.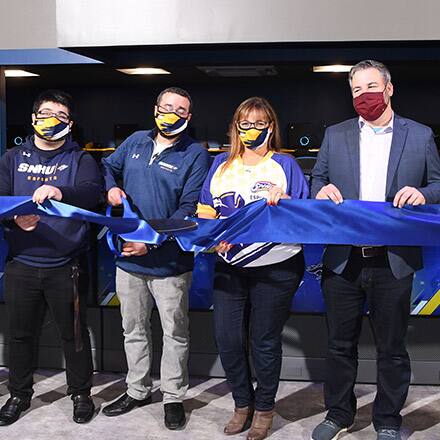 October 13, 2021
SNHU celebrated the grand opening of its esports arena on October 8th. A ribbon-cutting event marked the official opening to welcome the campus community and to see where esports players hone their gaming skills and compete against varsity-level opponents across the U.S. and Canada.
August 19, 2021
If you're wondering how to become a computer programmer, the field requires academic knowledge, a passion for math and engineering, adaptability and hands-on experience.