Earn your Master's In Cybersecurity
$637/credit (36 credits total)
Transfer up to 12 graduate credits
Complete in as few as 15 months
Labs provide hands-on cyber experience
Participate in cyber competitions
IT management concentration available
Master's in Cyber Security Program Overview
As high-profile cyber attacks become more common, the critical need for well-educated security professionals continues to grow. Companies of all sizes are investing heavily in cybersecurity expertise and technologies.
Southern New Hampshire University's online Master of Science (MS) in Cyber Security program positions you for in-demand cyber security jobs. Gain the knowledge and skills necessary to develop effective security controls, understand cyber threats and reduce the negative impacts of data breaches. SNHU's affordable, online master's in cyber security combines theory with authentic practice, giving you a competitive edge in this high-growth, well-paying industry.
"The goal is to balance the needs of the organization you're working for with the costs of protecting the confidentiality of customer data, trade secrets or other types of valuable information," said Jon Kamyck, associate dean of cyber security at Southern New Hampshire University.
Choose the general track or specialize your degree with a concentration in IT management.
What You'll Learn
Cyber threat evaluations and responses
Defense against common cyber attacks
Risk management, business continuity and disaster recovery plans
Information security policies
Leadership strategies for ethical behavior
How You'll Learn
At SNHU, you'll get support from day 1 to graduation and beyond. And with no set class times, 24/7 access to the online classroom and helpful learning resources along the way, you'll have everything you need to reach your goals.
Concentration Options
Enhance your expertise in enterprise-level technology management by earning a Master of Science in Cyber Security with a concentration in IT Management.
With an IT management concentration, you'll focus on enterprise-level technology management, including the relationships between structure and process in project management and the management of IT functions within an organization. Additionally, you'll explore enterprise resource planning and the implications of cyber law and ethics.
In this program, you'll learn to:
Facilitate best practices for managing IT functions and interrelationships
Adopt new technologies
Develop and work on projects within the IT organizational unit
Career outlook:
Overall, those in computer and information technology occupations can expect to see a 15% growth in employment through 2031, according to the U.S. Bureau of Labor Statistics.2 The median annual wages in May 2021 for these roles was $97,430 – much higher than the median annual wages for all occupations.2
Additionally, in that same time period, the BLS projects a 35% growth in demand for information security analysts – a pace much faster than the national average.2 And in 2021, the median annual wages for those roles was $102,600.2
Courses may include:
Advanced Information Technology
Enterprise Resource Planning
Management of Information Technology
Career Outlook
Organizations are in an intellectual and technological "arms race" with cyber adversaries. As malicious hackers, criminal organizations and nation-states become more sophisticated, cyber security professionals are sought after to work in diverse settings throughout government, industry and military sectors worldwide. The demand for cyber professionals continues to exceed the supply of well-qualified candidates to fill mission-critical roles.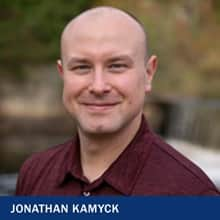 "We're seeing a tremendous demand for cyber security practitioners across all industries," said Jon Kamyck, associate dean of cyber security at Southern New Hampshire University. "As the internet has evolved to become the backbone of modern society, the increased connectivity has made it far easier to attack vulnerable organizations at an unprecedented, global scale. Today's learners will quickly become tomorrow's front-line cyber defenders."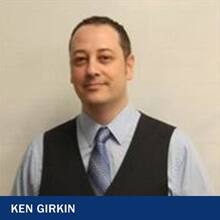 Ken Girkin '17 '21G – a BS in IT Management and MS in Cyber Security graduate – has seen the demand in his own career. "This field is becoming more and more crucial every day with threats to organizations becoming more complex," he said.
Shortly after graduation, Girkin was promoted to director of IT and security for his organization.
"I feel that my degrees played a big part not only in preparing me for this new role, but also providing me with the educational requirements for the job as well," he said.
Where Could You Work?
Almost every organization faces security threats. Here are a few in which you can make an impact.
Healthcare
Keep patient and employee information safe and remain a trusted organization.
Military
Defend the country from cyber-attacks and position yourself with offensive operations.
Finance
As more transactions are done online and without paper, more protection is needed to keep money and assets safe.
Retail
Customers need to trust that their purchases can be done without risk – meaning it's essential that you help them avoid any data breaches.
SNHU's online master's in cyber security can offer you a solid return on your MS degree investment by qualifying you for such roles as cyber security manager or administrator, information security analyst and other sought-after positions within the cybersecurity industry.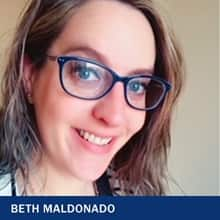 Just ask SNHU graduate Beth Maldonado '20 '21G.
"I spent many years working in a field that I did not love. Obtaining my [MS in Cyber Security] degree allowed me to get a job in cyber security," she said. "Now I can say I love my job!"
Richard Sebastian '21 had slightly different goals with his degree.
"I pursued this degree for two reasons," he said. "1. It was a lifelong goal of mine to get a master's degree. 2. I will be retiring in 4 years and my goal is to give back to the next generation of IT professionals as a teacher."
Earning his master's can open doors to a teaching career once he retires.
"I would recommend this program to anyone looking to advance their IT career," Sebastian adds. "The education you receive is top-notch, relevant, current and critical to advancing your career in the IT field."
Job Growth
The security field is growing: Through 2031, the U.S. Bureau of Labor Statistics projects an increase of 35% in jobs for information security analysts – seven times more than the average rate of all occupations.2
Salary
In May 2021, information security analysts made a median $102,600, according to the U.S. Bureau of Labor Statistics.2
Start Your Journey Toward an Online Cyber Security Degree
Why SNHU for Your Master's in Information Technology
Flexible
With no set class meeting times, you can learn on your schedule and access online course materials 24/7.
Affordable
As part of our mission to make higher education more accessible, we're committed to keeping our tuition rates low. In fact, we offer some of the lowest online tuition rates in the nation.
Prior coursework and work experience could also help you save time and money. SNHU's transfer policy allows you to transfer up to 12 credits from your previous institution. You could also earn college credit for previous work experience.
Respected
Founded in 1932, Southern New Hampshire University is a private, nonprofit institution with over 160,000 graduates across the country. SNHU is accredited by the New England Commission of Higher Education (NECHE), a regional accreditor, which advocates for institutional improvement and public assurance of quality.
Recently, SNHU has been nationally recognized for leading the way toward more innovative, affordable and achievable education:
"Most Innovative" regional university honors from U.S. News & World Report each year since 2015
A $1 million grant from Google.org to explore soft skills assessments for high-need youth
Recognition as a 2017 Digital Learning Innovator by the Online Learning Consortium
Network
At Southern New Hampshire University, you'll have access to a powerful network of more than 300,000 students, alumni and staff that can help support you long after graduation. Our instructors offer relevant, real-world expertise to help you understand and navigate the field. Plus, with our growing, nationwide alumni network, you'll have the potential to tap into a number of internship and career opportunities.
93.6% of online students would recommend SNHU (according to a 2022 survey with 17,000+ respondents). Discover why SNHU may be right for you.
Expanding access to quality higher education means removing the barriers that may stand between you and your degree. That's why you can apply at any time and get a decision within days of submitting all required materials:
Acceptance decisions are made on a rolling basis throughout the year for our 5 graduate terms.
Online master's degree candidates must also submit a personal resume. Students with an undergraduate GPA below 2.75 are eligible for provisional acceptance.
If you're ready to apply, follow these simple steps to get the process going: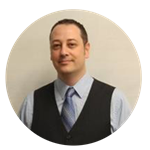 What SNHU Graduates Are Saying
Ken Girkin '17 '21G

"Not only did I learn a lot from the classes and instructors, but I learned from the other students as well. These classes gave me the foundation I needed to advance my career and get to where I am today."
Cybersecurity Center of Excellence
Through our Cybersecurity Center of Excellence, SNHU proudly supports cybersecurity students across the globe. To learn more about our contributions to the field, and connect with our academic leaders, visit our Cybersecurity Center of Excellence page.
Courses & Curriculum
The 36-credit MS in Cyber Security program is designed for students who want to meet the challenges posed by security threats, learn to protect the confidentiality, availability and integrity of data, and develop risk management and mitigation strategies.
"The courses are applicable to the real world," said graduate Beth Maldonado '20 '21G. "They are taught by instructors who work in the field that they are teaching. They bring real-world experience and scenarios to the classroom which helps students to better understand topics and remember them."
The master's in cyber security online degree program focuses on 4 key areas of competence:
Information security governance and management
Information security incident detection and response
Information security risk and compliance assessment
Leadership, collaboration and communication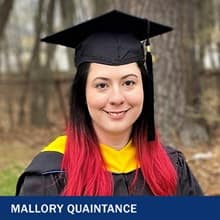 You'll find yourself working on assignments with a mix of theory and hands-on lab-based learning.
"I regularly found myself switching between researching or writing papers and completing lab work, typically in the same class," said Mallory Quaintance '21. "Both areas are very important and I am glad that SNHU didn't overlook the importance of understanding what it's like to be actively working on a problem, versus just simply researching and writing about it."
"Experiential learning is highly important," Quaintance adds, "so I'm glad that the program ended up being an excellent blend."
Other opportunities to prepare you for your career:
Cyber security capstone:

Combine coursework and experience to understand, evaluate and address difficult challenges associated with leading-edge topics in cyber security.

Technology competitions: Gain experience by competing in national tech competitions, including the

National Cyber League

– where SNHU fielded the first all-female team and earned multiple Top 10 finishes.
What's more, SNHU's online master's in cyber security is designed with maximum flexibility, allowing you to accomplish your degree around your own schedule.
"SNHU classes are structured in a way that makes it easy for working adults and parents to fit the courses into their schedule without all the stress," said Maldonado. "I was able to complete my work from anywhere at any time."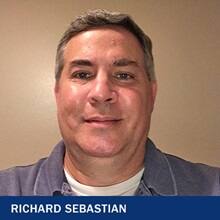 Richard Sebastian '21 agrees.
"The ability to obtain any degree through online study is a life-changer!" he said. "I work shift work and weekends and holidays. Attending traditional classes in a brick-and-mortar facility just was not an option for me."
SNHU has been a leader in the online learning space for over 25 years.
"I have done online learning before at a different university," said Quaintance. "At the time, I found their online programs to be handled more like an afterthought rather than another way of learning. [At SNHU] the professors are engaged, and the work is meaningful without being overbearing or too tedious."
List of Courses
Courses May Include
MS in Cyber Security Online
ISE 510
Security Risk Analysis and Planning
This course explores core areas of information security risk and planning, including risk analysis, business continuity, disaster recovery, incident response and security controls. The course will also explore risks as they relate to areas like financial regulations and privacy. Other topics include governance and internal and external partnerships, emerging threats and vulnerabilities, and emerging security capabilities.
ISE 620
Incident Detection and Response
This course provides students with the background and skills to manage information security incidents to minimize impact on business operations. Topics include detection, investigation, and response to different types of security incidents. Students explore these topics by developing incidence response plans; utilizing industry-standard processes and tools for investigating information security incidents; and recommending processes for incidence response that adhere to legal, regulatory, and organizational compliance. Students who have completed the course have a comprehensive view of cyber security incident detection and response.
ISE 640
Investigation and Digital Forensics
In this course, students learn the theory, practice, and principles of digital forensics through investigation of computer, network, operating system, mobile device and other areas of digital forensics. Topics include identification, collection, acquisition, authentication, preservation, examination, analysis and presentation of digital forensic evidence.
ISE 690
Cyber Security Capstone
This capstone course integrates previous coursework and practical experience with a focus on authentic demonstration of competencies outlined by the program. Rather than introducing new concepts, students synthesize prior learning to design, develop, and execute an analytics project on their chosen subject as a culmination of their studies. The course is structured around this critical capstone assessment, so that students have the appropriate support and resources required to be successful.
IT 549
Foundation in Information Assurance
This course explores the basic concepts and prepares students with the foundation skills for the protection of networks, communication, and data, as well as the knowledge base for planning, implementing, and managing enterprise level security and system integrity. Topics include approaches in an organization to prevent, detect and recover from the loss of information, cryptography and its applications, security in networks and distributed environments.
IT 552
Human Factors in Security
This course examines the human factors present in cyber security related to ethics, integrity, practices, policies and procedures. Students will design information technology security awareness training and optimize information technology organizational factors to foster a healthy security culture within an organization. Additionally, students will recommend mitigation strategies to protect an organization from human behaviors that could potentially cause a security threat.
IT 640
Telecommunications and Networking
Telecommunications is a business resource that must be well managed. This includes the technical aspects and the application of telecommunications technology to solve specific business problems and enhance the strategic position of a business enterprise. Topics include the importance of telecommunication in today's business environment, the analysis, design and implementation of telecommunications systems, the scope of the telecommunications industry and current trends; telecommunications hardware, the Open Systems Interconnection (OSI) network model, networking technologies and telecommunications software, protocols and standards.
IT 643
Network Assessment and Defense
Explore a broad range of topics from secure network fundamentals, protocols and analysis; threats and vulnerabilities; application, data and host security, access control and identity management. Examine defensive measures to secure an organization's network. Identify overall network security posture and the basic practices in vulnerability assessment.
IT 659
Cyberlaw and Ethics
This course addresses ethical and legal issues related to e-commerce and e-business. Students will investigate government approaches to content control and rights, access and jurisdiction regarding personal information, digital property, U.S. and international law, antitrust law, fraud and more.
Total Credits: 36
Minimum Hardware Required Specifications
| Component Type | PC (Windows OS) | Apple (Mac OS) |
| --- | --- | --- |
| Operating System | Currently supported operating system from Microsoft. | Currently supported operating system from Apple. |
| Memory (RAM) | 8GB or higher | 8GB or higher |
| Hard Drive | 100GB or higher | 100GB or higher |
| Antivirus Software | Required for campus students. Strongly recommended for online students. | Required for campus students. Strongly recommended for online students. |
| SNHU Purchase Programs | | |
| Internet/ Bandwidth | 5 Mbps Download, 1 Mbps Upload and less than 100 ms Latency | 5 Mbps Download, 1 Mbps Upload and less than 100 ms Latency |
Notes:
Laptop or desktop?  Whichever you choose depends on your personal preference and work style, though laptops tend to offer more flexibility.
Note:  Chromebooks (Chrome OS) and iPads (iOS) do not meet the minimum requirements for coursework at SNHU. These offer limited functionality and do not work with some course technologies. They are not acceptable as the only device you use for coursework. While these devices are convenient and may be used for some course functions, they cannot be your primary device. SNHU does, however, have an affordable laptop option that it recommends: Dell Latitude 3301 with Windows 10.
Office 365 Pro Plus is available free of charge to all SNHU students and faculty. The Office suite will remain free while you are a student at SNHU. Upon graduation you may convert to a paid subscription if you wish. Terms subject to change at Microsoft's discretion. Review system requirements for Microsoft 365 plans for business, education and government.
Antivirus software: Check with your ISP as they may offer antivirus software free of charge to subscribers.
University Accreditation
Southern New Hampshire University is a private, nonprofit institution accredited by the New England Commission of Higher Education (NECHE) as well as several other accrediting bodies.
Tuition & Fees
Tuition rates for SNHU's online degree programs are among the lowest in the nation. We offer a 25% tuition discount for U.S. service members, both full and part time, and the spouses of those on active duty.
Online Graduate Programs
Per Course
Per Credit Hour
Annual Cost for 15 credits
Degree/Certificates
$1,911
$637
$9,555
Degree/Certificates
(U.S. service members, both full and part time, and the spouses of those on active duty)*
$1,410
$470
$7,050
Tuition rates are subject to change and are reviewed annually.
*Note: students receiving this rate are not eligible for additional discounts.
Additional Costs:
Course Materials ($ varies by course)
Frequently Asked Questions
Can you get a master's in cyber security?
Yes, you can earn a cyber security master's degree. It can be a great idea if you're looking to move into advanced roles in the field.
In fact, almost 24% of information security analysts 25 or older had earned a master's degree in 2021, the most recent data available through the U.S. Bureau of Labor Statistics.2
SNHU offers an online MS in Cyber Security, making it easier for busy adults to reach their goals. With 24/7 access to the classroom and no live lectures, you can take your graduate courses when it's convenient for you.
"I am a mother of two and I work full time," said Beth Maldonado '20 '21G. "I am a full-time student. SNHU helps me manage to get it all done and get A's."
The application process here is simple: You'll receive a decision just days after submitting the required materials. You can begin when the time is right for you, since SNHU has 5 graduate term starts each year.
As a student, you'll build a relationship with an academic advisor who specializes in the cyber security program, and you'll learn from instructors who are currently working in the field.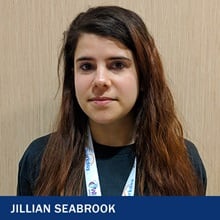 Jillian Seabrook '17 '18G chose to study cyber security at the graduate level after she discovered an interest in it while working at a bank. A co-worker refused to help her with a task, afraid that passing the information along would remove job security. Seabrook said she didn't want to be the person who couldn't help others when it came to such risky topics.
"I just saw fraud happen all the time," Seabrook said. "At least once a week someone came in with a fake check or a sob story about how they got scammed on Craigslist, and I was like, this is interesting. I want to go do something about that."
For students who don't have a tech background who want to pursue an MS in Cyber Security, SNHU offers plenty of support and resources through our academic advising team, library, technology partners and social communities.
"I was very impressed by my [academic] advisor and every other contact I've made at SNHU," said Richard Sebastian '21. "They were friendly, helping, professional and always got me the answer I needed."
How long does it take to get a master's in cyber security?
Earning a master's in cyber security can be done in as few as 15 months.
However, finishing in a quicker time frame can depend on your schedule. If you're working full time and have personal obligations, you can create a schedule with your academic advisor – a timeline that allows you to both be successful and reach your goals.
SNHU categorizes students as either full time (2 courses per 10-week term) or part time (1 course per term). With a maximum of only 13 courses in our online master's in cyber security, you can finish your degree on your terms.
"I would highly recommend this program, as it is great for those of us who work full-time and is an attainable goal for anyone willing to put in the time and effort," said graduate Mallory Quaintance '21. "SNHU's online platform is second to none."
What can I do with a master's in cyber security?
With a master's in cyber security, you can gain more focused skills and the ability to lead information security strategies that can identify and respond to risk.
An MS in Cyber Security might be ideal for those who already work within the field, but are looking to move up the ladder in their career. By developing your skill set with leadership, communication and collaboration traits, you can set yourself apart from other mid-level candidates.
Jobs available to those holding a master's in cyber security may include:
Cyber security analyst/consultant
Computer information systems manager
Information systems security manager/officer
Cyber security director
No matter what your current role is, there can be value found in earning your master's in cyber security.
"Though I do not currently work in a security-specific department, I do find that broadening my security awareness and education has improved my life as an engineer," said Mallory Quaintance '21. "I can look at problems with a different lens having completed this degree."
Richard Sebastian '21 adds that having a master's degree is a huge advantage in offering him more options in life.
"My personal mantra regarding education is that there is no such thing as a bad learning experience," he said. "Different experiences give you different opportunities. More experiences give you more opportunities. Advanced degrees give you advanced opportunities."
"Life is about options," said Sebastian. "The more you give yourself, the better the quality of life you and your family will have."
How much do cyber security professionals make?
According to the U.S. Bureau of Labor Statistics, the median annual wage for information security analysts was $102,600 in May 2021.2
The top-paying industries for information security analysts and their median annual wages in May 20212, according to BLS, were:
Information: $102,600
Finance and insurance: $106,430
Computer systems design and related services: $104,820
Management of companies and enterprises: $102,330
Administrative and support services: $99,860
And according to the BLS, those who held master's degrees in 2020 earned close to 17% more than those with only a bachelor's degree in terms of median weekly pay.2
Will I get hands-on, real-world experience with an online master's in cyber security?
Of course. When you earn a master's in cyber security online, you can still get the same hands-on learning experiences that you would in a traditional campus environment – but you're able to do it on a convenient schedule that works for you.
You'll get lab experience in a number of classes, like:
Incident Detection and Response:

Explore topics like detection, investigation and response by developing plans that use industry-standard processes and tools to investigate incidents and recommend processes for incidence response.

Investigation and Digital Forensics: Learn the theory, practice and principles of digital forensics through investigation of computers, networks, operating systems and mobile devices. You'll develop skills for all steps in the evidence cycle: identification, collection, acquisition, authentication, preservation, examination, analysis and presentation.
Network Assessment and Defense: Examine defensive measures to secure an organization's network, and study topics like secure network fundamentals, protocols and analysis; threats and vulnerabilities; and application, data and host security, access control and identity management.
With your capstone course, you'll have the opportunity to demonstrate what you've learned with a project that's structured around emerging concerns in the cyber security profession. By creating a real-world project that highlights your mastery of cyber security, you have an example of large-scale work that you can show employers.
"We want students to develop the knowledge and skills required to operate effectively day one after graduation," said Jon Kamyck, associate dean of cyber security at Southern New Hampshire University. "We prepare them with all the tools, techniques, methods (and) tradecraft necessary to succeed out of the gate."
Ken Girkin '17 '21G speaks firsthand about the benefits of his cyber security capstone.
"The capstone course really showed me how all the classes I've taken as part of my master's degree tie in together," he said. "I use much of the information frequently in my new role."
Another way to get hands-on experience with your cyber security master's degree is by incorporating an internship into your program, giving you the ability to take your learnings into the workforce. When you're able to add experience to your resume before you graduate, you indicate to employers that you're ready to take on a role that can help them advance their organization.
What is the difference between the bachelor's and master's degrees in cyber security?
A bachelor's in cyber security is a total of 120 credits, while the online master's at SNHU is only 36-39 credits (pending one foundation course IT-505: Core Technologies). The master's degree is a shorter, focused program that would be recommended to students who have already completed a bachelor's and are looking to advance or shift their career.
Though you do need a conferred bachelor's degree to apply for any master's program at Southern New Hampshire University, it does not need to be in the same field. You can pursue the online master's in cyber security with a bachelor's in another field, allowing you to further expand your skill set or even make a change in your career.
Why do I need to provide a résumé?
Because you can enter the master's program without a bachelor's specifically in cyber security, providing a professional resume helps the admission and academic teams determine if a student with little to no IT experience should take the foundational course, IT-505: Core Technologies. This course provides you the opportunity to get to know the basics of information systems, including hardware, software, networks and delivery systems.
If your bachelor's is in a different field, like psychology for example, but you have worked in IT for most of your career, your professional resume may indicate the foundation course is not necessary. However, if you haven't worked in a related field for any length of time, the resume may indicate the foundation course is required. The more details included relating to your responsibilities in your previous roles as it pertains to IT/cyber security, the better we can determine your readiness.
The best way to see how many credits would be required for your program is to start the application process with one of our admission counselors and have an official evaluation completed. This process can help you make an informed decision about your program choice. Apply today.
How will a master's degree help me advance in cyber security?
Companies are paying high salaries for well-trained and well-educated cyber professionals, and even so, there are more than 700,000 unfilled cybersecurity jobs in the US alone.1 On top of that, the job market for information-security analysts, including cyber security professionals, is set to expand an additional 35% by 2031.2
The growing threat of cybercrime is creating urgency, thus creating new positions every day. However, with the increasing urgency and high stakes, there aren't nearly enough qualified workers to meet the demand. This skill gap creates a problem that earning an online master's in cyber security can work to solve.
A bachelor's degree is only the minimum requirement for most cyber security jobs, meaning earning an online master's degree in cyber security from SNHU can give you the credentials needed to qualify for these high-demand and high-paying positions.
To break it down, earning your master's degree can benefit you in these key areas:
Cybersecurity skills and career mobility:

A master's covers the basics

plus

leadership, management and more. With this training, you become a stronger candidate for higher-level positions, providing you the mobility to move up and around in your career.

Job security and growing career options: With a shortfall in talent, job security for those qualified is strong, and opportunities are plenty.
Higher salary: Likewise, with a shortage in the supply of qualified professionals, the demand is greater and salaries reflect accordingly. As of May 2020, the median annual wage for IT professionals including cyber security was $102,600.2
When it came to choosing a school for his master's degree, Richard Sebastian '21 landed on SNHU for a number of reasons, one being the curriculum for his career advancement.
"I felt like SNHU offered a broader and more relevant group of classes that would make me a better cyber security professional," he said. "The discussions and feedback from the instructors helped me keep on track and point me to new ideas and new ways of thinking about information technology security."
Licensure and Certification Disclosures
SNHU has provided additional information for programs that educationally prepare students for professional licensure or certification. Learn more about what that means for your program on our licensure and certification disclosure page.
Related Articles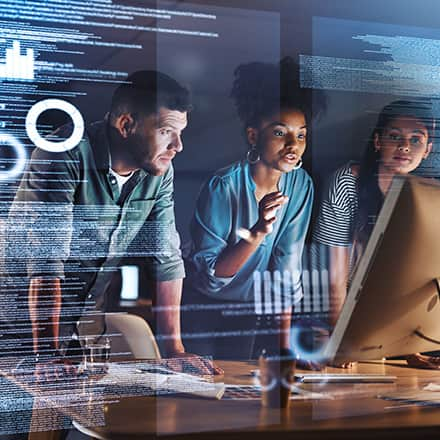 With a computer science degree, you can embark on a career with dozens of potential job roles suited to your interests. You can use the knowledge you develop earning your degree to work in a wide range of potential careers, from software engineering to computer programming or system analysis.
Computer programmers have an integral role to play in nearly every business, academic and nonprofit sector. If you're wondering how to become a computer programmer, the field requires academic knowledge, a passion for math and engineering, adaptability and hands-on experience.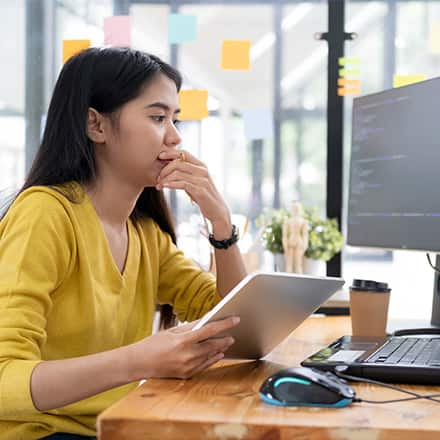 Software engineering is a versatile and rewarding career that encompasses technological skills coupled with engineering principles. This is a growing and vibrant path for anyone who likes solving problems, thinking creatively and developing software to create new business solutions.
References
Sources & Citations (1, 2)
1 Cyber Seek, Cybersecurity Supply/Demand Heat Map, on the internet, at https://www.cyberseek.org/heatmap.html (viewed Oct. 31, 2022).
2 Bureau of Labor Statistics, U.S. Department of Labor, Occupational Outlook Handbook, on the internet, at:
https://www.bls.gov/ooh/computer-and-information-technology/information-security-analysts.htm (viewed Oct. 31, 2022)
https://www.bls.gov/ooh/computer-and-information-technology/home.htm (viewed Oct. 31, 2022)
https://www.bls.gov/emp/tables/educational-attainment.htm (viewed Oct. 31, 2022)
https://www.bls.gov/emp/chart-unemployment-earnings-education.htm (viewed Oct. 31, 2022)
Cited projections may not reflect local and/or short-term economic or job conditions and do not guarantee actual job growth.