Partnering with organizations that do good for the military
In addition to the longtime support and benefits we've offered our military students, Southern New Hampshire University is proud to partner with military organizations and events throughout the country. By providing scholarship opportunities to service members and their families, as well as sponsoring events that help provide for them, we honor the men and women who've sacrificed for the rest of us.
In addition to backing active-duty military students, we also support transitioning service members in our role as the worldwide education partner of the United Service Organizations (USO). Through the USO's Pathfinder program, we provide educational guidance and resources to service members and spouses who are ready to pursue their educational goals and excel in the civilian world.
As the worldwide education partner of the United Service Organizations (USO), Southern New Hampshire University provides educational and financial literacy opportunities and is a proud supporter of the USO Pathfinder program, an initiative that helps servicemembers and their families shift to civilian life after their service ends.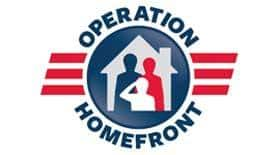 Through a partnership with Operation Homefront, SNHU sponsors gala dinners for military spouses and awards an SNHU scholarship to a military spouse or family member at each event. Operation Homefront is a nonprofit organization that provides emergency financial and housing assistance to military spouses and families.