Air Force Veteran Uses Data Analytics Degree to Land Job at SpaceX
Ryan Sofranko '18G spent 10 years in the U.S. Air Force, managing huge construction projects and coordinating complicated air traffic control operations to secure airspace for Air Force planes and rockets. Now, thanks in part to a master's degree in data analytics, he's part of an even bigger mission – sending a person to Mars.
Sofranko is a production control scheduler for a Payload Integration Team at SpaceX, the company founded by Elon Musk that builds and launches rockets and satellites into orbit.
In something of an understatement, Sofranko admits, "It's pretty cool."
Developing Data Analytics Skills
Sofranko spent most of his time in the military in airfield operations, managing and scheduling multi-million dollar construction projects to maintain airfields that met Air Force and Federal Aviation Administration standards. For the final 3 years of his enlistment, he was stationed at Joint Base Pearl Harbor-Hickam in Honolulu, Hawaii, and worked in airspace management. There he was tasked with coordinating with international traffic control crews to secure airspace in the Pacific Theater for Air Force flying maneuvers.
In both roles, Sofranko said he leaned on the data analytics skills he learned during his courses at Southern New Hampshire University (SNHU). In one case, he led a project that so impressed military leadership he received an on-the-spot promotion. He developed a method for mission scheduling that incorporated analytics to improve route efficiency, as well as a dashboard that allowed senior leaders to evaluate key business factors when negotiating airspace policy with foreign nations.
After he presented his work to the Hawaii base's commander, Gen. Lori Robinson promoted him to technical sergeant. "That was probably my biggest accomplishment in the Air Force, and it was all possible because of the (data analytics) program," Sofranko said.
Sofranko finished his master's in data analytics online in January after retiring from the military the previous April. It was about a year before his enlistment ended that he reached out to an SNHU career advisor for help preparing for his post-military career. "I knew it was a pivotal time for me to be prepared," he said. The experience was helpful because, having spent a decade in the military, he wasn't familiar with the job search, resume writing and interview skills he needed to begin his next career.
"It's not something you come across in the military," he said. "It was certainly beneficial helping me get a career out of the Air Force and after school. I would certainly encourage all of the students to use the career services department.
Now Sofranko has relocated with his family to Florida where he uses his data analytics skills to help coordinate and schedule the work it takes to build the part of those rockets that hold and protect satellites belonging to government agencies like NASA and the Department of Defense. He said he was drawn to the company's out-of-this-world mission and working with a team of people at the top of their game.
"I knew every day when I got to work it would be a very fast-paced environment and that's something that appealed to me," he said. "It's incredible to see … the quality of the work that's done there, and I'm working with some of the brightest people I've ever met. There's a lot to be drawn to in all those aspects."
Using a Degree to Land His Dream Job
Sofranko said earning a degree online while working full-time on a military base came with some challenges but being dedicated and smart about time management made it possible. "It was, overall, an excellent experience," he said.
"There were some challenges associated with that, but it was all worth it," he said. "Going to school empowers you in many ways. It's so important to have an education. It certainly helped me to get where I am today."
He encouraged other online students to lean on services – like career advising – that their school offers as well as making an effort to reach out to instructors who have experience in their field, even making an effort to network with them once courses are completed.
"Having an education really changed my life, as cheesy as that is," Sofranko said. "I don't believe I would be in the position I'm in now … had it not been for obtaining that degree. It's empowering. It puts you in position to succeed in whatever it is you want to do in your career."
Joe Cote is a staff writer at Southern New Hampshire University. Follow him on Twitter @JoeCo2323.
Explore more content like this article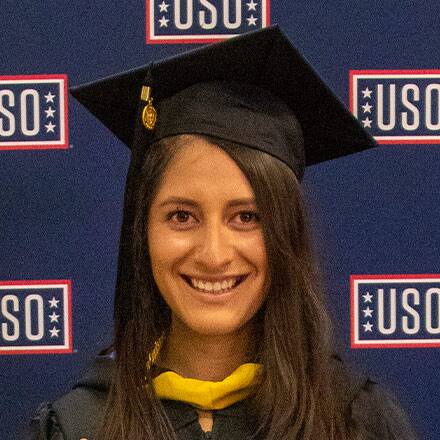 July 27, 2021
In Fort Shafter, Hawaii, Staff Sergeant Diana Tafoya Sanchez took her final steps toward her undergraduate degree. Working toward a bachelor's in business administration at SNHU while serving in the U.S. Army she celebrated her hard-earned success with a special diploma delivery.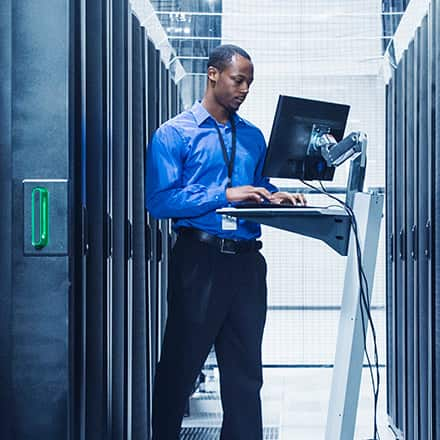 July 20, 2021
The field of cyber security is about leveraging top-notch problem-solving skills with technical aptitude to keep people and data safe. Despite being relatively new, the field of cyber security is here to stay.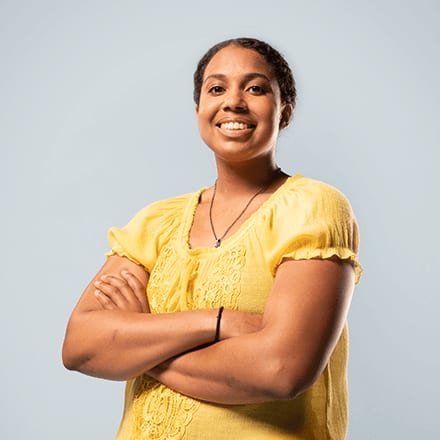 July 19, 2021
Even before she enlisted in the military, Bethanie Thomas knew she wanted to earn her degree. She even knew which field she wanted to study. The only thing missing was the right school.