Military Couple Earns Degrees Despite Deployment, Graduates Together
Parker and Jessica Bryant had only just enrolled at Southern New Hampshire University (SNHU) when they learned of Parker's deployment. Though the military couple was about to undergo a significant transition, they were determined to continue their degrees together.
They had their fair share of challenges during this time. While Parker was deployed overseas for seven months, Jessica cared for their five children, all under the age of 10. With the understanding of their instructors and the flexibility of online education, they were both able to complete classes during their time apart.
Pursuing Forgotten Dreams
For Jessica, earning a bachelor's degree in criminal justice was a decision she made for herself. "As moms, as military wives, we lose ourselves," she said. "We fall into the shadows of our active duty spouses. We fall under the shadows of our kids, and we forget about ourselves."
Advancing her education allowed her to focus on her own needs for a change. "Going back to college, I was able to remember dreams that I once had before kids, and I was able to pursue those dreams," Jessica said.
Though it was sometimes challenging to juggle her coursework while caring for five young children, she credits her instructors for helping her through the program. "I couldn't have done it without SNHU because they were just so understanding of my life," she said.
She encourages all moms and military spouses who feel lost or overshadowed to go back to school. "Just go to college and find yourself again because that's how I found myself again," she said.
Throughout the process, she taught her kids about the importance of education and showed them they could do anything, regardless of the obstacles.
Completing Classes While Deployed
Parker decided to go back to school for his BA in Game Art and Development soon after Jessica enrolled. By earning a bachelor's degree now, he thought he could put his veterans benefits toward an advanced degree when he returns to civilian life.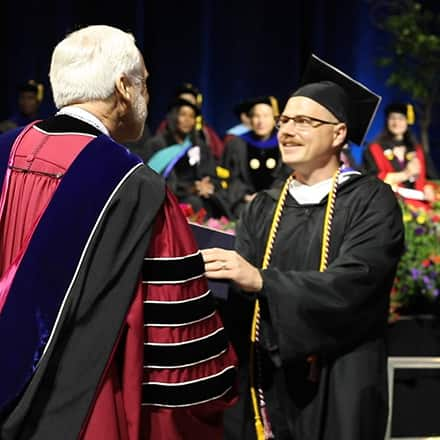 Though this seemed like a logical decision, Parker felt uncertain when he learned of his deployment. "I was in a little bit of a freak-out mode," he said. "How was I going to do this?"
But he did have internet access where he was stationed and worked closely with his instructors. "I explained to them the situation, let them know I was deploying forward, and they really worked with me," Parker said.
Even when he faced issues returning home, he didn't have to worry about falling behind in class. "The college was really helpful with making sure that I was able to get things in on time and… allowing me that leeway to get it done," he said.
Now that he's completed his degree, Parker encourages other active duty service members to earn theirs, too.
Earning a Degree Together
Between their seven months apart and then relocating from Georgia to Texas, the Bryants did not let their ever-changing lifestyle get in the way of their education.
Luckily, they had each other for support and motivation along the way. They learned to take turns entertaining their children to allow the other to do homework, and they kept each other grounded. "We've had the ability to calm each other down and help get through this together," Jessica said.
Though the Bryants began their degree programs thousands of miles apart, the military couple finished together, making the trip up to New Hampshire for Commencement 2019. "To hit the point at the same time is so... awesome," Parker said.
Rebecca LeBoeuf '18 is a staff writer at Southern New Hampshire University. Connect with her on LinkedIn.
Explore more content like this article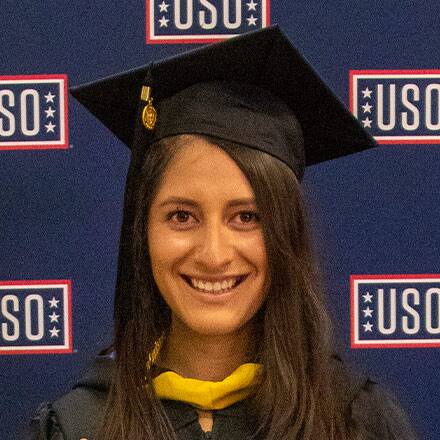 July 27, 2021
In Fort Shafter, Hawaii, Staff Sergeant Diana Tafoya Sanchez took her final steps toward her undergraduate degree. Working toward a bachelor's in business administration at SNHU while serving in the U.S. Army she celebrated her hard-earned success with a special diploma delivery.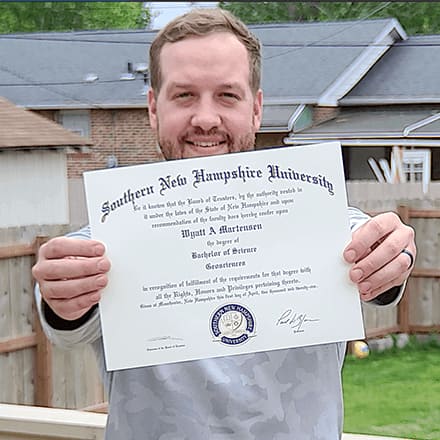 July 15, 2021
When your chief warrant officer asks you to do something with him, you're most likely going to do it. That's how Wyatt Martensen '21 tells the story of how he ended up returning to school to earn his bachelor's degree online.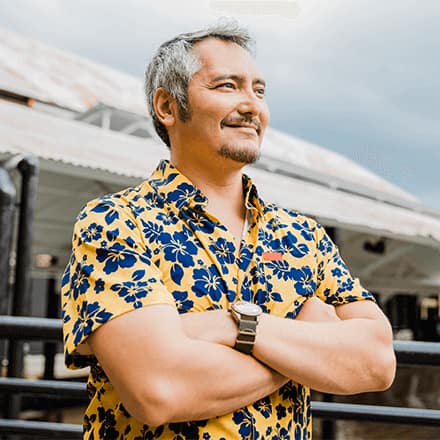 July 12, 2021
Armed with prior college credits but no degree, Derald Wise '14 '18G wanted to make meaningful connections as he finished his education. Like many military-affiliated students, he also knew he needed an online degree program that was flexible.