Global Days of Service: Making the World a Better Place
In its fourth year, the SNHU Global Days of Service saw more than 1,500 volunteers across the globe serve at 180 projects, totaling more than 7,800 hours of service to local communities and organizations. In April 2019, alumni, students, faculty and staff served in the name of Southern New Hampshire University (SNHU) at projects in 44 states and 7 countries, from North Yarmouth, Maine to Chatsworth, California, and from Bangladesh to Rwanda.
"SNHU Global Days of Service is about celebrating the good that our people are doing in their communities," said Sara Telfer, senior associate director of alumni engagement and one of the founders of the movement. "And at the same time that we're making a positive impact in our neighborhoods, project by project, we're connecting local alumni, students and staff to share their Penmen Pride and really enrich their SNHU experience."
In 2016, during the first Global Days of Service, 469 volunteers at 53 sites logged 2,143 hours of service. Since then, participation has skyrocketed.
"For years, the opportunity to participate in service projects has been the most popular response when we ask the SNHU community how they want to be involved with SNHU," Telfer said. "Global Days of Service answers that call and celebrates that commitment to making the world a better place."
Volunteers were able to participate in the initiative in a variety of ways: organize a project with support from the university to promote the event; join an existing project led by an SNHU community member; or share a story of independent service completed at some point during April.
On campus, many of the projects were led by students and staff of the Chandler Center, which was created in 2005 in response to growing student interest in service. In 2018, the center was renamed to honor the vision and generosity of Laurie L. Chandler '89MBA, who created the Chandler Community Engagement Fund to empower generations of SNHU students to embrace opportunities beyond the classroom – such as service projects with real-world impact. While service projects are organized year-round, Director Elizabeth Richards said that Global Days of Service in April is one of the center's busiest times.
"Our vision is a campus where all students are civically engaged and committed to social action," said Richards. "We work to meet this vision every day by creating and sustaining service and leadership opportunities for students that focus on civic engagement, from alternative break programs to service-learning courses, and of course volunteer opportunities like Global Days of Service."
Global Impact by the SNHU Community
For this year's Global Days of Service, junior Izzy Proia, service learning program coordinator at the Chandler Center, organized an Out of the Darkness Walk with the American Foundation for Suicide Prevention (AFSP) to raise awareness about suicide and mental illness. Part of AFSP's signature student fundraising series, the walk was designed to engage youth and young adults in the fight to prevent suicide, the second leading cause of death among people ages 15-24. Hundreds of people came to campus for the walk. Proia and her team of fellow students beat their initial fundraising goal of $30,000 and donated $31,136 to the AFSP to invest in new research, create educational programs, advocate for public policy and support survivors of suicide loss.
Beyond the Manchester campus, alumni, online students and remote faculty and staff organized projects of their own across the country and the globe.
John Hankinson '92 volunteers year-round at the Cumberland Woodbank in Maine, a small, volunteer-run, non-profit focused on providing heating assistance – firewood or alternative fuel sources – to individuals and families in need. The group's mission is to ensure that no one has to choose between heating and eating, and the organization has become a vital resource to approximately 40 local families. This year, SNHU volunteers helped operate a wood splitter, transported wood into piles and assisted with deliveries.
Alumnus and staff member Sylvain Nayituriki '16 and current student Gentille Dusenge co-hosted a project at one of SNHU's Global Education Movement (GEM) locations in Rwanda, where more than 50 alumni and students collected medical supplies and clothing. They also visited elderly residents of the Kaziba Refugee Camp community where they performed home repair, delivered food and supplies and brought companionship and comfort to people in need. According to Dusenge, their project touched the community. "I'm grateful for the chance to serve my people and make them smile, feel cared for and loved," she said.
Meanwhile, at the GEM site in Kenya, local student Saida Said participated in the Global Book Drive, a project sponsored by the SNHU Online Book Club to collect and donate books to local schools, libraries and medical offices in need in the Kakuma Camp. As the population of GEM graduates around the world continues to grow, these students and alumni are forming close-knit communities, and Global Days of Service is one way for them to stay connected to the university and each other.
There were five projects in Texas this year, home to one of the largest SNHU communities outside of New England. The students, alumni and staff members who came together in April clicked so well they are finding ways to stay connected throughout the year. Project leader Joie Gibson '15 '18G, who has led SNHU teams in volunteering with her organization, Hot Dogs and Hope, for the past three years, is rallying Penmen in Dallas/Fort Worth to meet and volunteer regularly.
"I love getting to know my fellow Penmen," said Gibson. "The faculty and staff at SNHU are some of the most positive and caring people I have ever met, and my SNHU experience instilled an even greater sense of community in me than I already had. There is so much we Penmen can do – I am excited to continue building community together."
Danielle Dalton '12 '16G, internship administrator at SNHU and two-time alumna, has participated in Global Days for all four years, leading projects in California and New Hampshire. This year, she issued a challenge to her team at SNHU to make the leap from project participants to project leaders, inspiring additional employees to step up and lead.
"Giving back is embedded into the SNHU culture, and it is inspirational to be around caring individuals all day long doing great work," Dalton said. "It is nice to get together outside of the office environment and work together on a common goal that will make a difference in the lives of others."
For Dalton, giving back is a privilege. "I can't take for granted the opportunities afforded to me because of my SNHU education," she said. "I feel a continuous pull to give back to the university and local community because of how much my education has given me."
And through service, she said, people gain so much more. "I've seen people come together from different parts of their community and find local SNHU students that they could then become friends with. I think that the combination of doing great work and meeting awesome people is the best result that a group leader can get."
Tiff Fifer '00 '02MBA, director of online engagement at SNHU, agreed that Global Days of Service provides an exciting and tangible way for online students to get involved – and connect face-to-face with fellow Penmen. "The best part about hosting regional service projects is the networking amongst so many SNHU community members," Fifer said. "One project included attendees who were online students in course-based and College for America programs, alumni, children of current online students, former staff members and current faculty members. It's incredible to see the SNHU community come together to make new friends and give back to local organizations."
Before Synthia Bean '19 finished her business degree this year, she served as the events officer for the Mental Health Awareness Club, an online student-run organization. Bean organized a Global Days of Service project for Warm Up America, encouraging people to knit or crochet squares that can be made into blankets. Participants could create squares on their own time and mail them to Warm Up America, or they could join a virtual meet-up that Bean facilitated with the Mental Health Awareness Club, knitting together and discussing mental health topics.
"The Global Days of Service project was a fantastic experience. Being able to work on an event that allowed online and campus students as well as alumni to work together, all to benefit the Warm Up America project, was a true honor," she said. "The current president of the MHA club, Brianna Roy, and I came up with the idea to combine yarn crafts with the club experience since this type of crafting is known to aid people working towards improved mental health. I can't wait for us to do it again in April 2020!"
Telfer said that as an alternative to organizing in-person experiences with support from the university to rally local Penmen, many project leaders, like Bean, have started to create on-demand volunteer opportunities, in which participants can contribute to a cause on their own time, from any location.
Jill Nugent, associate dean of academic mathematics at SNHU, who has participated in Global Days of Service for the past three years, championed the City Nature Challenge, an international effort for people to find and document plants and wildlife in cities across the globe. This project allows people to participate from anywhere in a bioblitz-style competition, where cities compete against each other to see who can make the most observations of nature, who can find the most species, and who can engage the most people. This year, 35,126 people in 159 cities took part in the challenge, documenting 31,000 species in 963,773 observations.
Barbie LeBrun '18G, a first-time Global Days of Service participant, regularly volunteers in her local community and shared a story in honor of SNHU initiative. "I had the unique experience of participating in a minke whale necropsy in Cape Lookout, North Carolina," LeBrun said. "I took notes for the veterinarian team and then helped bury the carcass for future exhumation. I am a citizen scientist and an anthrozoologist, and I volunteer every week in various capacities around the island, and as need arises for various projects or research. I'm happy to share my story for Global Days of Service."
From cleaning up beaches to prepping meals for food pantries, mentoring underserved youth to celebrating birthdays in nursing homes, the projects in this year's Global Days of Service were as diverse as the population of SNHU students and alumni.
"I love that this initiative introduces people to new organizations and causes," said Telfer, "while empowering them to make a difference in their neighborhoods and strengthen their connections to SNHU."
The SNHU community will come together again this weekend to celebrate Homecoming. While there will be festivities abound on the main campus, you don't have to travel too far to get involved. Regional meet-ups are scheduled across the country and virtual events will allow you to share in the fun no matter where you live.
To learn more and get involved with Global Days of Service or Homecoming, visit alumni.snhu.edu.
Audrey Bourque is the director of advancement communications at Southern New Hampshire University. Connect with her on LinkedIn.
Explore more content like this article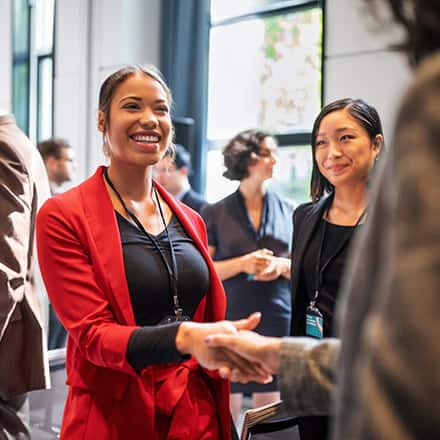 June 04, 2021
The day you receive your diploma from your university is a proud one, marking the culmination of your degree. But, your relationship with the university doesn't have to end there. Alumni are an integral part of a university community and are true advocates for student success.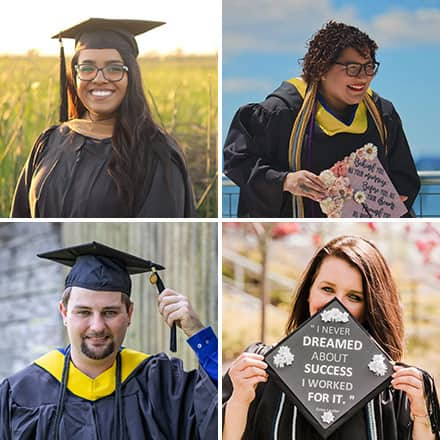 May 10, 2021
Determination has always been a key characteristic of SNHU graduates but never more so than within the 43,000 students who persisted throughout the pandemic in completing their degree programs.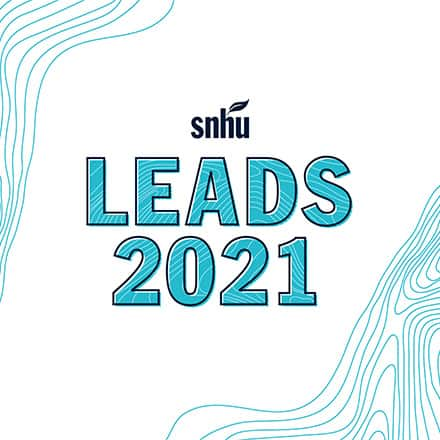 April 22, 2021
SNHU students, staff and alumni worldwide dropped by the 7th annual LEADS Conference earlier this month for personal and professional development that focused on academic achievement, leadership and career advancement.