SNHU Recognized for Commitment to First-Generation Students, Joins First Scholars Network
Southern New Hampshire University (SNHU) has joined the First Scholars Network, an initiative of NASPA and the Suder Foundation, demonstrating the university's commitment to improving outcomes and success of first-generation college students.
The First Scholars Network, part of the Center for First-Generation Student Success, includes 350 colleges and universities and helps institutions support first-generation students gain knowledge of resources and establish peer networks and communities of practice.
"As SNHU continues its commitment to access and social mobility, earning the First Scholars Network designation is a testament of our dedication to providing the support and resources that are so vital to the success our first-generation learners," said Dr. James Winfield, SNHU's associate dean of First-Year Experience, General Education and Retention Strategies.
SNHU transforms the lives of learners by providing flexible and affordable pathways to a degree for those often left behind by the traditional higher education system, including first-generation students who may need more support. In 2021, 40% of SNHU's online learners identified as being a first-generation college student.
"Over the past four years, we've really prioritized empowering our first-gen students through a pilot sponsored by the SNHU Social Justice Fund and an ongoing resource group," said Helena Iaquinta, User Experience researcher, SNHU. "This NASPA designation aims to spark a ripple effect across departments, uniting all staff in these efforts. We anticipate this intentional support for our first-gen population will help boost retention and success and we cannot wait to see those results."
During the first year of membership in the First Scholars Network, member schools commit to building an understanding of first-generation student success by participating in a series of workshops, networking and professional development opportunities, as well as participation in a peer community.
"Being named as a First Scholars Network member is an exciting opportunity for these institutions to join a dedicated community of professionals prepared to share evidence-based practices and resources, troubleshoot challenges, generate knowledge and continue to advance the success of first-generation students across the country," Dr. Kevin Kruger, president and CEO of NASPA, said in a release.
The designation as a First Scholars Network member is the first of four phases culminating in achieving the status of First Student Champion Campus.
"The Center is pleased to welcome our newest class into the First Scholars Network," Dr. Sarah Whitley, vice president with the Center for First-generation Student Success, said in a release. "Through the application process, it was evident that these higher education institutions are not only taking steps to serve first-generation students but are prepared to make a long-term commitment and employ strategies that foster an environment of success for this important population."
About Southern New Hampshire University:
Southern New Hampshire University (SNHU) is a private, nonprofit institution with a 90-year history of educating traditional-aged students and working adults. Now serving more than 180,000 learners worldwide, SNHU offers approximately 200 accredited undergraduate, graduate and certificate programs, available online and on its 300-acre campus in Manchester, NH. Recognized as one of the "Most Innovative" regional universities by U.S. News & World Report and one of the fastest-growing universities in the country, SNHU is committed to expanding access to high quality, affordable pathways that meet the needs of each learner. Learn more at www.snhu.edu.
About Southern New Hampshire University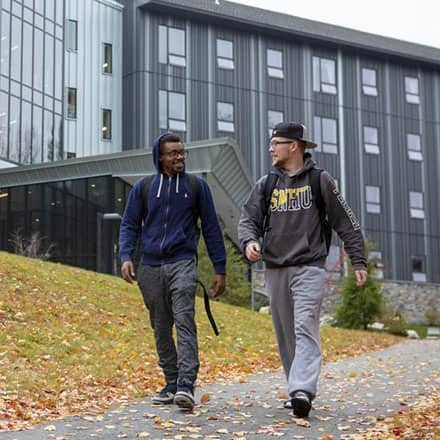 SNHU is a nonprofit, accredited university with a mission to make high-quality education more accessible and affordable for everyone.
Founded in 1932, and online since 1995, we've helped countless students reach their goals with flexible, career-focused programs. Our 300-acre campus in Manchester, NH is home to over 3,000 students, and we serve over 135,000 students online. Visit our about SNHU page to learn more about our mission, accreditations, leadership team, national recognitions and awards.