From Gamer to Game-Changer & First-Generation College Graduate
During an ice breaker exercise in Sultan Akhter's very first Southern New Hampshire University (SNHU) class, he said he was interested in gaming. Little did he know, he'd become a game-changer in college and discover a career path that will support students just like him.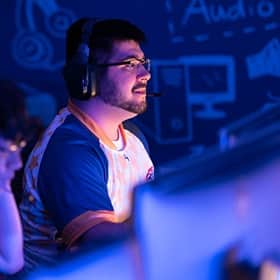 When Akhter learned the campus gaming club had an informal esports team, he knew that's where he belonged. Esports unites his life-long passion for video games with his competitive sports background.
By his second year of college, he was leading the team and dreaming bigger. Working with his mentor, Tim Fowler, now the director of esports at SNHU, Akhter aimed to elevate the team to the varsity level.
He sought support for his vision from Campus President Dr. Patty Lynott, and the idea spread around campus. "I think when there were so many students on campus that wanted to see this program thrive, wanted to see it grow," Akhter said. "They made it happen."
Heading into his final year of the Degree in Three (Di3) bachelor's program, he was named the captain of SNHU's Varsity Esports Team, the first varsity esports team in New Hampshire.
Unexpected Growth: From Introvert to Leader
Akhter's involvement with the esports team unleashed a passion in him, and he found himself becoming more engaged on campus.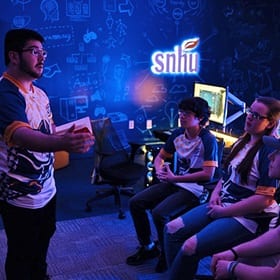 "I came in very introverted, very shy, and by my senior year, I was a part of three different organizations on campus in leadership roles," he said. In addition to his position on the esports team, he was involved with the student government and student newspaper.
Akhter attributes his leadership success to a blend of his esports position and his business classes. He could apply what he was learning in class about teamwork and presenting to his extracurriculars in real-time. With this experience, he now feels relaxed and confident while collaborating with others and sharing his ideas.
Recognizing all that he gained as an involved student, Akhter loved supporting his teammates as they grew on the team and beyond.
"I was someone that a lot of students came to for help," Akhter said. "For whenever they needed advice, whenever they needed help with their work or their extracurricular activities – whatever they needed – and I felt really honored and really proud to say that I was that student on campus."
The support he offered others did not go unnoticed. His classmates secretly nominated him for the Campus Leader Award, an award he received at SNHU's 2019 Leadership Banquet.
"I was so overwhelmed with joy and happiness and just so proud of myself," he said.
Support from Faculty
As a Di3 student, the classes Akhter took were rigorous, but he learned a lot from his instructors.
"They'll teach you everything that you need to know for the class, but outside of the class, they'll teach you so many valuable real-world skills that help tremendously," Akhter said.
It also helped that his professors understood the value of extracurriculars. They saw the initiative he was taking to develop an esports program and would sometimes encourage him to focus class projects on it.
"It makes me feel like this school gave me everything that it possibly could," Akhter said. "I think SNHU gave me the world when I came here. The faculty, the students, my peers, everyone that helped me succeed because it wasn't just myself that did it."
First-Generation Experience Gives Deeper Meaning to Graduation
Joined by his parents, younger siblings, grandmother and aunt at the SNHU Arena, Akhter realized Commencement was so much more than a formal ceremony.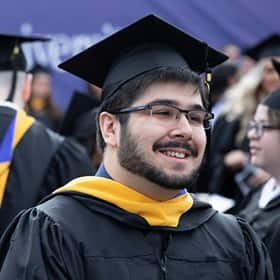 "I was the first one in our entire family to graduate from college," he said. "So it was just really cool to see the different generations of people and know that I was the first."
College wasn't an option for his parents when they were growing up, so they worked hard to make it a priority for their kids. "I told myself I was not going to cry at graduation," he said. "… But seeing my father's face was something that made me almost burst."
For Akhter, Commencement was the end of an era. During the ceremony, he reflected on his three years at SNHU and all that he accomplished. "It's so special to know that everything that you've done here on campus is just tremendous," he said. "And all the hard work that you put in was what got you to get the diploma in the first place."
Chasing a Career in Esports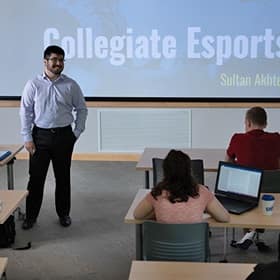 When Akhter began his business degree, he never thought he would find a career he loved. Throughout the program, he realized he could combine his major with his love of esports, and that's what he aims to do.
Though his time as a player is over, he isn't done with SNHU's esports team. This fall, he returned as a graduate assistant, handing the operations and event coordination for the team while completing his MBA in Sport Management.
After he finishes that, there's no telling where he'll go. Akhter's goal is to continue working in higher education, supporting students who are passionate about competitive gaming, just like he was.
"It doesn't matter … where I end up in the U.S., in the country, in the world," he said. "If I'm doing what I love, then I'm definitely going to want to do it."
Rebecca LeBoeuf '18 is a staff writer at Southern New Hampshire University. Connect with her on LinkedIn.
Explore more content like this article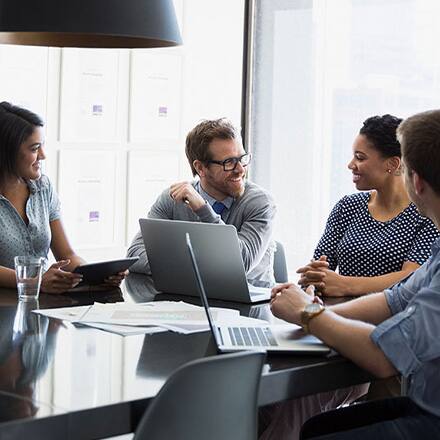 October 20, 2021
Today's MBA programs provide plenty of options to focus on particular aspects of business in either a specialization or concentration - giving you a competitive edge in today's job market.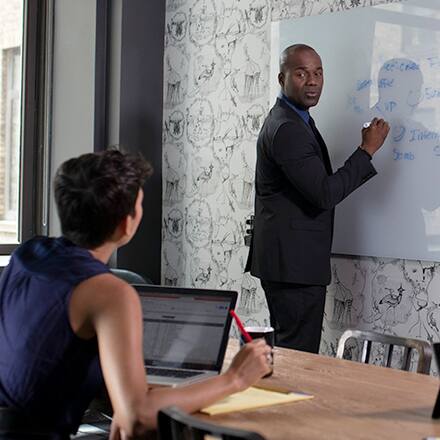 October 19, 2021
An MBA – or Master of Business Administration – is a graduate-level business degree designed to give professionals the critical knowledge they need to step into management and leadership roles in companies.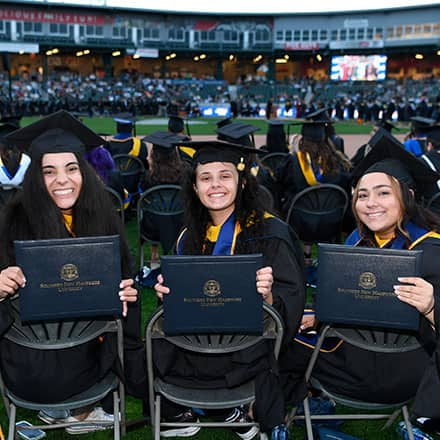 October 18, 2021
Southern New Hampshire University's Class of 2020 and 2021 campus graduates had their moment in the sun on Saturday when more than 400 celebrated their incredible achievements at Northeast Delta Dental Stadium in Manchester, New Hampshire.