Senior Associate Dean Dr. Jessica Rogers: A Faculty Q&A

Dr. Jessica Rogers is the senior associate dean in Southern New Hampshire University's online business programs. Following a career in operations management and telecommunications, she now helps educate thousands of aspiring business professionals. Recently she answered questions about her background, the importance of connecting with students and more.
Tell us a bit about your professional background.
I spent several years in operations management at a chemical manufacturing plant and then made a transition into telecommunications. After that I found myself in a variety of sales, sales management and management positions as well as director of marketing and training prior to my shift to higher ed.
What first drew you to higher education?
Unfortunately, I was one of the many folks laid off back in 2008. My first reaction was to reach out to one of my favorite marketing instructors from my graduate program, who had become the chair in the 10 years since I had seen him last. I asked him if any of his contacts were hiring, and let him know my situation. His reaction was one I did not expect. He noted my professionalism and notable student status and suggested I become an adjunct instructor in his marketing program.
That first term I taught Intro to Marketing, and I was hooked. I felt like I had made such a significant impact in those several weeks, more so than I had in my prior work mentoring employees.
What aspects of your own education have been particularly influential in shaping your professional life in academia?
I think my experience as a "not very confident" undergrad student as well as my experience as an online grad student almost 20 years later helps me identify with my students. I always strive to be the instructor that I wish I had in my undergraduate degree.
Back then, I chose to attend a very large state school where I was often one of approximately 400 students. I thought that was going to work for me, I could be invisible. Turns out that's not the type of student or learner that I was and needed to be.
I ultimately transferred to a smaller school where I was often one of 20 or 30 students and had direct contact and engagement with my instructor. It made a world of difference.
The online experience is also one that is unique. I was a full time PhD student, full time working mom of a 1-year-old not using childcare, I was managing a family and life in general. It was not pretty, it was tough. My son knew nothing other than student mom and working mom until he was 7! He knows what hard work, grit, and sacrifice looks like. He also knows what it feels like to accomplish the seemingly impossible, through my journey.
A nontraditional student with competing priorities has unique perspective and outlook on school, work and life in general. These students need to know they are not alone.
How do you continue to learn and evolve as a leader in higher education?
Continuing to evolve and learn as a leader is part of education! I think you'll find most, if not all of us, are lifelong learners. We are always reading something, writing something, taking a class or pursuing another educational endeavor.
Personally, I have taken many courses revolving around topics I want to learn more of, from a variety of institutions. For example, a certificate in organizational leadership, one in the history of higher ed, one on innovation and strategy.
I always have a "fun" book and a "learn" book on my coffee table (or on my Audible) to read when time allows on the weekends. This has been a good way to leisurely read and allow time to think about what I am reading through the week, without the pressure to hurry and finish the book to start on another. It also allows for me to listen and think while walking the dog. Our job as educators is to help our students learn but also be comfortable with change, growth, acceptance of feedback and of course embracing failure, while also leading by example.
What do you feel is unique about the faculty, students and programs you oversee?
Our team works hard to create and maintain programs that speak to the needs of employers. We strive to ensure the content of courses and programs prepare students for the needs of business.
Our faculty are unique as they work in the field, we are very fortunate to have a strong faculty pool of individuals that work in a variety of industries. These adjunct faculty bring the course content to life! The real world experiences and examples they share, their inspirational stories of their own educational, personal and professional journeys – and just simply cheering our students on are definitely just a few ways our team is unique.
Can you think of a particularly impactful or eye-opening moment as a faculty member?
About 6 years ago I received a heartfelt email from a student at least a year after she had taken my course. I usually receive one or two emails at the end of every term or a month after the term from students reaching out to thank me or share some information about a job that they were able to apply for and get. I made a habit of printing some of them on occasion and hanging them up in my home office. This one was quite different.
The student let me know how thankful she was for me reaching out to her weekly when I didn't hear from her in our class discussion. She thanked me for being the only one in her life at the time that seemed to care. She thanked me for showing up. I was the only one that was making contact with her at a time when she was in severe depression and considering suicide. I had no idea at the time. I just knew that I needed to continue contacting my student who was putting forth some effort but just simply was unable to submit the work on time, and often went MIA.
She rarely, if ever, replied. I continued to email her. I encouraged submissions and provided a plan of attack to complete the work on time, and also prioritized the work she should submit if she had to choose to not submit an item one week. I am so very thankful I did not give up on my student.
How have you found ways to effectively connect with students?
In my online classroom, I try to ensure the announcements include opportunities to explore more about the content in a way that's meaningful to the individual students that term. I encourage students to ask for help when they need it, as faculty we are always here to try to help. If we don't know the answer, we will try to connect a student with someone who does. I also look for ways to connect the course content to themes a student may have shown interest in or help them connect to their career goals or aspirations.
What advice do you have for new and current students?
Connect with your instructor via the class discussion or an email at the beginning of the term. Do not shy away from sharing goals with us, let us help support you in our journey. Reach out when you think you might need a bit of encouragement. We are here for your success, truly.
Why is education important to you and the world at large?
Education opens so many opportunities. The ability to learn something new, communicate in different ways and think more critically are all tools I use on a daily basis.
Folks that choose education are armed with skills, knowledge and abilities necessary to participate in the workforce and make meaningful contributions and change.
In my own world, I have seen how education can be an equalizer. I volunteered for a local CASA (Court Appointed Special Advocates) organization and saw firsthand the cycle that can play out for children in foster care. Educating oneself allows for social mobility and provides people from a disadvantaged background with an opportunity to rise above their individual circumstances and change that cycle.
Beyond work, what's something you're passionate about or really enjoy doing?
I had always dreamed of having a horse as a little girl, but never had lessons! Two years ago, my husband bought me 10 English riding lessons as an anniversary present. I have been taking lessons ever since! I also started western lessons this past February and am actively in search of my own horse. The sound of hooves on the ground and hay being chewed is extremely relaxing.
A degree can change your life. Find the SNHU online MBA program that can best help you meet your goals.
Joe Cote is a writer at Southern New Hampshire University. Connect with him on LinkedIn.
About Southern New Hampshire University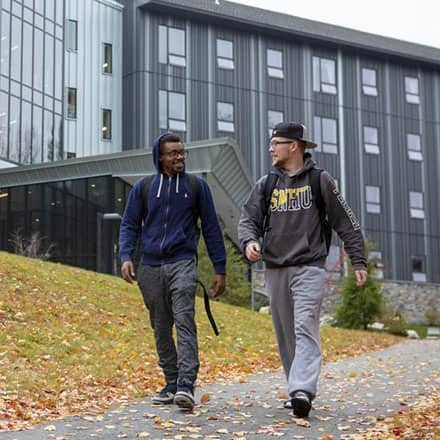 SNHU is a nonprofit, accredited university with a mission to make high-quality education more accessible and affordable for everyone.
Founded in 1932, and online since 1995, we've helped countless students reach their goals with flexible, career-focused programs. Our 300-acre campus in Manchester, NH is home to over 3,000 students, and we serve over 135,000 students online. Visit our about SNHU page to learn more about our mission, accreditations, leadership team, national recognitions and awards.