The SNHU Community Logged 5,500 Hours of Service From February to May
In March of 2020, SNHU staff, students and volunteers were gearing up for the 5th annual Global Days of Service initiative. A buzz of excitement lingered in the air in anticipation of the month-long event. The SNHU community was at the ready with gloves, trash bags and that prideful Penmen spirit.
It wasn't long before the COVID-19 pandemic forced all in-person events to be postponed until further notice. Considering this, the Global Days of Service planning committee encouraged the SNHU community to participate in do-it-yourself (DIY) projects throughout the spring and summer, up through Homecoming 2020.
With 2021 on the horizon, the planning committee was again faced with the challenge of coordinating another entirely virtual Global Days of Service. Instead of the typical month-long event, Global Days of Service was expanded to span four months, from February 1 to May 31, to offer flexibility and more opportunities to engage.
Each month brought attention to a different societal issue: hunger, shelter, environmental justice and the pandemic's essential workers. In addition to do-from-anywhere projects, such as play freerice.com or the alumni board-led "Walk the Talk Challenge," the planning committee added a new element: Education.
A Focus on Social Issues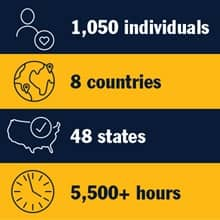 "In The Chandler Center, we define meaningful and reciprocal service as having three components: direct service, education and reflection," said Assistant Director for Community Engaged Learning Beth Anderson. "We decided to focus on social issues education with the idea that throughout the course of Global Days of Service we could build the knowledge of what these social issues are and why they're important."
Each panel and education session featured SNHU community members who had a personal connection to the month's societal issue. For four months, participants listened and learned from SNHU alumni, students and staff about how each issue impacted their lives, and how they support organizations working to make a positive difference in that area.
"The goal was to join our global community in grappling with these social issues and learn from each other to inspire action when it became safe to do so again," said Anderson.
February: Hunger
For the past few years, Gentille Dusenge '20 has organized and led Global Days of Service projects in a refugee camp in Kiziba, Rwanda. In Kiziba, there are 17,000 refugees from the Democratic Republic of the Congo, who all depend on monthly assistance from aid programs.
Dusenge recognized a larger need for those more vulnerable to health complications due to tough living conditions. So, she collaborated with SNHU community members to gather food, sanitation materials and funds. They also helped to repair houses in the refugee camp.
"As a refugee and a student in the Kiziba refugee camp, I think I have a big responsibility to give back to the community because I consider myself as the lucky one," said Dusenge. "In my community, many people did not get a get chance to pursue a higher education. Others live in very extreme living conditions: sick, lonely, hungry and without anyone to show them that they care. I wanted to give back to my community because I love them, and because this what I feel everyone should do once they get a chance."
March: Shelter
During the month of March, shelter and homelessness were explored, an issue that is of importance to Matt Sharp '04 '06MBA. He is the chief operating officer at RunningWorks, a Charlotte, North Carolina, area nonprofit that assists individuals and families experiencing homelessness and poverty with their goals for physical, emotional and social well-being. Sharp joined as a panelist for the "Focus on Shelter: SNHU Community Panel."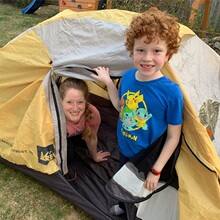 Sara and Cam Telfer participate in a SleepOut to
show solidarity for people experiencing homelessness.
"I was honored to be included with such great colleagues in the field," said Sharp. "I'm so glad SNHU has continued to grow the Global Days of Service program throughout the years."
Penmen across the country and around the world have raised their hands to volunteer for Global Days of Service with the help of family and friends, like current student Sarath Sek of Lowell, Massachusetts.
"I wanted to do my part in helping my community, so I raised money to buy and make feminine care packages to donate to my local homeless shelter," said Sek, "The best part of my experience was seeing the love and support from my friends and family as they helped me reach my goal."
April: Environmental Justice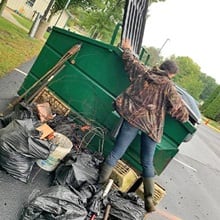 Trash collected after a neighborhood
clean-up, submitted by Kaytlin Perry '21.
In honor of the 51st anniversary of Earth Day, environmental justice was addressed in April. Long-time volunteer and SNHU electrical supervisor Jeff Chaput '16 leads the Blue Ocean Society beach clean-up, one of the most well-attended Global Days of Service projects. Preserving ocean life is a cause for which Chaput has always been a strong advocate. In April, he completed a neighborhood clean-up with close friends and family but hopes to join students, staff and alumni at a future beach clean-up.
"These clean-ups are important because ropes, fishing lines, plastic and cigarette butts are harmful to marine mammals and ocean birds," said Chaput, "Also, clean beaches are much more enjoyable for visitors."
May: Essential Workers
Ally Parrill '18G volunteering at the Dallas
County Vaccine Mega Center.
In the final month of Global Days of Service, the focus turned to the people who have kept us healthy, fed and safe – the essential workers of the COVID-19 pandemic. Volunteers showed appreciation to essential workers by writing letters of thanks, making masks and learning how to advocate for essential workers, locally and federally.
SNHU adjunct faculty member Laura Short '16G is a physical education and health teacher at an elementary school in Nashua, New Hampshire. Like many teachers, Short had to continue teaching her students online when the pandemic forced schools to close.
"As an essential worker in the pandemic, it definitely was a pivot. It was not easy. I had to consider that a lot of students don't have equipment," said Short. "I forged a lot of new relationships with not only PE teachers in my district but also nationwide, and we shared ideas."
Making an Impact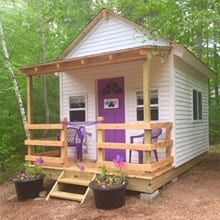 Make-A-Wish volunteers built a playhouse for a little girl
battling cancer, submitted by Claire Fauth.
The impact of SNHU's Global Days of Service reached far beyond the education sessions and community panels. Throughout the four-month-long event, Penmen from across the world shared their stories of service, community and strength.
As of June 10, more than 1,050 individuals from 8 countries, 48 states and Washington, D.C. raised their hands to volunteer in their community during Global Days of Service 2021, completing more than 5,500 hours of service. While the SNHU community could not gather for in-person projects, the opportunities for furthering the mission of Global Days of Service were endless.
"Service in and of itself is meaningful, but combined with education and reflection, it's transformative," Anderson said. "It's what moves people to meaningful change in their communities."
To learn more about how you can get involved with Global Days of Service, contact Sara Telfer at s.telfer@snhu.edu.
Katie Dugan '20G is an advancement communications coordinator at Southern New Hampshire University. Connect with her on LinkedIn.
Explore more content like this article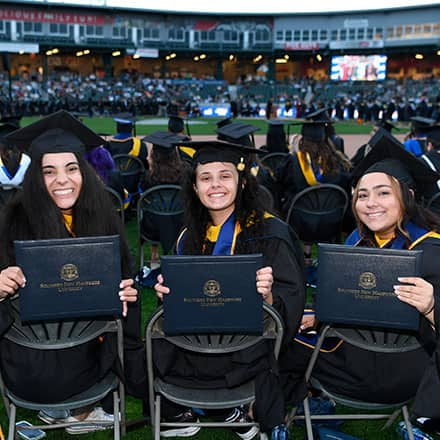 October 18, 2021
Southern New Hampshire University's Class of 2020 and 2021 campus graduates had their moment in the sun on Saturday when more than 400 celebrated their incredible achievements at Northeast Delta Dental Stadium in Manchester, New Hampshire.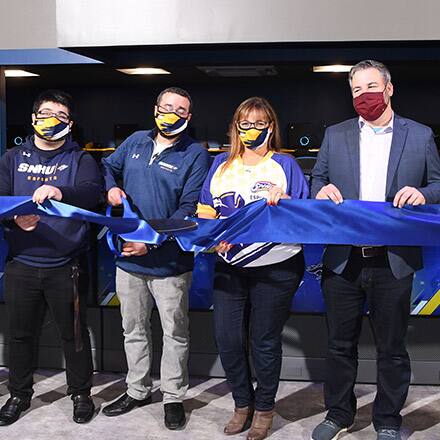 October 13, 2021
SNHU celebrated the grand opening of its esports arena on October 8th. A ribbon-cutting event marked the official opening to welcome the campus community and to see where esports players hone their gaming skills and compete against varsity-level opponents across the U.S. and Canada.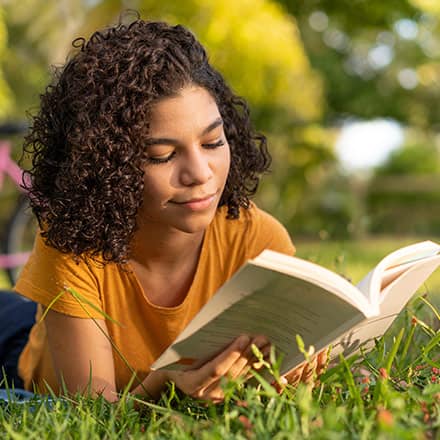 June 18, 2021
If you are searching for book suggestions, look no further: The annual summer reading recommendations have arrived. This year's list features more than 35 selections that span several genres suggested by some of SNHU's academic leaders.