SNHU Community Volunteers More Than 9,000 Hours of Service This Spring
More than 1,648 Southern New Hampshire University (SNHU) students, staff, faculty, alumni and volunteers contributed over 9,196 hours of service during the university's 8th annual Global Days of Service. Participants had the opportunity to join an official project in their area or take part in a do-it-yourself (DIY) project throughout the months of March, April and early May.
In 2023, the Global Days of Service planning committee saw an increase in site leader interest with 30 first-timers joining the movement, in addition to 17 returning site leaders. Volunteers led seven global DIY projects and 36 local in-person projects, ranging in project locations from Canada to Ohio to North Carolina, allowing more pockets of SNHU community members to come together and serve.
Connecting Through Service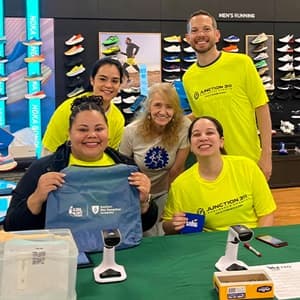 One returning site leader, Matt Sharp '04 '06 MBA, is proof of how much SNHU communities can grow unexpectedly. Sharp is heavily involved as an alumnus, having led four GDS projects since 2019. He intended to lead a project in 2020 until COVID-19 caused the Global Days of Service committee to cancel plans.
This year, Sharp organized the Charlotte RaceFest Packet Pickup in Charlotte, North Carolina. This project supports RunningWorks, where Sharp is the chief operating officer. RunningWorks is a nonprofit that empowers the homeless, severely impoverished and marginalized with housing, transportation, employment, mental health and recovery services. The organization routinely volunteers with races in Charlotte to display to their program participants the values of volunteerism, commitment and teamwork.
In 2022, Sharp had difficulty filling his volunteer spots. Nevertheless, he planned to organize the project again in 2023 — but with a new strategy. While attending a campus alternative spring break community dinner this spring, he was able to connect with other SNHU alumni who would join his GDS project a few weeks later.
"What an awesome opportunity it was to connect with them, learn their stories and get a glimpse into their SNHU community," Sharp said. "I look forward to Global Days of Service every year. I get to share a connection with others that light up some pretty amazing memories, all while supporting worthy local nonprofit organizations."
Building SNHU Communities Across the Country, Big and Small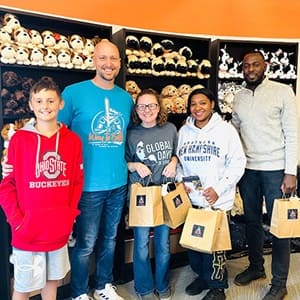 Online student Aleesa Fairley, of Newark, Ohio, saw Global Days of Service as an opportunity to network with other Penmen in her area.
"I set a personal goal of making networking a priority, whether that be professionally or personally. When I saw that Ohio did not have any official projects on that map, I felt drawn to make that happen," she said.
Fairley organized a project with Way to Battle, a nonprofit that provides a "battle pup" (which are stuffed animals) to those nominated by friends or loved ones. Those nominated could be struggling with a long-term illness, loss of a loved one or someone that's a warrior in their own life-changing event. Way to Battle started when a family was faced with a childhood leukemia diagnosis. Their goal is to provide anyone, children or adults, with a reminder that they are not battling alone.
Fairley assembled a group of volunteers to help collar the battle pups, write notes and prepare packages to be sent to families. Together with Way to Battle, they sorted seven pallets of more than 5,000 battle pups. They loaded 270 sorted boxes on a trailer and even had enough time to prepare 500 bags that will be sent with the pups. Watch the wrap-up video Way to Battle put together.
"SNHU has opened so many doors for me, and I want to represent them any way I can," Fairley said. "This cause was definitely deserving. I was able to help an amazing cause while meeting other students and alumni."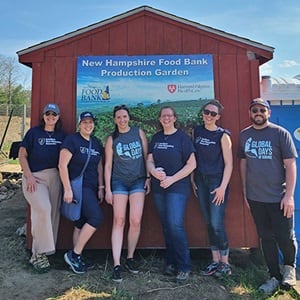 Fairley wasn't the only online student who brought the Global Days of Service movement to the Midwest.
Online student Rebecca Ferguson, of Nekoosa, Wisconsin, joined by her husband Andrew, spent more than nine hours on Arbor Day planting 75 trees across three parks throughout her home state. This marks the first time in Global Days of Service history that an official project has taken place in Wisconsin.
Ferguson and her husband run a tree removal service. "As our jobs are to take down trees for people, it seemed the logical thing to do and replant for our community," she said.
Think Globally, Act Locally
Several SNHU employees joined the movement by utilizing their volunteer time off (VTO) to join or lead an official project. Tyra Davey, an associate dean of science programs at SNHU, led the Great Global Cleanup for the second year in a row. The Great Global Cleanup is a worldwide campaign to remove trash from neighborhoods, beaches, parks and more. The goal is to reduce waste and plastic pollution, improve habitats and prevent harm to wildlife and humans.
"This project came about because we were looking for an accessible and inclusive way for our global SNHU community to connect and volunteer regardless of where they are located," said Davey.
This year, 70 individuals across 23 states consisting of students, staff, alumni and their friends, neighbors and loved ones, took part in the Great Global Cleanup. Davey plans to continue the project next year, with a goal to have participants in all 50 states.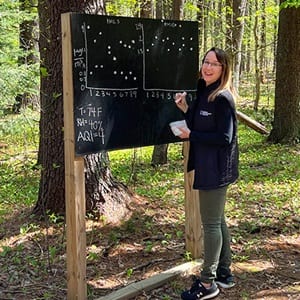 "My favorite part of Global Days of Service is the team building that comes from participating in a project. It really makes you feel more connected and is a great way to use my favorite SNHU perk: volunteer time off," said Davey. "(SNHU employees) have such an opportunity at an institution of our scale, full of mission-driven people who are passionate about the environment and looking to get involved."
Meanwhile, on the SNHU campus in Manchester, New Hampshire, the SNHU Arboretum was another gathering place for staff to come together to volunteer and learn about environmental impact. On Apr. 5, campus students and staff joined Pamela Beckvagni, SNHU sustainability manager, to learn about the history, flora and fauna of the Arboretum. Volunteers then worked together to begin trail maintenance, which included removing overgrowth and invasive species from the trail.
And in early May, the Breath of Fresh Air Education Session brought Hillside Middle School students from Manchester and SNHU employees together to learn about air quality as part of a grant-funded project through the Office of Diversity and Inclusion (ODI).
"Both events were amazing, and we are excited to host more sustainable events at the Arboretum and university-wide," said Beckvagni.
Campus students have displayed their commitment to Global Days of Service by rallying their peers to take part in events like the Out of the Darkness Walk, an on-campus event that raises funds for mental health and suicide awareness. More than $27,600 was raised for the American Foundation for Suicide Prevention.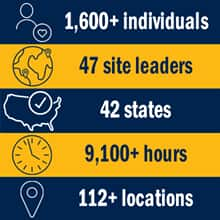 "This event was designed to help the stigma around asking for help and support when you need it," said site leader Stephanie Matte '23.
SNHU Senior Associate Director of Alumni Engagement, Sara Telfer, said that the introduction of DIY projects back in 2020 has resulted in more participation from the SNHU community across the country; however, seeing an increased interest in gathering in-person allows for alumni, students and staff to meet and build relationships.
"For some, having the opportunity to be in physical proximity to another SNHU community member is very impactful," said Telfer. "In many cases, people don't expect to have that connection opportunity, and we've seen that it's been a highlight of volunteers' experiences with Global Days of Service."
See more photos from SNHU's 8th annual Global Days of Service. To learn more about how you can get involved with Global Days of Service, contact the Global Days of Service Committee at alumni@snhu.edu.
Katie Dugan '20G is an advancement communications manager at Southern New Hampshire University. Connect with her on LinkedIn.
About Southern New Hampshire University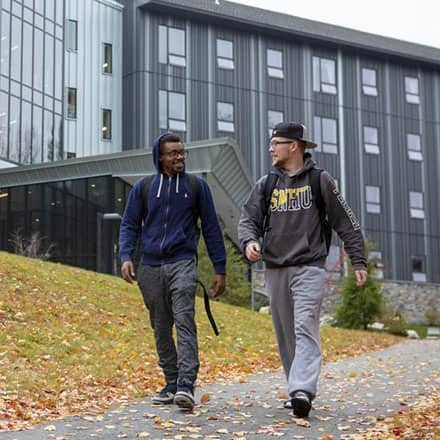 SNHU is a nonprofit, accredited university with a mission to make high-quality education more accessible and affordable for everyone.
Founded in 1932, and online since 1995, we've helped countless students reach their goals with flexible, career-focused programs. Our 300-acre campus in Manchester, NH is home to over 3,000 students, and we serve over 135,000 students online. Visit our about SNHU page to learn more about our mission, accreditations, leadership team, national recognitions and awards.