SNHU, Celtics Open 11th Tech Lab at Everett (Mass.) School

Madeline English School in Everett, Massachusetts, became the latest middle school to receive a state-of-the-art STEM computer lab Wednesday when the Boston Celtics and Southern New Hampshire University (SNHU) unveiled the space to about 2 dozen of the schools 7th and 8th-grade students.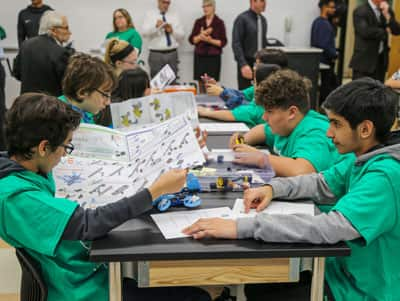 The students, who explored the lab by completing a cyber scavenger hunt, a game coding exercise and building small robots, were joined by Celtics rookie Robert Williams and former All-Star Dana Barros.
Williams, a 6'10" center, said he was impressed with the new lab and hoped it made students look forward to their school day the way he used to. "I know a lot of young kids back where I'm from don't have fun at school anymore. They don't see the thrill in going," he said. "I definitely feel like having this in the back of their mind that they get to come into the computer lab every day is definitely a momentum push."
The lab is the 11th technology lab the Celtics and SNHU have partnered to donate to middle schools in Massachusetts and New Hampshire. The projects are part of SNHU's role as the official education partner of the Boston Celtics.
"We believe strongly that we need a more diverse and more wide-ranging representative group of STEM students, STEM employees. And the only way to do that is to reach deep down into these communities and give kids access to STEM resources to get their imaginations going," said Steve Thiel, senior director of strategic partnerships at SNHU.
"And ultimately we hope to see them further down the line as our next engineers, our next computer scientists and the like," he said.
The lab includes 25 Asus laptop computers, reconfigurable furniture, a projector, several VEX Robotics kits and a 3D printer. A large flat screen television is mounted to one of the walls, which are painted Celtics green, where students can present their work to classmates. Principal Theresa Tringale said that capability is essential because it will allow help students take more control of their education and create a student-centric classroom.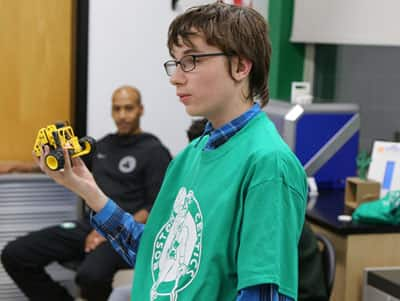 "The way we're able to move around the lab now will change our learning outcomes," she said. "They'll be able to interact not only with their teacher, (but) with each other, with technology being able to showcase their work, research their work and share their work. It's a very big deal for our school."
Thiel said technology has consistently been at the top of local middle school's list of needs and the immediate impact makes technology labs an ideal project.
"They have a place now where their imaginations can meet the equipment at their fingertips. They can imagine career paths; they can imagine new and interesting ideas that they would have done otherwise," he said. "It's remarkable the increase in capabilities that new technologies give them immediately."
Janice Gauthier, director of curriculum for Everett Public Schools, said Madeline English is one of 5 schools in the city that feed into Everett High School. The lab unveiled this week brings the school into better alignment with the experience students will have at the high school, including the possibility of attending the school's STEM academy.
"This is really in alignment with what's at the high school, so I think this is going to make that transition a little bit easier for the kids," she said.
After moving throughout the room working with groups of students using the technology lab equipment for the first time, Barros and Williams joined Everett Public School Superintendent Frederick Foresteire in autographing the large Celtics logo on one of the lab's walls, along with an inspirational quotation.
Barros used his quote to remind students, "The sky is the limit."
Joe Cote is a staff writer at Southern New Hampshire University. Follow him on Twitter @JoeCo2323.
Explore more content like this article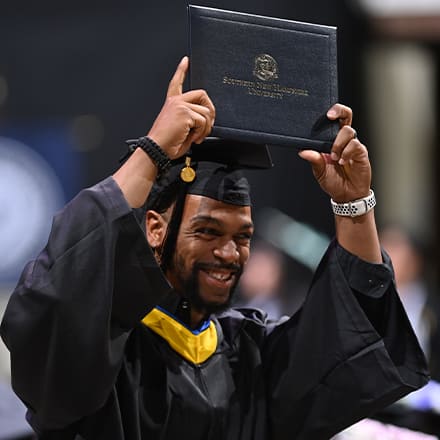 This weekend, the SNHU Arena welcomed students from 50 different countries and every U.S. state and territory to celebrate their new degrees. The ceremonies marked an important chapter for more than 22,500 eligible graduates who joined a community of over 230,000 SNHU alumni.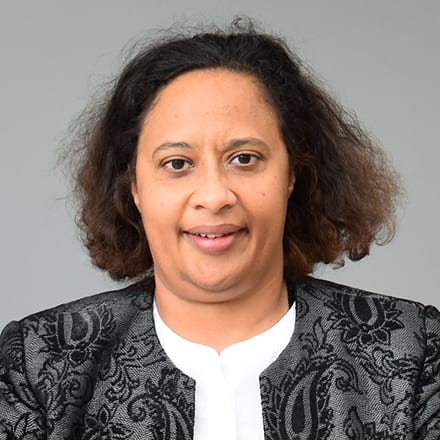 Joan Garner, daughter of late civil rights pioneer John Burrell Garner, is earning a master's degree in English and creative writing while writing a book about her family's legacy — including the Garner v. Louisiana Supreme Court case. And now, she's finally in charge of how the story will be told.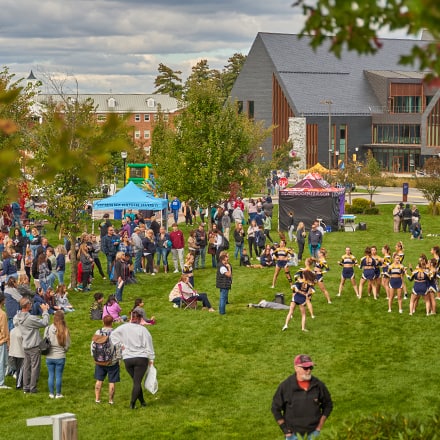 With an alumni network of more than 230,000 people and a student population that just surpassed the 200,000 mark, SNHU's Homecoming Committee and planning teams brought a variety of in-person, virtual and on-demand activities to its alumni, campus students, online students, faculty and staff.
About Southern New Hampshire University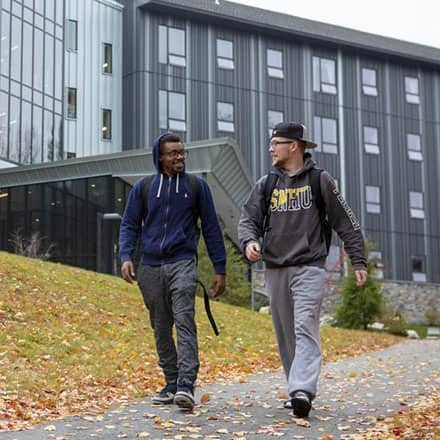 SNHU is a nonprofit, accredited university with a mission to make high-quality education more accessible and affordable for everyone.
Founded in 1932, and online since 1995, we've helped countless students reach their goals with flexible, career-focused programs. Our 300-acre campus in Manchester, NH is home to over 3,000 students, and we serve over 135,000 students online. Visit our about SNHU page to learn more about our mission, accreditations, leadership team, national recognitions and awards.