How to Eat Healthy in College: 15 Tips to Avoid the Freshman 15
With the variety of choices made available by college meal plans it can be difficult to make the most of the cafeteria's offerings while maintaining a healthy diet. Kristen Chulada, campus dietitian for Southern New Hampshire University (SNHU), works to help students overcome this challenge every day and shared some advice on how to eat healthy in college, avoiding the "freshman 15."
Rethink the "Freshman 15": While it's true that students can sometimes gain weight when they head off to college, attributing this change entirely to the campus lifestyle fails to describe what's actually happening. "Human bodies are meant to change; and often at 17-18 years old, students are still growing," Chulada said.
Go for the Power Nutrients: Exploring the range of options offered by your dining hall is fine, but make sure that 4 essential nutrients end up on your plate: healthy carbs and fats, protein and fiber, Chulada said. These are the nutrients that will help you feel fuller throughout your day, limiting the need for snacks
Look for Variety: While having a wide selection of food options can make it difficult to eat healthy, it also allows you to explore foods you may not have tasted before. Trying new foods can open the door to new cuisines that might make your meals more interesting.
Enjoy What You Eat: Diets don't have to be boring to be effective, so don't feel like you have to give up on flavor to treat your body well. "Instead of eating raw broccoli, which I personally don't think tastes very good, try getting the roasted vegetable offering," Chulada said.
Eat in Moderation: Portion control is a great habit that can help you handle your nutrient intake. If you need help figuring out what an appropriate serving size is, check out the Serving Size Card from the National Institute of Health.
Learn About Your Meal Plan: Not all college meal plans are the same. There's a big difference between Dining Dollars and Fixed Meals (some of the types of meal plans often seen at colleges), so check out what you're signing up for before making a selection. One may be more conducive to balancing your diet than another.
Allow Yourself Some Cheat Meals: Trying to maintain a healthy lifestyle while in college doesn't mean you can never have an unhealthy snack or meal. "Don't be afraid of the foods you love. Enjoy them in moderation instead of restricting them in the name of health," said Chulada.
Drink Water: You can get water into your diet by drinking flavored beverages and eating fruits and vegetables, but it's still a good idea to keep filling up your water bottle as you go through your day. Want some flavor? Add a lemon wedge or mint leaves.
Avoid Skipping Meals: It's easy to find yourself skipping meals in order to make time for everything you need to fit into your day. It's also one of the worst decisions you can make. Even if you had breakfast and are feeling fine midday, missing lunch can lead to a hard crash in the afternoon.
Remember to Exercise: Diet and exercise are the winning combination when it comes to maintaining a healthy weight. "My biggest tip is to find a form of movement that you truly enjoy doing – this is what will help keep you motivated," said Chulada.
Get the Sleep You Need: A key component of a healthy lifestyle in college is getting a good night's sleep. "College students should be getting 7-9 hours each night; unfortunately, I rarely see this … If a student needs to stay up later for an assignment, make the most of nutrition at these times," Chulada said.
Plan Food to Fuel a Late Night: If you know you're going to have to stay up late to get your work done, then make sure you have a nutritious meal to keep you going. Grab some fruit and nut trail mix or hummus with raw veggies and whole wheat crackers instead of ordering a pizza, Chulada said.
Find Ways to Manage Stress: Making poor nutritional decisions or missing sleep can lead to elevated stress hormones in your system, Chulada said. It's important to make sure you have a plan to deal with its effect on your health. Sticking to a smart diet and practicing healthy behaviors can help keep your body in good physical condition, which will allow you to focus on your course load.
Utilize Your Resources: If you're turning to the internet for some ideas on how to eat smart and stay healthy during your college years, there are some useful resources to turn to. "The website www.Mindftl.Sodexo.com is filled with healthful recipes, articles and workouts for students to access," Chulada said. "Another great resource is the Academy of Nutrition and Dietetics page, www.eatright.org, which provides lots of up-to-date research-supported nutrition advice."
Look for Programs Offered by Your School: Colleges typically have programs to help students become educated about nutrition and manage their health goals. They may have a dietician, like Chulada, who you can reach out to for guidance. Also look to see if there are support groups that meet regularly if you're stuck on how to lose weight or figuring out strategies like finding healthy college snacks to carry with you.
Sarah A. Easley '12 '18G is a writer and content strategist. Connect with her on Twitter or LinkedIn.
Explore more content like this article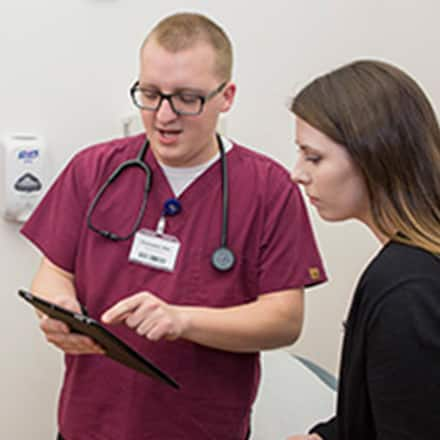 October 14, 2021
So many career paths can leave new and seasoned nurses alike wondering which specialty is right for them. To help, we've compiled a list of the 16 types of nurses employers are looking to hire, including information on salary, growth potential and required nursing degrees.
October 05, 2021
Both the nursing profession and some employers are calling on registered nurses (RNs) to obtain a Bachelor of Science in Nursing (BSN) to improve safety and help prepare for future healthcare challenges.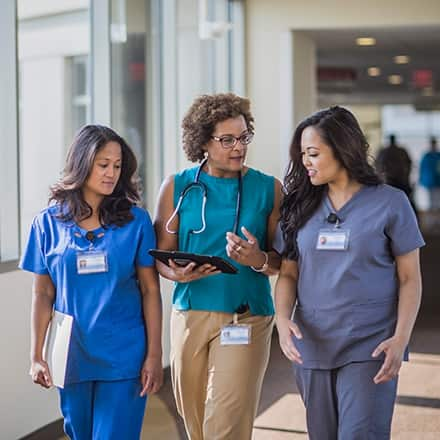 September 30, 2021
While nursing has always been a respected career, many people don't know that there are actually several different levels of nursing degrees and many different specialties available.