MSN Grad Surprised at NH Medical Center with Graduation Celebration
About a year into Katie Smith's nursing career at Dartmouth-Hitchcock Medical Center (DHMC) in Lebanon, New Hampshire, a clinical nurse leader (CNL) in her unit took a particular interest in her. She encouraged Smith to take advanced classes and embrace presentation opportunities.
While Smith had dismissed the idea of pursuing a master's degree up to this point, conversations with the CNL changed her mind. "It wasn't until I saw an inspiring leader in action that I actually seriously considered the idea," she said.
Before meeting her mentor, Smith didn't know much about CNLs but soon became interested in the role. So, she enrolled in an online MSN Clinical Nurse Leader program at Southern New Hampshire University (SNHU) because the price was right, and DHMC offered her a tuition discount. "I came to love the position more and more as the terms went on and I grew in my professional practice," Smith said.
An Occasion to Celebrate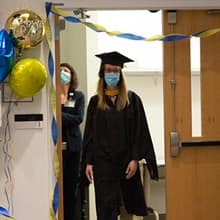 Smith recently wrapped up her final class and continues to focus on her work as an antibiotic nurse specialist. Last week, as she began to enter a workplace meeting, she was confused when she saw streamers hanging from the door. Inside, she was met with balloons and congratulations.
SNHU coordinated the surprise with the medical center so colleagues could celebrate Smith's achievement during Nurses Week. Dartmouth-Hitchcock's (D-H) Chief Nursing Officer Karen Clements, RN, BSN, MSB, FACHE, presented Smith with her diploma; at the same time, several nurses and members from SNHU applauded the culmination of her hard work – in person and virtually.
"The surprise was so much more than I ever could have dreamed," Smith said.
While the pandemic prevented her from crossing the stage this spring, she felt grateful for the opportunity to mark the milestone with her colleagues. "I was very humbled to have several of the top nursing leaders there to celebrate me, especially since I do not personally know all of them," Smith said. "I am also grateful for the presence of my manager and practice manager as they have borne witness to my perseverance in finishing school through some especially challenging circumstances at work."
In addition to what she's learned in school, Smith said the leadership she's witnessed throughout her nursing career has taught her a lot about how to be a good leader – and she strives to be the best she can be in her professional life.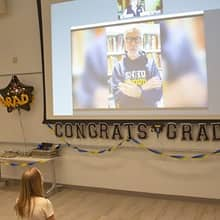 Over the last 14 months, nurses have worked at the center of the COVID-19 pandemic, navigating changes to practice and procedures, all the while putting their health at risk to provide patient care.
SNHU President Dr. Paul LeBlanc shared his appreciation for the work they do each day in a video message for Smith. "You and your colleagues at Dartmouth-Hitchcock (Medical Center) are our heroes, and then you went ahead and finished a master's degree in the middle of all that. It's really remarkable," said LeBlanc.
Nursing During a Pandemic
When the pandemic intensified last spring, Smith was working on a paper for class about osteoarthritis. "All of a sudden, it seemed very insignificant," she said, citing the daily communication and updates to practice in her full-time job. Like others in her adult observational unit, where she worked at the time, she was floated to other units to support the shifting assignments and receive mandatory personal protective equipment (PPE) training for working with COVID-19-positive patients.
A term she planned to take off couldn't have come at a better time, she said. It allowed her to focus on her role in the pandemic and how she could best contribute to her community and support colleagues across the country.
In August, Smith accepted a position in DHMC's Infectious Disease Clinic, a transition that offered her greater workweek stability as she finished her degree and focused on her mental health as a nurse during the pandemic. When it came time to complete her capstone project, the culminating paper for her degree, she researched and wrote on nurse burnout, a topic that felt relevant as the healthcare industry remained disrupted by the pandemic.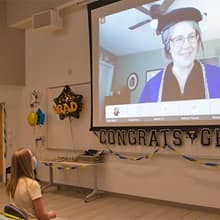 As Smith got started on the project, she developed a close working relationship with Dr. Kimberly Gibbons, DNP, CNM, RN, CNL, CNE, her capstone instructor. The two often communicated as Smith asked questions, and they discussed the proposal and experience. Having worked previously for DHMC, Gibbons understood multiple aspects of Smith's life, which impacted Smith's experience.
"Dr. Gibbons cares deeply for her students, is open, honest and easy to talk to," Smith said. "She has a down-to-earth personality and brings a healthy understanding of work-life-school balance to the capstone experience to help her students succeed and get the most out of the clinical experiences while understanding that life happens, and sometimes deadlines need to be changed."
Gibbons believes now more than ever it's important for nurses like Smith to return to school and advance in health care, citing the lasting effects the pandemic will have on the industry. "Katie didn't hesitate to continue her education despite these challenges, and I am proud of her and the other amazing SNHU nursing graduate students I have had the honor to work with in this past year," Gibbons said.
Now Smith may see her capstone project come to life. Clements said the two recently met to discuss nurse burnout and effectively address it at their medical center. "I'm so very proud of all the work that she's done, and to be able to do this with her in person in cap and gown was very exciting," Clements said.
Growth with Personal, Academic and Professional Support
In her role in the Infectious Diseases Clinic, Smith is putting the knowledge and skills she learned in her MSN program to work. In a research project started by her medical director, she said she uses a multidisciplinary approach to design thinking related to patients with serious infections and a history of substance abuse.
The project allows her to exhibit leadership skills and track data as well as seek ways to enhance care for vulnerable populations and eliminate healthcare bias. "This has been a moment when school met real-life work, and it has been so exciting to put my new knowledge and skills to work while stretching and growing (myself) professionally," Smith said.
Throughout her education and growth as a nursing professional, Smith felt supported by a network of people around her. She said her husband, whom she met as an undergraduate student, was the first to encourage her to get a master's – and then motivated her throughout the program. "He was at least as excited as I was about graduating," she said.
Her academic advisor, Catherine Haefner, was there throughout each term to ensure she stayed on track. "It was just really nice to have that support and have someone in my corner that I could turn to that understood the academic world," Smith said.
She also felt driven by the leadership team at her work, especially through the tough times. "Knowing that they were supporting me in the background helped me to persevere even when things got really hard," Smith said.
Now, with an advanced nursing degree and CNL certification at the end of her name, Smith, MSN, RN, CNL, mentors other nurses looking to grow in their careers, just as a CNL once did for her. "I'm definitely not the same nurse when I started," Smith said. "... Learning to mentor either new people here at Dartmouth-Hitchcock Medical Center or especially new grads has been a real honor and privilege."
Rebecca LeBoeuf '18 is a writer at Southern New Hampshire University. Connect with her on LinkedIn.
Explore more content like this article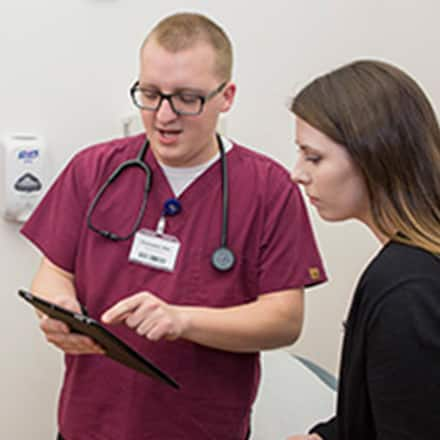 October 14, 2021
So many career paths can leave new and seasoned nurses alike wondering which specialty is right for them. To help, we've compiled a list of the 16 types of nurses employers are looking to hire, including information on salary, growth potential and required nursing degrees.
October 05, 2021
Both the nursing profession and some employers are calling on registered nurses (RNs) to obtain a Bachelor of Science in Nursing (BSN) to improve safety and help prepare for future healthcare challenges.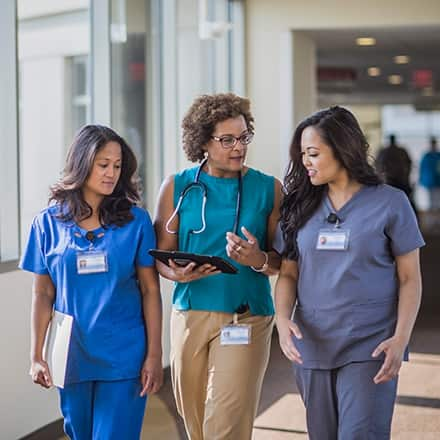 September 30, 2021
While nursing has always been a respected career, many people don't know that there are actually several different levels of nursing degrees and many different specialties available.