The Role of Telehealth in Nursing
Nurses are on the front lines of patient care and act as key drivers of healthcare change, including the use of telehealth technology. As medical technology improves, the role of telehealth in nursing continues to grow, giving nurses new tools to improve patient outcomes and increase access to quality healthcare.
Telemedicine is on the rise, as an aging population puts increased demand on the healthcare system and nursing shortages make meeting those demands a challenge. And the trend has accelerated as the medical field shifts to deal with the coronavirus pandemic.
Incorporating telehealth services into nursing can help lower healthcare costs and improve patient outcomes by ensuring that more individuals are able to receive timely nursing care.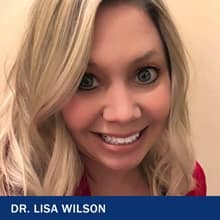 "Across the entire patient experience, and wherever there is someone in need of care, nurses work tirelessly to identify and protect the needs of the individual," said Dr. Lisa Wilson, clinical faculty for Southern New Hampshire University (SNHU) nursing programs. "From ensuring the most accurate diagnosis and treatment options to the ongoing education of the public about critical health issues, nurses are indispensable in safeguarding public health."
As the role of telehealth in nursing continues to grow, it's important to understand how telehealth technology can benefit patients, nurses and the healthcare field.
What Is Telehealth and Telemedicine?
Telehealth and telemedicine consist of information, communication and monitoring technologies that allow a telehealth nurse or other healthcare worker to evaluate patient health and help patients manage illness or injury remotely.
Telehealth services can replace face-to-face visits with video conferencing or phone calls, allowing patients to stay home when sick. Telehealth nurses can also receive information on patient vital signs, such as blood pressure or heart rate, that patients measure on their own at home.
Across the nursing field, the use of telehealth is growing. According to the American Hospital Association (AHA), the number of hospitals implementing telemedicine increased from just 35% in 2010 to 76% in 2017.
As more hospitals and other medical facilities use telehealth to level-up their patient care, the role of telehealth in nursing continues to evolve.
Understanding the Role of Telehealth in Nursing
Nurses are often a patient's first point of contact when seeking healthcare and a patient's primary source of health education and long-term health monitoring. In many institutions, nurses have also taken the lead on integrating telehealth services into patient care, according to the American Nursing Association (ANA).
Incorporating telehealth services into daily operations has given nurses new tools to reach patients and improve healthcare access for all, said Wilson.
"While there is an abundance of healthcare resources in the United States, the feasibility of patients connecting to care remains an issue, especially for those who are underserved," she said. "Telemedicine can remove geographical barriers, so that those in rural areas without easy access to care can still get the services they need."
Telehealth can be used to support in-patient care, giving nurses a way to monitor patient health after they are discharged from the hospital or while managing a chronic illness at home.
Self-measurement devices can help nurses monitor vital signs like blood pressure, blood glucose or heart rate remotely, alarms can alert nurses when patients need help at home and video conferencing can be used to monitor injury recovery.
For some nurses, telemedicine may be the primary way that care is provided, Wilson said. Nurse hotlines, telemedicine websites and online chat technologies can all connect nurses with patients remotely for day-to-day health questions or symptom management.
Telehealth technology can also allow nurses to share patient data with doctors and specialists in real-time, connecting patients to the best care from anywhere in the world.
After a natural disaster or other emergency, telehealth is a critical tool to help treat minor injuries and illnesses during recovery efforts, Wilson said.
No matter what the role of telehealth in nursing, telehealth technology acts as a key connection between in-patient care and at-home health management.
"The great thing about technology and telehealth is the flexibility it offers to design services that work best for the work environment or an individual on a case-by-case basis," said Wilson.
The Benefits of Telemedicine
The increasing role of telehealth in nursing has resulted in many benefits across the healthcare system.
According to the ANA, nearly 20% of Americans living in rural areas suffer from a shortage of providers and healthcare facilities. Telehealth services can help more patients get the care they need when they need it, improving health outcomes.
Telehealth services can also help patients better manage chronic conditions, such as heart failure, respiratory disease and diabetes, by minimizing trips to the doctor and better monitoring symptoms to reduce hospitalizations, said Wilson.
Telemedicine can help providers reduce healthcare costs, too. By keeping patients in their homes and allowing nurses and doctors to see more patients in less time, patients and medical institutions can save money.
According to a 2019 AHA report, healthcare providers saved more than $2,700 per patient when using telehealth services instead of in-person physical therapy after knee-replacement surgery.
"It is important for both providers and patients to embrace telehealth because of its ease of use, its ability to improve outcomes, improve communication and reduce costs," said Wilson. "The ability to provide high quality service and increased access to care is critically important, especially in light of the current financial challenges of our healthcare system."
The Future Role of Telehealth in Nursing
The future of telehealth in nursing continues to evolve. While the benefits of telehealth are many, there are still challenges to implementing telemedicine more widely.
Insufficient access to broadband internet can limit telehealth services in rural areas, where additional healthcare is often needed. Telemedicine is also affected by limits of medical licensure to provide telehealth services across state lines, online prescribing regulations and patient privacy concerns, said Wilson.
And while many private insurance companies offer coverage for telehealth services, the federal Medicare program primarily still limits payment for telemedicine, said Wilson.
The outbreak of the COVID-19 virus, however, has pushed providers, insurers and policy makers to accelerate the integration of telehealth into medical care, said Wilson.
Telemedicine allows healthcare providers to triage COVID-19 patients before they arrive in-person, makes it easier to keep coronavirus patients isolated and allows for more at-home care for patients with less serious symptoms, reducing the strain on hospital systems.
If these changes in the use of telemedicine across the healthcare system continue after the pandemic has passed, nurses will have more tools to serve and educate patients and offer the highest quality care possible.
"The role of the nurse in telehealth is no different than face-to-face nursing, it is just done in a different way using technology," Wilson said. "Whether a nurse is performing telehealth work with patients or working directly face-to-face with patients, nursing is the glue that holds a patient's health care journey together."
Danielle Gagnon is a freelance writer focused on higher education. Connect with her on LinkedIn.
Explore more content like this article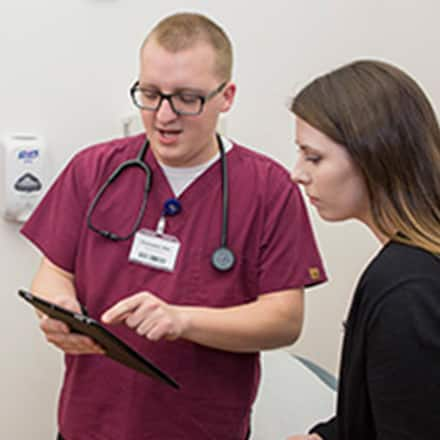 October 14, 2021
So many career paths can leave new and seasoned nurses alike wondering which specialty is right for them. To help, we've compiled a list of the 16 types of nurses employers are looking to hire, including information on salary, growth potential and required nursing degrees.
October 05, 2021
Both the nursing profession and some employers are calling on registered nurses (RNs) to obtain a Bachelor of Science in Nursing (BSN) to improve safety and help prepare for future healthcare challenges.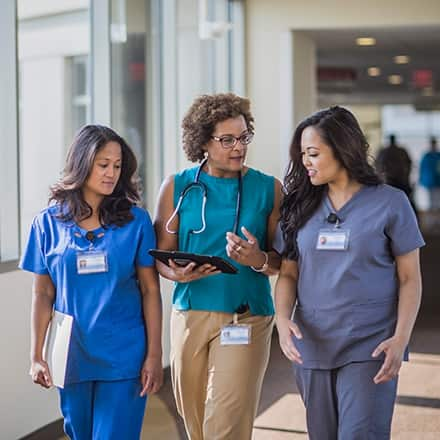 September 30, 2021
While nursing has always been a respected career, many people don't know that there are actually several different levels of nursing degrees and many different specialties available.