Creative Writing Faculty Jacob Powers: A Faculty Q&A
Jacob Powers' passion for writing and storytelling was ignited in high school when Kurt Vonnegut's "Slaughterhouse-Five" taught him that, sometimes, breaking the rules of writing was the key to a great story. Now he teaches creative writing online at Southern New Hampshire University. Recently we asked him to share his thoughts about teaching, the importance of education and more as part of SNHU's Faculty Spotlight series.
Tell us a little bit about your professional background.
I first started tutoring and consulting as an undergraduate at the Fred Meijer Center for Writing and Michigan Authors at Grand Valley State University. I enjoyed working with other students on their writing so much that when I started pursuing my Master of Fine Arts in Fiction at Boise State University, I asked to work at their writing center.
After earning my MFA, we moved to Florida, where I taught composition at a local community college while my spouse pursued her Ph.D. I also began working at SMARTHINKING and another online university at that time and did some competency-based education work for a company that was bidding for a contract with the Florida Department of Education.
It was also in Florida where I began to teach composition as an adjunct for Southern New Hampshire University. Eventually, we moved to New England so that my spouse could teach at a local university, while I worked on a little course design and faculty support for SNHU. In 2014, I began as a faculty lead at SNHU, and have since moved over to the creative writing department to support undergraduate and graduate students and faculty.
What led you to academics, and in particular, SNHU?
One of the main reasons I pursued an MFA was to eventually teach creative writing. I loved group workshopping fiction as an undergraduate, and I wanted to use those experiences — as well as the techniques I developed as a writing consultant — to help individuals strengthen their skills as writers.
For several years I taught composition at SNHU, but have since transferred over to creative writing, where I've enjoyed reading and critiquing student work in all genres. Since writing is critical in online education, I thought there was an opportunity at SNHU to use my skills to guide and support students with their long-term academic goals.
What drew you to this field of study? What keeps you excited about it?
A friend of mine recommended I read "Slaughterhouse-Five" my senior year of high school. I did, and Kurt Vonnegut's style and voice opened a new world to me, where I could see writing as something more than moving from A to B to C, and more than keeping within the academic essay standards of the "five-paragraph rule" that had up to that point been drilled into my head.
I dabbled in writing prior to that, but I never took it to that next step until I realized that rules are meant to be followed, yet broken at the same time. It's a paradox, one that I embrace, and it keeps the field interesting. The basics of any story are that a character needs something, and conflict challenges them in meeting that goal. It's as simple as that, yet there's always something new that can be done with writing, and I love to see students embrace that mindset.
What do you find rewarding in your position as full-time faculty?
I've had the honor to teach ENG-675: Online Teaching Experience for several terms. The course gives grad students the opportunity to serve as a teaching assistant for one of our ENG-123: English Composition II classrooms. These graduate students fully embrace the idea of teaching composition and creative writing online, and they have this passion for it that comes out in engaging ways in the classroom.
It's great to see that drive to help and support students come from these graduate students. This passion of students wanting to see others do well in the classroom gives me hope that higher education will continue to have future faculty who are empathetic, encouraging and dedicated.
Can you think of a particularly impactful or eye-opening moment as a faculty member?
It would be unfair of me to choose just one eye-opening moment as a faculty member, so I'll just say that I'm constantly amazed at how determined folks are to get their writing out there in the world. There are so many challenges that my students have endured — homelessness, taking care of sick family members, adopting other family members while raising their own, dealing with loss and grief, overseas deployment, hardships at work — and yet they continue to write, because this is something that they love so much that no obstacle will get in the way of them meeting their goals.
What advice do you have for students interested in pursuing their creative writing degree? How can people stand out in this field?
Do it with the mindset of improving your creative writing skills, not of becoming the next bestselling author. The more you practice your writing, the stronger it will become. And never forget that with writing comes reading. Read, read, read. Never stop. Finally, make sure you're working on the technical aspects of writing as well, as this can give you the opportunity to seek careers or gigs to help pay the bills while pursuing your goals to be an author.
What, if anything, did you not expect from your career path?
I wasn't expecting to teach completely online, but that's simply because when I was an undergraduate online education wasn't as extensive as it was today. I liked the social meaning-making of a face-to-face classroom, but I didn't anticipate the rich potential and inclusivity of online seminar and workshop courses. I'm happy for the opportunity to teach online, as it helps narrow down distractions so that the focus can be on the craft of writing and storytelling.
What do most people not understand about working in the creative writing field?
Making up an idea for a story is just one small aspect of creative writing. You have to successfully execute that story using the elements of your genre in a unique and captivating way. It's a big challenge to be able to connect to your audience. It takes a lot of patience, a lot of practice, and a lot of discipline, just like any art form.
How have you found ways to effectively connect with students online?
Besides being able to send emails, post to their initial threads in the discussion board forum, and provide line feedback within their stories, I really like to share supplemental readings in my weekly announcements, as I think it gives students the opportunity to explore stories they may not have otherwise come across. I also enjoy sharing excerpts from published works to illustrate different elements of writing, as well as posting videos or podcasts of authors discussing the craft.
What do you enjoy doing when you're not working?
Besides reading and writing, I enjoy spending time with my family, renovating our house, and riding my bike.
What is one (or two) books every student in the creative writing program should read?
There isn't a single book that will cover every student's chosen genre, so I would instead challenge students to explore unfamiliar genres and authors. If you're a horror fan, read a romance. If you prefer fiction, pick up a book of poetry. If you've read mostly male authors, look for female, non-binary, and transgender authors. Read LGBT+ authors. If most of the authors you've read are white, explore Black writers, Asian writers, Latinx writers and Native writers. Whatever text you read can have a meaningful and unique impact on not only your own writing but also your perceptions of the world in whole. Cast wide.
Why is education important to society as well as to you personally?
Education allows you to learn how to think critically, which is something that can be used to influence your perception, and that's not a bad thing. It's important to continue to grow throughout life. There are many different stories out there, and everyone wants to tell theirs, so it's good to listen, especially to those who are historically silenced — women, people of color, LGBT+, and those whose spirituality (is) different than one's own. Listening is the first step to understanding, which can lead to personal actions and decisions that make the world a safer and better place for everyone.
Education is for the betterment of society. Without it, guards and barriers are put up, and that makes equity so much more difficult to achieve. But with equity, and with true understanding, there's a whole world of possibilities that can unfold.
Joe Cote is a staff writer at Southern New Hampshire University. Follow him on Twitter @JoeCo2323.
Explore more content like this article
October 20, 2021
Interested in starting a new job or advancing in your current field? An Associate of Arts (AA) degree can give you the broad-based education and in-demand career skills you need to reach your goals. Learn more about earning an AA degree and what you can do with one.
October 07, 2021
A communications major is a great way to prepare yourself for a career in fields ranging from media relations and journalism to marketing, corporate communications and many more.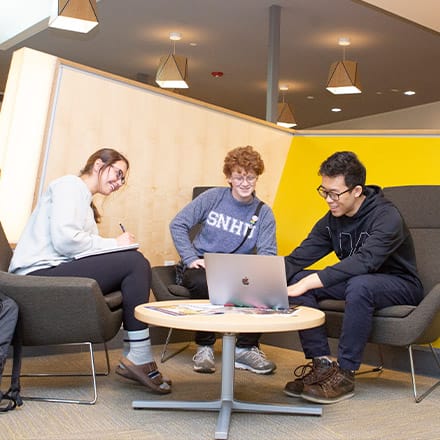 October 04, 2021
Liberal arts majors are strong communicators, who bring creativity and critical thinking to the table. If you're willing to be flexible in your search and smart about branding yourself, you can find there are many opportunities.