SNHU Alumna Krysta Lewis Launches Organic Cosmetics Company
Krysta Lewis '16 knew something was wrong, but it took a long time and some advice from her boss to figure out what it was. Now, she has taken matters into her own hands and launched a line of organic beauty products.
Lewis, who graduated with a bachelor's in communication, left a traditional brick-and-mortar college in Boston because she couldn't continue her studies due to her illness. While working for a natural products company in Bedford, New Hampshire, she began learning about organic personal care products. After her boss suggested she try changing her makeup, she found herself one day reading the ingredients list on a bottle of foundation. She realized she didn't recognize any of them.
"And I thought, just like food, if you don't know what's in it, it probably shouldn't be on the largest organ of your body, which is your skin," Lewis said. "Our skin is a gateway for a lot, and we're putting these products on our skin and not really understanding what's in them."
When she changed her makeup, she noticed an immediate improvement in her symptoms but also found the quality of the products she was using either weren't up to her standards or weren't as natural as they claimed to be. "It was a catch-22. I was sacrificing my beauty for my health or my health for my beauty," Lewis said. "At that point, I thought there really is a need for a hybrid of both of these, something that's high performance and organic."
Turning a Vision into a Business
That's the vision behind Aisling Organic Cosmetics: High-quality, organic cosmetics made with natural ingredients. "It's my vision that everyone uses the purest ingredients on their skin," Lewis said.
After doing more market research and wrapping up her degree at SNHU, Lewis began contacting laboratories and talking with chemists about ways to incorporate the natural ingredients she wanted into compositions that would still be high-performance.
Aisling launched in April 2016 but got a boost four months before that when Lewis contacted
Alpha Loft
, a business incubator and accelerator program in Manchester, New Hampshire. Joshua Cyr, Alpha Loft's director of education and acceleration, said the Accelerate NH is a 14-week program focused on mentoring, education, research and networking for young businesses.
"It's been one of the most rewarding experiences ever because as an entrepreneur you feel a little alone because you're working for yourself," Lewis said. "Although you're seeing people, you don't have that community. So that's one thing it's added to my life right now."
Lewis said the program helped her shore up her growth plan but more importantly helped her focus on areas of the business where she was struggling. For her, that meant boning up on her financial skills and pitching her business to male investors who may not be familiar with the beauty industry.
Cyr said Lewis' business concept is strong, but it's her ability to execute her vision that's even more important. "That's where real businesses are made, and Krysta has shown great capacity in that regard," he said. "She also demonstrated an eagerness to learn from others, flexibility in approaching the market and, in her case, the many channels/revenue streams to consider, and capacity to respond to the unexpected."
Tremendous Growth
Accelerate is exactly what Aisling did. With a goal to be the leading option for organic, transparent makeup, Lewis explored which channels she should pursue.
Products are available through a website, and Lewis attends trade shows and expos. She especially likes going to customers' homes and holding "makeover nights" to showcase her products and talk to women about their makeup. Other options come with their own pros and cons. Pursuing large retail outlets can increase the brand's visibility, but many retail chains are struggling. Direct-to-consumer is a favorite vehicle, but many consumers are skeptical to try new makeup products without first testing them in person.
After an initial foray into distribution by Paul Mitchell, Aisling found its strength selling as a direct-to-consumer, online-only brand. This decision is certainly paying off. "We have scaled almost 300% year over year," Lewis said.
Although she didn't study business at SNHU, she said her concentrations – business writing and professional writing – have served her well since so much of her communication with vendors, laboratories and customers is in writing. "Everything that you're writing is a reflection of you," she said. "So when I'm communicating things, it's so important that I represent myself well through writing. That's really where that came into play. I couldn't speak more highly about the program for allowing me to do what I needed to do personally but still allow me to get my degree."
Lewis credits the writing courses taken as part of concentration focus as "a big part of why we have done so well" at Aisling Organics. "Being able to articulate your thoughts in a professional manner is a must," she said.
Joe Cote is a staff writer at Southern New Hampshire University. Follow him on Twitter @JoeCo2323.
Explore more content like this article
October 07, 2021
A communications major is a great way to prepare yourself for a career in fields ranging from media relations and journalism to marketing, corporate communications and many more.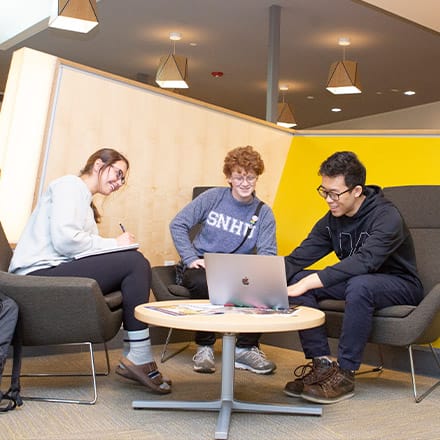 October 04, 2021
Liberal arts majors are strong communicators, who bring creativity and critical thinking to the table. If you're willing to be flexible in your search and smart about branding yourself, you can find there are many opportunities.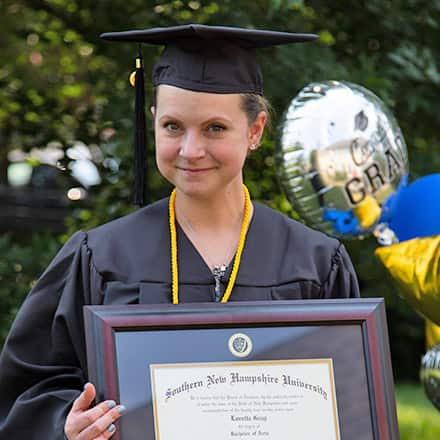 September 15, 2021
Loretta Gray started her college career in 1997, but finances took her away shortly after. Just a few weeks ago, the two-time cancer survivor completed her bachelor's degree in history. Little did she know, her husband and SNHU were planning a special diploma delivery for her.