What Can You Do with an English Degree?
Employers across a huge range of industries and fields are seeking many of the skills you can develop in an English degree program. The key is being able to recognize and appreciate core skills, such as critical thinking and reading comprehension, and being able to communicate their value to a potential employer.
Jobs for English Majors
Like all liberal arts majors, English degree programs focus on and develop soft skills that are transferable to nearly every modern profession. That means there is (almost) no limit to the number and type of job roles in which an English degree is useful.
"I think people don't think as widely as they might about areas they can go into with an English degree," said Dr. Christopher Lee, an associate dean of liberal arts at Southern New Hampshire University.
Lee pointed out that U.S. Supreme Court Justice Clarence Thomas and former member John Paul Stevens each had English degrees. So do dozens of famous writers, actors and Fortune 500 CEOs, such as a former head of NBC Grant Tinker, late-night host Conan O'Brien and director Steven Spielberg.
From law, entertainment, journalism and much more, an English degree can be the perfect place to start. Other jobs for English majors you can consider include:
Copywriter or Content Writer
Copywriters and content writers often work for advertising or marketing firms but can also work for their own clients as a freelance writer. Copywriters usually specialize in short content such as website banner ads, email marketing campaigns and brochures, while content writers often write longer pieces such as blog posts, eBooks, whitepapers and more.
Copywriters earn an average salary of about $69,000, and content writers make an average of $54,000, according to Glassdoor.
Journalist
Journalists, of course, work at newspapers, magazines and television stations and all manner of online news and entertainment websites. Although the industry has shrunk in the internet age, there are still thousands of media outlets looking for talented writers, from small-town newspapers sent to a few thousand residents to giant publishers like ESPN, Time and more.
Journalists earned an average of $52,000, according to Glassdoor.
Human Resources Manager
As a human resources manager, you would oversee the policies and procedures a company has in place relating to its employees. Your duties might include educating new employees about a company's benefits such as insurance coverage and vacation and maternity leave, as well as educating all employees about new programs and benefits. Human resources managers also ensure workplace laws regarding harassment and equal opportunity are followed.
Human resources managers earn a median salary of $66,000, according to PayScale.com.
Technical Writer
Technical writers are responsible for the instruction manuals and other materials that communicate complicated technical information to a user. The task of a technical writer is to translate specialized technical information into plain language for a general reader, so they have to be able to understand the technical information and processes and then write about them in a non-technical way.
Technical writers make a median salary of $58,000, according to PayScale.com.
Public Relations Manager
Working in public relations, either as a member of a large PR firm or a small private company, means being the main link between a business or agency and the general public. That means communicating daily with internal and external groups, including customers, reporters and more. That can mean writing press releases, identifying opportunities to expand an organization's profile and reach and serving as its spokesperson in public.
Public relations managers earn a median salary of about $67,000, according to Monster.com.
Should I Major in English?
With these opportunities in mind, an English degree can indeed prove valuable. But different people study English for various reasons. Often that reason is a passion for reading and literature.
Studying English at the college level also imparts dozens of core – or soft – skills that employers everywhere are looking for. Skills like reading comprehension, critical thinking, strong written and oral communication, analyzing information from multiple sources and then synthesizing that information are all valuable.
"Every professional career wants you to read something and have a comprehensive understanding of the material," Lee said. "Those are all the things that are learned studying English."
There are even more intangible benefits of studying English. Reading great literature can help you learn about other cultures and people and develop emotional intelligence and empathy, Lee said.
"There's a large amount of self-knowledge you also gain," he said. "You learn about yourself. You learn about humanity and history. I would say studying … English gives you life skills."
While many people study English because they love reading, they don't always think beyond that affection and what they want to do with their degree in the professional world.
"They usually come to it with a passion for the subject matter but don't always think about their career," Lee said. "There is a practical side to it that is too often overlooked."
What Can You Do with a Graduate Degree in English?
A master's degree in English is particularly helpful if you're interested in teaching, especially at the college level, but like a bachelor's degree, still has benefits for many professions, Lee said.
"A master's provides the same transferable core skills of critical thinking, research, analysis, reading comprehension, empathy and others ... but at a higher level of qualification for higher-level positions in upper management, law and politics among other fields," he said.
By earning a master's degree, you'll be setting yourself apart from other job seekers. Just 11% of the labor force had a master's degree in 2016, according to research by the U.S. Bureau of Labor Statistics. Also, workers over 25 with a master's degree made a median weekly salary of $1,380, compared to $1,156 for workers with a bachelor's degree.
So, what can you do with a master's in English? Some options include:
Post-secondary teacher
Survey researcher or analyst
Freelance writer
Editor
"Jobs requiring a master's degree are expected to grow considerably in the near future, so an advanced English degree offering these requisite skills is certainly attractive now," Lee said.
Joe Cote is a staff writer at Southern New Hampshire University. Follow him on Twitter @JoeCo2323.
Explore more content like this article
October 20, 2021
Interested in starting a new job or advancing in your current field? An Associate of Arts (AA) degree can give you the broad-based education and in-demand career skills you need to reach your goals. Learn more about earning an AA degree and what you can do with one.
October 07, 2021
A communications major is a great way to prepare yourself for a career in fields ranging from media relations and journalism to marketing, corporate communications and many more.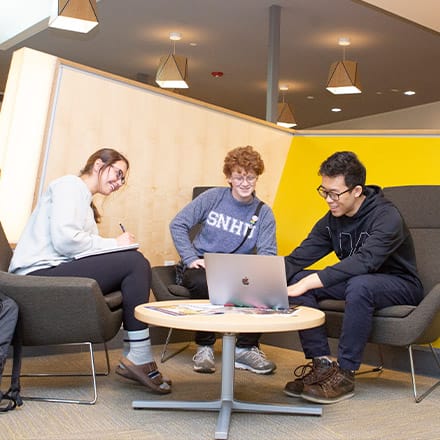 October 04, 2021
Liberal arts majors are strong communicators, who bring creativity and critical thinking to the table. If you're willing to be flexible in your search and smart about branding yourself, you can find there are many opportunities.